In advance of the highly-anticipated June 4th Francisco Vargas vs. Orlando Salido clash, HBO is starting to promote the bout full-force. They've released the full fight video for Vargas's bout against Takashi Miura, along with the latest Hey Harold segment with Harold Lederman, and a few other bits and pieces along the way. Check it all out here.
To watch the full Vargas vs. Miura fight, visit InsideHBOBoxing.com where they're hosting the video of the bout.
As for Hey Harold, of course, Lederman is very much looking forward to this one. He calls them both vicious fighters, and talks about Vargas coming off the sensational fight against Takashi Miura.
But with Salido, Lederman refers to him as one of the true veterans out there, and he looked great last time against Rocky Martinez. The fight was ruled a draw, but he calls that a terrible decision. He says that guaranteed Salido will land on Vargas low at least once, maybe on purpose.
"If you don't watch any other fight this year, you gotta watch this one! They're gonna kill each other! Guaranteed!" Clearly, he's excited.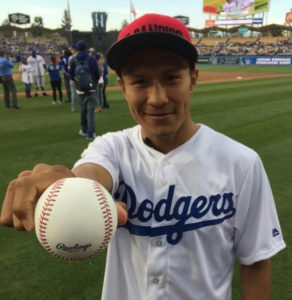 Elsewhere, Vargas (23-0-1, 17 KOs) threw the first pitch at the Los Angeles Dodgers versus the Cincinnati Reds game yesterday, Wednesday, May 25 at Dodgers Stadium. Vargas is scheduled for his epic showdown on Saturday, June 4 at The StubHub Center when he defends his title against fellow Mexican warrior Orlando "Siri" Salido (43-13-3, 30 KOs, 1 NC) in a 12-round Fight of the Year candidate televised live on HBO Boxing After Dark.
Five Time All-Star first baseman Adrian Gonzalez was participating as the catcher as the world champion threw the first pitch to start off the game.
---
Much more to come in the next week or so leading up to the Vargas vs. Salido fight, so be sure to keep on checking back for more.