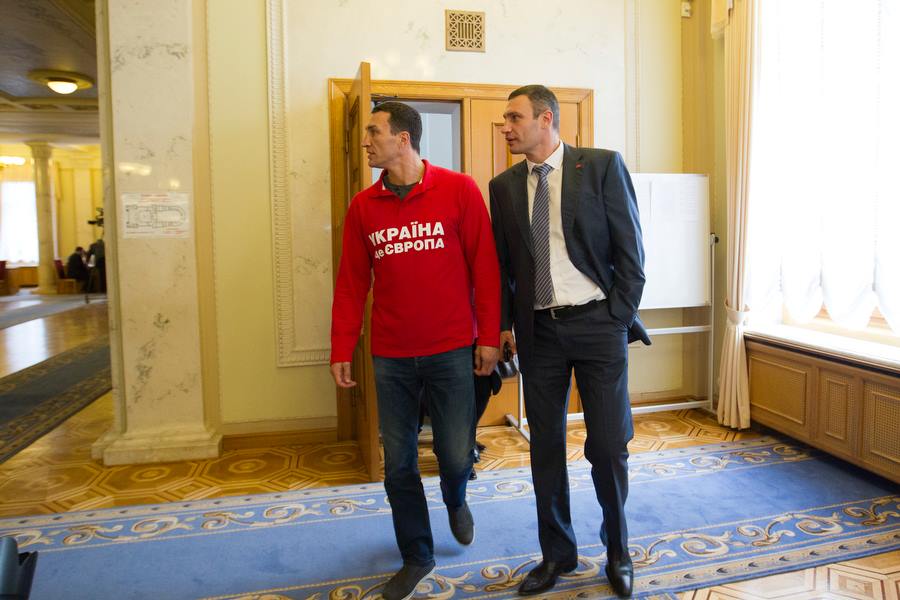 Vitali Klitschko has officially announced that he will run for president of Ukraine in the 2015 elections. Klitschko is currently a member of the Ukranian parliament, and previously had two failed bids to become the mayor of Kiev.
(Pictured in the photos is a recent visit from brother Wladimir, as the two Klitschko brothers toured Ukraine's parliament).
However, the anti-corruption party he formed, the Ukrainian Democratic Alliance for Reform, or UDAR, which translates to "punch" in Ukrainian and Russian, now holds 9.5% of the country's parliament, with 42 seats.
Here's what the 42-year-old Klitschko had to say in his speech to the Ukranian parliament:
"I want to say that I cannot be intimidated or stopped. In order to put an end to various attempts to get rid of me as a possible candidate, I want to say that I'm running for president."
That means that Klitschko could be a major force in the next elections. However, there is some speculation that the current reigning parties may prevent him from running due to his status as a resident of Germany.
Klitschko preemptively responded to this by saying in his speech:
"I have a residence permit in Germany, but this doesn't violate the Ukrainian legislation, and I've always been a citizen of Ukraine."
So what does this mean for Vitali's future in the squared circle? We may have seen him fight for the last time, already. He was planning a comeback for 2014, but it's unclear at this time if he'll cancel that to focus solely on politics, or if he'll fight a farewell bout or two before hanging up the gloves for good.