As reported by ESPN.com, Vitali Klitschko will be facing Odlanier Solis, long thought by many to be the hidden gem of the heavyweight division, on March 19th in defense of his WBC heavyweight title. The fight looks to be headed to ESPN3.com, as many of the recent fights involving the Klitschko brothers have been, and the bout will be held in Germany.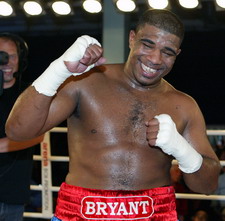 Of course, most of the recent news involving the heavyweight division and the Klitschko brothers as of late has revolved around their ongoing, drama-filled negotiations with David Haye. Younger brother Wladimir ended up signing on to reschedule his previously canceled bout against Dereck Chisora, while Vitali had his WBC mandatory to deal with in Solis.
Solis is 17-0 with 12 knockouts on his resume, and is a relatively fresh professional. That misses the point with him, however, as he is a decorated amateur from the Cuban program, with a 2004 gold medal hanging up in a trophy case  at home.
The major issue with Solis is one that's familiar to American heavyweight Chris Arreola, his weight. Solis has weighed in as heavy as 271 lbs, stepping on the scales at about 260 lbs in his recent trouncing of Ray Austin this past December to earn the title shot. The lightest he has weighed as a professional was in March of 2008 when he faced Cisse Salif and weighed a shade under 247 lbs. Ideally, the 30-year-old La Sombra and his 6'1″ frame is clearly more suited to a weight of about 240 lbs, particularly when facing someone with the physical conditioning and strength of someone like Vitali Klitschko.
As it is, Solis is still the best fighter that Vitali has faced since his return to the ring in 2008, and the best he has faced at all since his spirited losing effort against Lennox Lewis in 2003. But if Solis doesn't come to the bout fit and trim, then Klitschko vs. Solis is nothing but another anonymous bout in a distraught heavyweight division.
It's an intriguing contest, but it's one that fails to move the needle, particularly in the United States. The Klitschko brothers have all but been banned from HBO barring a noteworthy fight (Read: Haye, David), and American fans have seen little, if any, of Solis on television. HBO would have been wise to back Solis instead of Arreola several years prior, and wiser yet to get Solis and someone like Tomasz Adamek in the ring together, producing a fan-friendly, legitimate title challenger with whomever emerged from that meeting.