Josh Warrington kept hold of his IBF Featherweight Title with a tough to watch, split decision win over mandatory challenger, Kid Galahad at the First Direct Arena in Leeds.
Galahad entered the arena to a cacophony of jeers from the crowd, while Warrington received a heroes welcome to the tune of his beloved Leeds United, followed by Kaiser Chiefs' anthem, I Predict A Riot.
It was a cagey opening, with Galahad switching styles at regular intervals, and clinches aplenty. Galahad was a slippery customer, and nothing much of note landed for either in the first frame.
There was much better work from Warrington in the second, as he landed long range shots that glanced off Galahad. A left hand connected for Josh at the start of round three, and Galahad was struggling to get any sort of rhythm going. The heads were also coming dangerously together as the styles weren't immediately gelling.
Sheffield based Galahad put some decent work together in the next, and Warrington's nose was bloodied. The fifth saw Galahad catch Warrington off balance, while Josh landed a solid right hand.
The action was continually halted for breaks, and Galahad was finally spoken to by referee Phil Edwards in the sixth for excessive holding.
The fight followed the same pattern throughout, with Galahad producing decent work, but electing to hold and make the fight messy that truly get his shots off. It was a tough fight to score, and so it proved when the fight inevitably went to the cards.
Judge Howard Foster saw the contest 115-113 to Galahad, but he was over ruled by Steve Gray who tallied 115-112 for Warrington, and Michael Alexander, who awarded a 116-113 verdict in favour of the Champion, who will want to quickly move on from this one.
There were cries of controversy on Social Media, but the fight was that tough to watch and score that it was always going to be a divided opinion.
Zelfa Barrett picked up the vacant Commonwealth Super Featherweight Title with a comfortable, but competitive points win over Lyon Woodstock.
Barrett made an assured start, with a left hook sneaking through Woodstock's guard, and body shots being winged in. It was fast paced action, with Barrett working off a flicking jab and Woodstock looking to counter. Zelfa was continuously moving and hard to pin down in the early going.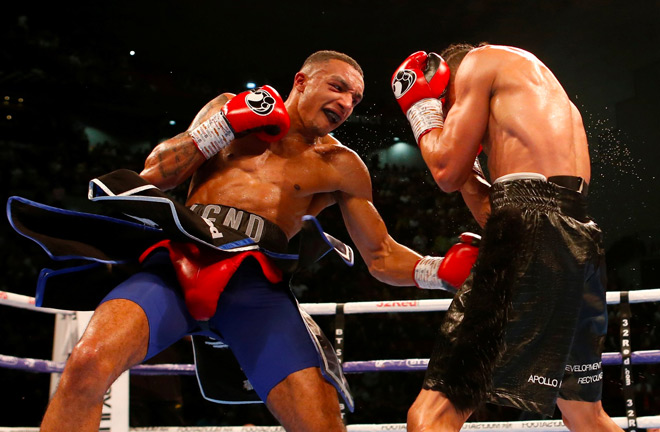 A corkscrew right, and a straight right found the mark for Barrett in the third, and, although Woodstock was getting closer to finding the range, he was having to take some meaty shots from his opponent. There was much more urgency from Lyon in the fourth, and he put together some much better work in the round, landing with a cuffing left hand.
Barrett opened the fifth with two solid right hands to the head, but Woodstock was beginning to close the distance. Barrett's combinations were meeting Woodstock's flurries, and the Manchester man landed with a hard left-right duo right at the end of the sixth.
Barrett stepped on the gas in round seven, connecting with cuffing blows to head and body, and a jolting right from Barrett drew gasps from the crowd.
Woodstock's work was becoming ragged and he was allowing Barrett to pick him off, with his shots accurate and hard. Woodstock knew he was behind on the cards, and upped the tempo in the ninth good effect, landing with some decent head shots. A big right from Barrett dislodged Woodstock's gum shield, but it was a much better round for the Leicester co-challenger.
Barrett's right eye was showing signs of damage, but he was having the last say on the exchanges between the two, usually ending with hard right hands hitting the target.
It was clear Lyon needed knockdowns going into the last, and, despite a decent final frame, Barrett took the title with a wide margin points win.
Phil Edwards and Howard Foster scored 117-111, with Steve Grey tallying 118-110.
JJ Metcalf claimed the vacant Commonwealth Super Welterweight Title with a thrilling eighth round stoppage of Jason Welborn.
Liverpool native Metcalf, dubbed "Kid Shamrock" entered the Arena to the strains of The Pogues' The Irish Rover, and he began the contest deploying a stiff jab, and also worked the body of Tividale's Welborn. Recent World Title challenger Welborn did connect with a chopping right hand that drew appreciation from the crowd amid some decent exchanges between the two. A quiet second came to life when Welborn ambushed Metcalf with quick combinations. Welborn was growing in confidence, and a left landed flush in round three.
Metcalf put together some good work in the fourth, especially to the body, but he was still susceptible to taking shots, a stiff right in particular found the mark from Welborn, who had certainly come to win.
The better work was coming from the Midlander, but he was warned for punching low in the sixth. Metcalf almost immediately got the same admonishment from the referee for straying low himself.
Metcalf upped the tempo in the seventh, and enjoyed more success than before, but Welborn still sent regular reminders that he was in the contest. Welborn landed with a straight right in the eighth, but Metcalf responded with a low blow, causing a halt in the action. Metcalf was docked a point as a result.
On the resumption, Metcalf caught Welborn with a wicked left to the body that crumpled Jason to the canvas. He immediately shook his head, and spat his gumshield out, and on the completion of referee Steve Gray's count, the fight was waved off.
The televised portion of the card kicked off with Middleweight prospect, Shakiel Thompson in action in a six rounder with Alistair Warren
Thompson is a a slick operator, and made a bright start. But Huddersfield based Warren was a moving target and hard to pin down. It was scrappy action at best, with "Dr Steel" Thompson being boxed in by his experienced opponent, while still controlling what action there was.
Thompson struggled to land with more than just single shots, with Warren able to slip the punches coming his way.
The last round saw a much higher tempo, and Warren suffered a cut to his left eye as the heads came into close contact. A left hand landed for Thompson in the final session as Warren began to tire. He made the final bell though, and referee, Howard Foster, was left with the task of adjudging Thompson a 59-55 winner.