A huge night of action in Leeds is set for Saturday night as hometown favorite Josh Warrington goes against Patrick Hyland – but the title is not on the line for the Dubliner as he failed to make the weight.
Luke Campbell meets Argenis Mendez, Huddersfield man Tyrone Nurse defends his British Super Lightweight title in an all-Yorkshire affair with Hull's Tommy Coyle, Gamal Yafai goes against Josh Wale and Heavyweight rivals Dillian Whyte and Dave Allen meet.
Running order (subject to change) with weights (where available)
4.25pm 4 x 3 mins Middleweight Contest
FELIX CASH v EDGARS SNEIDZE
(Wokingham) (Latvia)
6 x 3 mins Light-Heavyweight Contest
JAKE BALL (12st 9lbs 7oz) v KRZYSZTOF GOLEC
(Guilford) (Wakefield)
4 x 3 mins Super-Welterweight Contest
CONNOR SEYMOUR (11st 5lbs) v LIAM GRIFFITHS (11st 5lbs 9oz)
(Hull) (Bognor Regis)
6 x 3 mins Super-Middleweight Contest
VINCENT FEIGENBUTZ (11st 12lbs 4oz) v WILMER GONZALEZ
(Germany) (Spain)
LIVE ON SKYSPORTS.COM FROM 6PM
10 x 3 mins WBC International Bantamweight Championship
RYAN BURNETT (8st 5lbs 4oz) v CESAR RAMIREZ (8st 5lbs 6oz)
(Belfast) (Mexico)
6 x 3 mins Welterweight Contest
FRANKIE GAVIN (11st 1lbs 5oz) v IVO GOGOSEVIC (10st 12lbs)
(Birmingham) (Croatia)
12 x 3 mins Commonwealth Super-Bantamweight Championship
GAMAL YAFAI (8st 10lbs) v JOSH WALE (8st 9lbs)
(Birmingham) (Barnsley)
6 x 3 mins Welterweight Contest
SAM EGGINGTON (10st 10lbs 3oz) v DAZA USHER (10st 9lbs 4oz)
(Stourbridge) (Bicester)
FLOAT – 5.30pm-8.30pm
6 x 3 mins Welterweight Contest
DARREN TETLEY (10st 10lbs 1oz) v RYAN HARDY (10st 8lbs 4oz)
(Bradford) (Sheffield)
4 x 3 mins Featherweight Contest
REECE MOULD (9st 4lbs 9oz) v QUASIM HUSSAIN (9st 6lbs 9oz)
(Doncaster) (Sheffield)
LIVE ON SKY SPORTS 1 FROM 8.30pm
12 x 3 mins British Super-Lightweight Championship
TYRONE NURSE (9st 13lbs 2oz) v TOMMY COYLE (9st 13lbs 2oz)
(Huddersfield) (Hull)
Followed by
12 x 3 mins Vacant WBC Silver Lightweight Championship
LUKE CAMPBELL (9st 8lbs 1oz) v ARGENIS MENDEZ (9st 8lbs)
(Hull) (Dominican Republic)
Followed by
10 x 3 mins Vacant WBC International Heavyweight Championship
DILLIAN WHYTE (17st 7lbs 9oz) v DAVE ALLEN (16st 13lbs 6oz)
(Brixton) (Conisbrough)
Followed by
12 x 3 mins WBC International Featherweight Championship*
JOSH WARRINGTON (8st 13lbs 2oz) v PATRICK HYLAND (9st 2lbs 6oz)
(Leeds) (Dublin)
*Hyland failed to make the weight – title only on the line for Warrington
LIVE FLOAT
4 x 3 mins Super-Welterweight Contest
SCOTT FITZGERALD (11st 4lbs 7oz) v DARRYL SHARP (11st 4lbs 5oz)
(Preston) (Manchester)
Close up on Ryan Burnett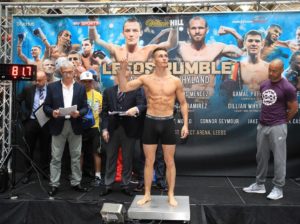 Ryan Burnett believes he's edging closer to bringing a major title fight to Belfast as he defends his WBC International Bantamweight title against Cesar Ramirez at the First Direct Arena in Leeds on Saturday night.
Burnett's clash with Ramirez will be live on SkySports.com along with Gamal Yafai's Commonwealth Super-Bantamweight title defence against Josh Wale between 6pm and 8.30pm before the action gets underway live on Sky Sports 1 from 8.30pm.
Burnett knows that there are big plans for him should he keep hold of his belt in his first defence, with promoter Eddie Hearn and trainer Adam Booth saying that the classy Belfast fighter could soon be mixing with the top names and champions in the 118lbs division, and that has pushed the Burnett to work even harder in the gym.
"I have been putting in a lot of work," said Burnett, who scaled 8st 5lbs 4oz, two ounces less than Ramirez. "It isn't too long ago that I found out a World title shot could be very close for me, and that brings a lot of excitement.
"I am happy to be named among guys at the level of Haskins, Hall and [WBA champion] Jamie McDonnell. If I am being named that high I have to stand up to the mark and Adam thinks I am ready.
"For Eddie to say I am three fights away from facing the winner of Haskins vs. Hall is a big statement. Stuart and Lee Haskins are amazing fighters and I am being mentioned in the same breath.
"At the press conference for this fight, Josh Warrington was saying 'we have Ryan Burnett on the show, he is closing in on a World title shot'. It seems a bit mad to hear people say that but I am happy with the way things are going.
"I thought I knew boxing but since I have started working with Adam, that has changed, we have completely taken off. The things he has been teaching me are incredible and I learnt very quickly that I didn't really know boxing.
"We are a close-knit group in the gym. Andy Lee is a former World champion who has been there and done it so I am in a good place with a great thing there."
Saturday night is a big night for Belfast boxing as Carl Frampton faces Leo Santa Cruz in Brooklyn in the early hours of the morning looking to become a two-weight World champion. Burnett believes he can join Frampton as a World ruler and wants to do so on his home patch.
"In Belfast there are great fighters," said Burnett. "It is a city which produces champions. Jamie Conlan is a fine champion, Tommy McCarthy is up and coming, there is a good bunch there and it will work well for when Eddie brings the Sky Sports cameras back to Belfast.
"I want to headline there and with Eddie, who knows the game inside out, and Adam, who has worked with David Haye and a lot of great fighters, I have the perfect team to make it all happen."