The World Boxing Council (WBC) Female Championship Committee has ordered a mega-fight between undefeated WBC welterweight champion Cecilia "First Lady" Braekhus (21-0, 5 KOs) and three-division world champion Holly "The Preacher's Daughter" Holm (32-2-3, 9 KOs).
The WBC has awarded the distinction of the Diamond Belt for the Braekhus-Holm fight because "it is regarded as one of the best fights in the history of female boxing."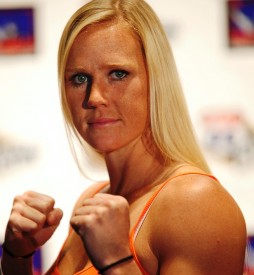 If the promoters for Braekhus (Sauerland Boxing) and Holm (Fresquez Productions) are unable to reach an agreement, the WBC will conduct a purse bid Friday, February 15 at the its headquarters in Mexico City.
"Sometimes you need to be careful what you ask for," Holm's promoter Lenny Fresquez warned. "This reminds me of Mary Jo Sanders all over again. We all know what happened there (Holm won 10-round decision for IBA light middleweight title and then they fought to a draw) and we never heard from her after she challenged Holly (in 2008)."
Braekhus issued a video challenge to WBC No. 1-rated Holm after Holly's last fight in December, which Holm quickly accepted, pending terms, for a July fight in Las Vegas. Talks between Kallie Sauerland and Lenny Fresquez had already started before the WBC's order (Jan. 17) was sent to the two promoters.
Braekhus has owned the WBC welterweight championship since 2009, when she defeated Vinni Skovgaard by 10-round decision. The Colombian boxer who lives in Norway has made 10 consecutive title defenses. She is also the reigning World Boxing Association (WBA) and World Boxing Organization (WBO) welterweight champion.
Holm held the WBC welterweight title in 2007 and 2008, stopping Miriam Brakache in the seventh round, and she made one successful title defense against Ann Saccurato with a win by 10-round decision before relinquishing the WBC 147-pound division belt. Holm has also been world champion in the light welterweight and light middleweight divisions.