It was a great night of action on Saturday inside the cauldron that is the SSE Arena in Glasgow, where the semi final line ups in both the Super Lightweight and Bantamweight versions of the World Boxing Super Series are now complete.
Josh Taylor was punch perfect in dismantling the hapless Ryan "Blue Chip" Martin in front of a raucous Glasgow crowd. The opener was relatively quiet, with Martin taking centre ring, but Taylor having success with hard body shots. Taylor upped the ante in the second, boxing well to head and body, with Martin reluctant to let his shots go. Martin's tenseness allowed Taylor to keep banking the rounds, and although he had more success in the third, Taylor's body assaults were enough to keep control of the contest. It was a dominant fourth for Taylor, with Martin again not able to let his hands go. Abel Sanchez in Martin's corner was forced to tell his man that he could pull him out of the fight there and then at the end of the fourth to try and give the American come encouragement.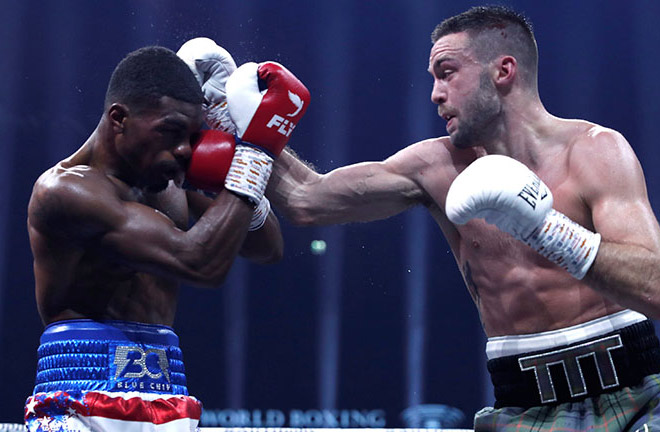 By the fifth, Taylor knew he was in complete control, and was letting shots go freely without fear of something significant coming back. Every time Martin did try to land something of his own, Taylors bodywork was quickly discouraging him. A cut to the left eye in the sixth only added to Martin's problems. The seventh saw probably Martin's best round, but still with limited success. Taylor mounted an attack, and landed with a cuffing left hand, at first glance, on Martin's ear, that robbed him off his senses, referee Victor Loughlin waved the fight off. Martin complained the shot was behind the head, and he did have a point, but his corner had no complaints, he was simply outgunned. Taylor kept his WBC Silver Title, and moves on to a World Title fight in the semi finals. He will next meet the Belarussian IBF Champion, Ivan Baranchyk, and he surely must be the man to beat on this evidence.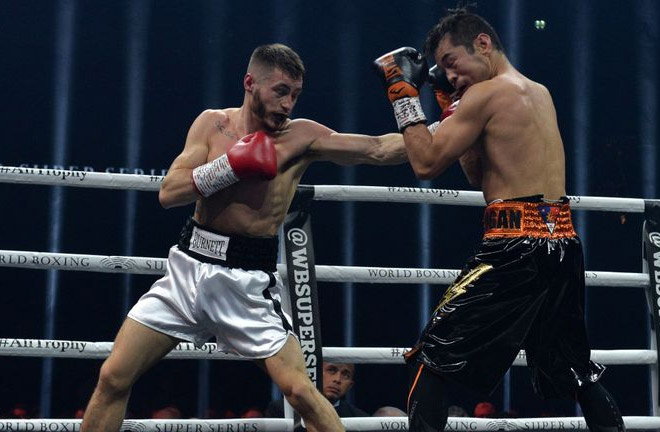 It was to be a dramatic and bizarre conclusion to the Bantamweight quarter final between WBA "Super" Champion, and tournament number one seed, Ryan Burnett, and the 35 year old former four weight World Champion, "Filipino Flash", Nonito Donaire. The fight began at a good, high octane pace, with Donaire's speedy attacks being negated by Burnett's accuracy and hard single shots. A jolting right hand shook Donaire to his boots at the start of the second, but Donaire recovered instantly and the back and forth action continued. Donaire enjoyed success when he managed to pin Burnett in the corner, teeing off with rapid shots, but Burnett always maintained control with great footwork and shot selection. There was to be a massive sea change however in the fourth round. Burnett attempted to throw a right hand while pivoting, and his back looked to give way, leaving the Northern Irishman in massive discomfort, and he was forced to take a count from referee Howard Foster. He was never going to recover from this, but still somehow managed to see out the round. But that was to be the end to the action, as Burnett was forced to pull out of the fight due to the injury, leaving Donaire the new Champion, and he moves on to face WBO Champion, Zolani Tete in the semi finals. Donaire was gracious in victory, not celebrating his opponent's misfortune, and praising Burnett for his massive potential and talent. It's not yet known if Burnett's injury was suffered in training, or a freak occurrence on fight night.
Elsewhere, Zach Parker became British Super Middleweight Champion with a split decision win over the unlucky Darryll Williams. It was a what you preferred fight, with the host broadcaster of the opinion that Williams clearly won with his more aggressive work, but the Derby man took home the Lonsdale Belt.
Paul Butler impressed with a 99-91 victory over Frenchman Yoann Boyeaux, and Viktor Postol won by the same margin against Siar Ozgul.