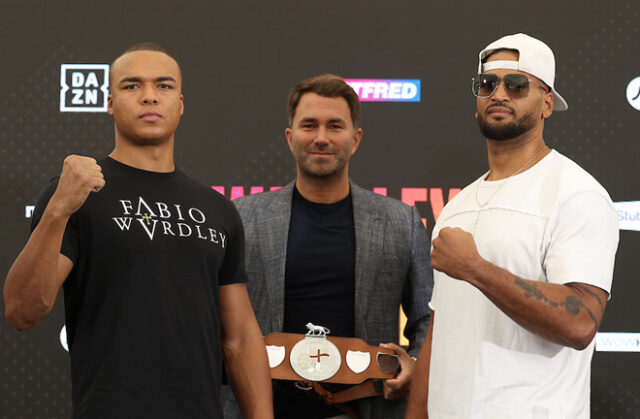 Nick Webb has vowed to humble Fabio Wardley when the pair clash at Fight Camp on Saturday.
Webb (17-2, 13 KOs) challenges Wardley (11-0, 10 KOs) for his English heavyweight title on the undercard of the vacant IBF featherweight world title meeting between Kid Galahad and Jazza Dickens, live on DAZN.
The champion has promised a knockout victory over the 2019 Ultimate Boxxer victor in the build-up, however the Surrey man does not believe he has faced anyone like him and anticipates a win in explosive fashion.
"I think Fabio has had a great journey," Webb told Matchroom Boxing.
"I'm not the sort of person to bad mouth people and put them down.
"That isn't me as a person and that's not what I'm going to start doing now, but I feel like he's a kid still. He's not yet grown.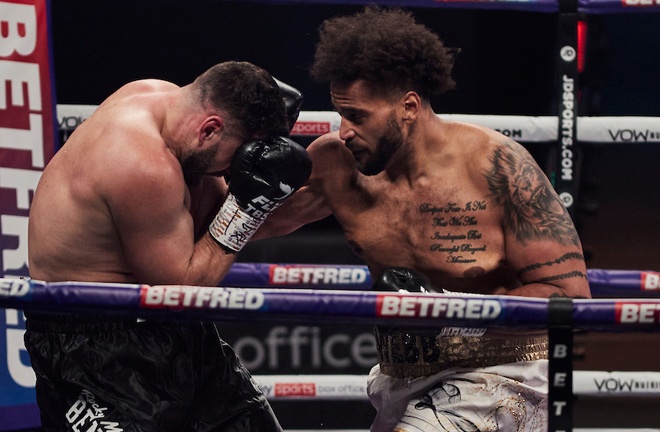 "I've been in the game quite a while now. I've had my losses and I've been humbled. He's going to get humbled now.
"I will cause Fabio Wardley devastating problems. It doesn't matter which fight I look at – he's getting in the ring with me. He hasn't been in the ring with anyone like me. He's going to be upset after the fight but it's okay, he can come back.
"We're heavyweights and we're both knockout artists. That's why it's going to be exciting. I'm explosive and he's explosive. It's about whoever connects first. I win this fight by KO.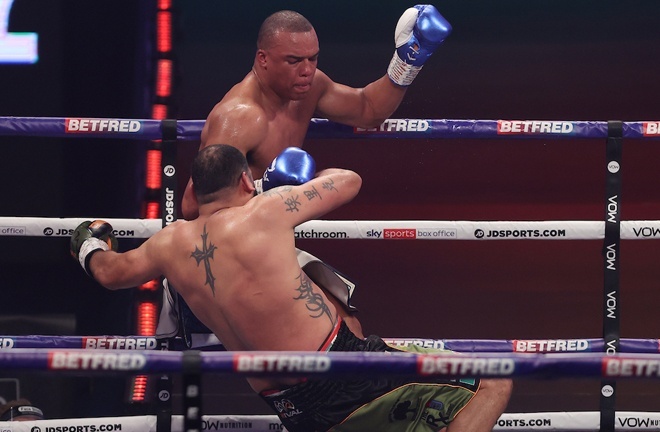 "Tune in on August 7th, there's going to be some bombs landing and it's going to be me winning. Let's have it."
Wardley extended his unbeaten streak to 11 professional victories with a fifth round knockout over former two-time world title challenger, Eric Molina on the undercard of Dillian Whyte's rematch win over Alexander Povetkin in Gibraltar in March.
Webb appeared on the same bill, knocking out Eric Pfeifer in two rounds to make it four wins on the spin, following two stoppage defeats in three fights to Dave Allen and Kamil Sokolowski.
❌ "𝗧𝗛𝗘 𝗝𝗨𝗗𝗚𝗘𝗦 𝗪𝗢𝗡'𝗧 𝗕𝗘 𝗡𝗘𝗘𝗗𝗘𝗗" 💣

🥊 English heavyweight champion, @Fabio_Wardley is certain his clash with @itsanickting ends inside the distance at #FightCamp on Saturday night! 💥#Boxing #WardleyWebb pic.twitter.com/gd81d4WJ5H

— Pro Boxing Fans (@ProBoxingFans) August 6, 2021
The 33-year-old believes he has responded well from those losses and is eager to keep proving that he should be respected for the way he has bounced back.
"Everything is going according to plan," Webb said.
"I never take any fight lightly and I'm not taking this fight lightly. I'm excited, confident and ready to go. Everyone looks back to my losses and they try to define me from that.
"I'm determined to show that you can't define me from my losses. You can only define me from how I've come back.
View this post on Instagram
"I think how I've come back has just built my confidence more and more. I'll get in there with anyone.
"The whole occasion of being in Gibraltar was momentous. We were hanging around with boxers who I used to watch when I was younger and things like that.
"To actually get that win, it was just the best feeling in the world. All of that hard work and all of that torture of putting myself through the losses and hearing all of the negative talk.
"To prove everyone wrong and come out of the other end was amazing."