This was a big weekend for boxing fans. A string of unpleasant outcomes had hardcore fans bristling with anticipation for what seemed to be at least a couple of can't-miss fights. There were no superfights–certainly nothing that could compare to the big Pacquiao-Marquez fight next week. But Bute-Johnson and Angulo-Kirkland would be the kind of fights that boxing fans love.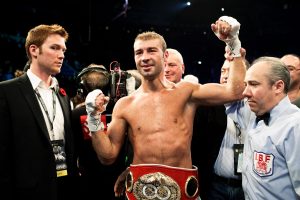 Bute vs. Johnson
Bute-Johnson didn't deliver on thrills, but Lucian Bute, 30-0 (24) cemented his status as one of the sport's rising forces with a near-shutout unanimous decision over Glen Johnson, 54-16-2 (36).
Naysayers would be within reason to point to Johnson's apparently-depreciated form in this bout. He was off-balance at times, while appearing dried-up and creaky. He didn't take punches as unflinchingly as in the past.
But in acknowledging the clearest loss of Johnson's career, or at least since he became a force following a KO of Roy Jones, we must praise his conqueror. Bute unleashed all the punches in his arsenal, slamming Johnson with straight lefts, right hooks, and uppercuts from the southpaw stance.
Round after round, Johnson was reduced to jabbing and the occasional right hand–neither of which sufficiently menaced Bute. As always, Johnson was resolute in absorbing taxing punishment all the way to the final bell. But whereas he was at least competitive with every big-name fighter he has fought from 168-175, he got nowhere with Bute.
A great performance by Bute. It further positions him as the obvious opponent for next month's Super Six final between Andre Ward and Carl Froch.
On the undercard, Pier-Olivier Cote scored an electrifying 2nd-round stoppage of Jorge Luis Teron. Cote, 18-0 (12) served notice that he is a prospect to watch at 140 pounds.
James Kirkland KOs Alfredo Angulo
Kirkland-Angulo was everything fans could hope for and more. In a fight for the ages, James Kirkland climbed off the canvas to blast Angulo out for a career-revitalizing 6th-round TKO.
Kirkland, 30-1 (27), rampaged out of his corner at the opening bell, only to run headlong into a bludgeoning Angulo right. Flashes of the disastrous Ichida fight flashed in everyone's mind. In the next minute and a half, Angulo advanced his position, slamming into Kirkland with venom. And then all the life rushed out of Angulo and into Kirkland. "Perro" had punched himself out.
Kirkland seized the moment and ripped into a suddenly-deflated Angulo. A volley of shots sent Angulo to the mat for the first time in his career. All this is the first round! The life-and-death dogfight had taken its toll on both men, but Angulo never truly recovered.
Over the next two rounds, Kirkland got the better of heated two-way action. He appeared crisper. He would occasionally get on his toes and box with some pep–giving him the edge in this slushy trench war. Angulo's legs became increasingly heavy.
In round 4, both guys seemed to be struggling, but Kirkland still churned out some meaningful offense. Angulo seemed drained of any vitality, but his heart shined as he sponged dozens of hard shots and still tried to lash out with the occasional fight-changer.
Angulo was still hanging in there, but after a one-sided 5th, he looked ragged coming out for the 6th. Kirkland got him against the ropes and pounded away, until the referee stepped in to call a halt.
For Kirkland, it was redemption. Released after a two-year jail stretch, he put together a few get-well wins before being knocked out in the first round by light-hitting Nobohiru Ichida. But you can't keep a good man down. Kirkland reunited with trainer Anne Wolfe and the good work paid off tonight.
For Angulo, 20-2-1 (17), one wonders where it all went wrong. Not too long ago, he was one of the hottest contenders in boxing. After a long period of inactivity following deportation, he returned with a tune-up, before getting battered by Kirkland in a draining TKO-loss. He now faces a long road back.
In an undercard bout, rising middleweight Peter Quillin, 26-0 (20) stopped Craig McEwan, 19-2 (10) in the 6th round. Quillin was having his way, though the stoppage seemed ill-timed.
In other action over the weekend, 43-year old James Toney was punished en route to a unanimous decision loss to Denis Lebedev in Moscow. Toney lost every round on all 3 scorecards. While getting under 200 pounds was commendable. Toney was lifeless and should really call it quits.
Ricky Burns won the interim WBO lightweight title but outpointing the always tough and gusty Michael Katsidis. With Katsidis' style, he'll always be getting calls for big fights, but at this point one feels forced to say he'll never get a true landmark win over a top level guy.
American heavyweight contender Chris Arreola stayed busy with an easy win over journeyman Raphael Butler.
Word spread this weekend that former Heavyweight Champion of the World Joe Frazier is seriously ill with advanced liver cancer. Speaking for all boxing fans: God bless Joe Frazier.
Comments
comments