Recapping the Week in Boxing News & Results:
Friday got off to a great start. ESPN 2 has been on a roll in the past few weeks, with rip-roaring brawls. Maybe it came down a notch this week, but there was still entertainment to be had. One constant that held firm was the alarming number of undefeated prospects beaten this year on Friday Night Fights.
Already this year, numerous undefeated fighters have bitten the dust and this week it was Joseph Elegele's turn. Elegele had looked great cruising to a 12-0 (10) record, but what stunned by Aron Martinez, now 15-1-1 (3), in the first round as he visited the deck for the first time in his career.
Elegele, lending some clout to his future prospects, rebounded well and took some of the following rounds. It was still troublesome to see him being rattled by Martinez, who had only 3 stoppages in 16 fights. Martinez began getting to Elegele again in the 6th, hurt him in the 7th, before the fight ended suddenly in the 8th round.
The stoppage was an amazing piece of footage. Their heads came crashing together violently. On the slow-mo, you could see Martinez emerge immediately with a cut that defies description. The blood was literally squirting out of the cut, causing even hardened observers to bristle. It was later revealed that the cut had gone through muscle and all the way to the bone. Martinez was sent to the hospital, his pain surely lessened by the fact that he won the technical decision, notching a really good win in the process.
I've given a lot of flack to judges over recent weeks, Watching Elegele standing there with Al Haymon, one couldn't help but anticipate another decision that always seems to go the way of the better-connected fighter with the better record. But to the judges credit, they unanimously awarded the verdict to Martinez, who will need some time to recover before we see him again.
In the main event, Anthony Dirrell, only now starting to emerge from his brother Andre's shadow, dominated Kevin Engel en route to a 2nd-round KO win. Dirrell, whose career was slowed by a battle with non-Hodgkin's lymphoma , showed himself to be a formidable offensive force, albeit against a lower-level fighter who entered the ring in a compromised position.
It was revealed before the fight that Engel had dropped 24 pounds in 11 days. He got the fight on short notice and ended up 4 pounds over the contracted weight, which was settled with a cash payment to the Dirrell camp. But why make a totally anonymous midwestern fighter like Engel go through that for this fight? It's one thing to hear James Toney dropping crazy weight to fight Jones or Duran losing 40 pounds to fight Sugar Ray Leonard in the rematch—those are big fights. Why make a hopeless underdog go through that?
Engel seemed a bit out of sorts and Dirrell took advantage by teeing off with impunity. The left hook that put Engel down was clearly low, but referee Lou Moret missed it and counted out Engel. One might become enraged about the conclusion if the fight were even minimally competitive, but is was not. I'm sure we'd all like to see Dirrell in the ring again soon, just not against a mediocre talent who has to go through hell merely to get into the ring.
As a San Diego native, I am always looking out for a good local fighter. It's strange that a city this massive and with such a big population has never really had a top fighter. Archie Moore was based here for a while, as were the Norris brothers, but there simply hasn't been a native fighter to have much success.
Enter classy Christopher Martin, a junior featherweight improving with every outing. You might remember him beating touted Chris Avalos on Shobox. Coming off another big win over Charles Huerta, Martin kept the ball rolling with a whitewash decision over Jose Silveira in Tucson to bring his mark to 23-0-2 (6 KOs). Martin is smart in the ring with slick skills that make him a prospect worth watching.
Hats off to promoter Bobby DePhilippis for another good show at the Four Points Sheraton in Hotel Circle. The card was exciting, featuring local talent in some well-contested battles that thrilled the crowd. Mr. DePhilippis has been a staple of the local scene for as long as I can remember. I'll never forget those nights at the old El Cortez, watching fighters like Terry Norris and Jesus Salud. Guys like DePhilippis deserve a lot of credit. Times are tough and sometimes it's only a sincere love for the sport that keeps guys like Bobby in the business, pumping some life into the sport on a local level.
Sad to hear about the passing of promoter Butch Lewis. Some might remember him as the shirtless, tuxedo-clad lightning rod who guided the careers of the Spinks brothers. His father was one of the original investors in the firm Cloverlay, which oversaw the career of Joe Frazier. Lewis became close to Frazier, as the two became road buddies. By the 70's, Lewis managed to have both Spinks brothers under his control.
With Leon making it big first, it's a wonder Lewis didn't head for the hills and leave boxing behind. Leon could not be controlled. After he beat Ali, the endorsement opportunities poured in. Spinks and Lewis were primed to make a bundle. Then Leon got caught with $5 worth of cocaine and those deals dried up. Leon could have made it right by beating Ali in the rematch, but he spent his whole camp getting high and running around. It can't be easy when your first bigtime fighter almost seems to trying to throw it all away.
Lewis would eventually make his fortune with brother Michael, who had several huge paydays in the 80's. A nice testament to Lewis is that his biggest-name fighter (M. Spinks) is still financially secure after all these years. He was one of the most colorful figures in the game and will be missed.
Saturday…
Tyson Fury vs. Dereck Chisora
Tyson Fury won a unanimous decision over Dereck Chisora in an important heavyweight fight at Wembley Stadium in London. Fury had some rocky moments early and withstood a late Chisora onslaught to win going away on the scorecards. The fight was sloppy and largely one-sided, but somehow entertaining at the same time.
Chisora coming it at 261 after weighing in the 240's mostly in recent outings brings to mind the puzzling element of self-sabotage that exists among some fighters. It's even more the case with heavyweights, who are free of weight-related concerns. It is just difficult to explain how fighters come into the biggest fights of their lives overweight and ill-prepared. We saw it a few years ago with Chris Arreola when he fought Vitali Klitschko grossly out of shape. Now he's able to get down to the 230's for fights on ESPN? Go figure.
Not that he was that great to begin with, but the extra weight took away Chisora's sharpness. He spent long stretches of the bout doing little to nothing in the way of moving his hands. He was durable and defiant—somewhat empty virtues when not accompanied with any kind of punch output to speak of. In some rounds, he slowed down to a crawl, letting Fury take rounds with his greater activity.
Word was before the fight that Wladimir Klitschko would be watching, presumably scouting a future opponent. At first thought, the prospects of a Klitschko-Fury fight seem like a mismatch. But when one sees that former Klitschko victims Tony Thompson and Eddie Chambers will be fighting an elimination soon, maybe Fury isn't such a bad choice.
It doesn't say much for the heavyweight division that being a 6'9" tough guy with good stamina is enough to get a title shot, but it seems to be the case. Fury has a ton of energy, which makes for good fights, but let's face it—he's not much of a fighter. His right hand is sloppily-thrown and he presents a big target. Against Chisora, he was fortunate the referee was so unassertive about breaking up clinches. If he fights Klitschko, you can bet the third man will not allow Fury to lean and muscle around Klitschko in the clinches.
Fury might be sloppy. His physique can only be described as Wepneresque. But being a 6'9" guy who throws a lot of punches might just make him a half-decent challenger for the Ukrainian. For once, Klitschko will be facing a taller opponent and someone he hasn't beaten before. It isn't much, but what more can we really ask for at this point?
Khan vs. Judah Results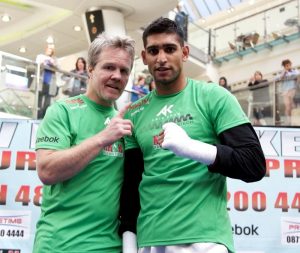 Amir Khan solidified his claim as the top 140-pounder in the sport with a dominant 5th-round knockout of fellow titleholder Zab Judah. Khan, 24, never allowed Judah, 33, to gain any foothold. Judah struggled mightily with Khan's superior size and his immense boxing skills.
Khan might be the most physically imposing junior welterweight I have ever seen. I just can't remember any other fighter at 140 pounds with his vast physical dimensions. Even though Judah had been moderately successful 7 pounds north at welterweight, he looked two divisions smaller against Khan in this fight. But these were liabilities we figured Judah would face and many still fancied his chances to win or at least put up a good fight.
Unfortunately for Judah, he was unable to be competitive. Soundly outboxed the entire fight, Judah was hit on the beltline in the 5th and went down for the count. He indicated it was a low blow, but referee Vic Drakulich was having none of it—dolling out the ten-count to the Las Vegas-based Brooklynite.
It was nice to see Judah have a little resurgence at 140, but this performance tonight can only be described as dreadful. Khan is a big 140-pounder and awfully good, but Judah seemed to adopt a defeatist attitude pretty early in the bout. Reserved to occasional swings that looked menacing, Judah couldn't get anything going and this result puts a major dent into his future prospects. He could still be competitive with all but the very best, but this bout showed the truly elite are a bit over his head.
Khan has already tried and failed to lure Timothy Bradley into the ring. Bradley, the only other 140-pounder with a claim as the best, lost some honor by refusing to fight Khan, deciding to hold out for a bigger fight down the road. Khan has interesting options. The winner of the upcoming Robert Guerrero-Marcos Maidana fight would make an attractive opponent. He can squeeze in an attempt to avenge his only loss by fighting Breidis Prescott. He can try to get a fight with the winner (or loser) of the upcoming Mayweather-Ortiz fight.
If my vote counts for anything, I'd say book the Prescott fight. It's unbecoming of such a great young champion to blow off an amends-making fight like this. Prescott is surely available. Why not try to exact revenge, especially in what appears to be such a winnable fight?