Thompson Boxing Promotions celebrates fifteen years with a card featuring the always exciting Danny Roman (14-2-1, 5 KOs), a super bantamweight from Los Angeles, versus Chris Martin (28-5-3, 9 KOs), a savvy tactician from San Diego, from the Doubletree Hotel in Ontario, Calif.
WEIGHTS
Danny Roman, 121.8 vs. Chris Martin, 121.3
Juan Reyes, 126.7 vs. Roberto Castaneda, 123.2
Efrain Esquivias, 134.2 vs. Jose Haro, 129.8
Cesar Villarraga, 133.8 vs. Erick Aguirre, 131
Rigoberto Flores, 143.4, vs. Luis Hernandez, 143.6
In other action, one of Southern California's most popular fighters, Efrain Esquivias (17-3-1, 10 KOs), faces the young Jose Haro (8-1-1, 6 KOs) of Salt Lake City. The fight is scheduled for eight competitive rounds.
In the other marquee match up, super bantamweight Juan Reyes (12-1-3, 2 KOs) of Riverside, Calif. brings his exciting brand of boxing to the more experienced Robert Castaneda (21-9-1, 15 KOs) of Mexico in a 6-round scrap.
Weights from Beale Street in Memphis
Lateef Kayode 199.8 vs. Nick Kisner 199.8
Josh King 134.7 vs. Rogelio Casarez 134.7
Amanda Serrano 130.4 vs. Zarika Kangethe 125.4
Derrick Webster 167.6 vs. William Johnson 167.6
Quincy Palmer 275.1 vs. Marvin Hunt 231.6
Marlon Lewis 125.2 vs. Terrance Roy NA
Promoters: Greg Cohen Promotions, in association with GH3 Promotions, Prize Fight Promotion and Adam Wilcock's Fight Card Productions, produced by David Schuster's Winner Take All Productions
Venue: WC Handy Pavilion on Beale Street in Memphis, Tennessee
TV: CBS Sports Network (10:00 PM, ET)
Weights for Friday night's King's Promotions show from the Stadium Holiday Inn Philadelphia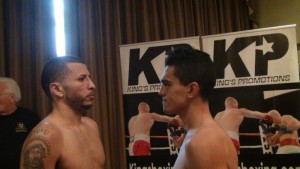 Frank De Alba 129.3 – Bernardo Gomez Uribe 128.5
Steve Upsher Chambers 139.7 – Alejandro Rodriguez 140.4
Farah Ennis 167 – Michael Gbenga 169.9
Miguel Cruz 147.5 – Juan Rodriguez 145
Samuel Figueroa 146 – Jose Valderrama 148
Brandon Bennett 137 – Rondale Hubbert 138.7
Demond Nicholson 164 – German Perez 163
Christopher Brooker 168 – Santario Martin 167
Leo Hall 176.5 – Lawrence Blakey 175.3
Caleb Plant 164.5 – Jason Zabokrtsky 163
Raynell Williams 134.5 – TBA
Promoter: King's Promotions
Venue: Stadium Holiday Inn
1st Bell: 6:45 (Doors open at 6 PM)
The Stadium Holiday Inn is located at 900 Packer Ave. in Philadelphia