We have the weigh-in results from several different cards, including the LA Fight Club tonight headlined by Christian Gonzalez:
Christian GONZALEZ vs. Alejandro OCHOA
Los Angeles, CA Bell Gardens, CA
11-0 (10 KOs) 7-10-2 (1 KO)
Weight: 130.4 lbs. Weight: 134 lbs.
TV CO-MAIN EVENT – BANTAMWEIGHTS – 6 ROUNDS
Oscar NEGRETE vs. Ernesto GUERRERO
Rosemead, CA Agua Prieta, MEX
11-0 (4 KOs) 17-16 (11 KOs)
Weight: 117.6 lbs. Weight: TBA
TV OPENER – LIGHTWEIGHTS – 6 ROUNDS
Ivan DELGADO vs. Luis LIZARRAGA JR.
Los Angeles, CA Merida, MEX
7-0-1 (2 KOs) 5-6-1 (2 KOs)
Weight: 130.8 lbs. Weight: 130.4 lbs.
SUPER FEATHERWEIGHTS – 6 ROUNDS
Nick ARCE vs. Ali GONZALEZ
Los Angeles, CA Tijuana, MEX
5-0 (5 KOs) 6-6-1 (1 KO)
Weight: 126.8 lbs. Weight: 127.4 lbs.
FEATHERWEIGHTS – 6 ROUNDS
Emilio SANCHEZ vs. Juan HERNANDEZ
Pacoima, CA Tijuana, MEX
10-0 (7 KOs) 4-1 (1 KO)
Weight: 125.6 lbs. Weight: 125.8 lbs.
SUPER FLYWEIGHTS – 6 ROUNDS
Joshua FRANCO vs. Leonardo REYES
San Antonio, TX Tijuana, MEX
2-0 (1 KO) 3-8-1 (1 KO)
Weight: 114.4 lbs. Weight: 114.4 lbs.
Weights from Fort Washington, Maryland and the Rosecraft Raceway:
Mykal Fox 139 lbs vs. Adam Maté 139 lbs
Thomas Snow 118½ lbs vs. Tibor Nadori 116 lbs
Santario Martin 156½ lbs vs. Nicolas Hernandez 158½ lbs
Sam Crossed 190½ lbs vs. John Felty 197 lbs
Junior Castillo 157½ lbs vs. Roland Nagy 152½ lbs
Chris Warden 139½ lbs vs. Bernardo Rodriguez, Jr. 134 lbs
Promoter: King's Promotions
Venue: Rosecroft Raceway
1st Bell: 8 PM ET
While we're waiting for the weights to come in, we have the tale of the tape for Culcay vs. Hogan…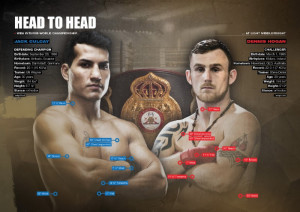 On Saturday night, 'Golden' Jack Caulcay (20-1, 10 KOs) will put his interim WBA World Light Middleweight title on the line against the undefeated Irishman Dennis Hogan (22-0-1, 7 KOs). Ahead of their World Championship clash at the Inselparkhalle in Hamburg, Germany, we take a look at how the fighters measure up with our Tale of the Tape.
Tickets, priced at $40/$60/$75, tickets are onsale online at www.beltwayboxing.com or by phone at 301-899-243