Undefeated junior welterweight Giovani Santillan (14-0, 8 KOs), aims to continue his win streak when he meets the hard striking Luis Solis (14-4-4, 12 KOs) in the 8-round main event of Thompson Boxing Promotions "New Blood" event, this Friday, Oct. 24, from the Doubletree Hotel in Ontario, Calif.
The 22-year-old Santillan is back in action after defeating Osenohan Vazquez in August.
Weights from Ontario, CA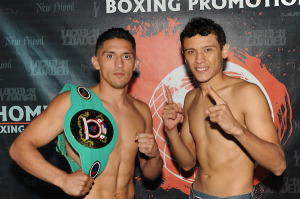 Giovani Santillan, 138.4 vs. Luis Solis, 138.7
Isaac Zarate, 120.2 vs. Fernando Samaniego, 121.6
Fernando Fuentes, 123.5 vs. Erick Aguirre, 124.2
Javier Lapizco, 112.9 vs. Cesar Sustaita, 111.6
Roy McCray, 259 vs. Mario Heredia, 277
Weights from Somerset, NJ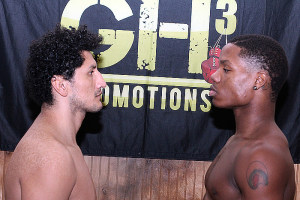 Antoine Douglas 162 – Jose Medina 163
Jorge Diaz 127 – Jose Haro 125
John Magda 167 – Edgar Perez 174
Bienvenido Diaz 131 – William Harris 131
Leon Johnson 200 – Ray Santiago 228
Glenn Dezurn 125 – Raymond Chacon 124
Caleb Hernandez 146 – Anton Williamson 147
Anthony Cintron 126 – Rennard Oliver 125
Promoter : GH3 Promotions
Venue: Ukrainian Cultural Center
1st Bell: 7:30 PM
Weights from Barranquilla, Colombia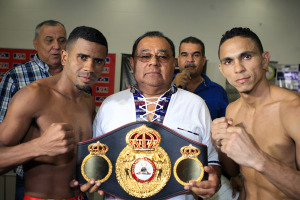 Darleys Perez (30-1, 19 KOs) faces fellow Colombian Jaider Parra (23-1-1, 12 KOs) this Friday, Oct. 24, in the 12-round main event from the Coliseo Universidad Del Norte in Barranquilla, Colombia.
Perez, who is currently the WBA No. 1 ranked challenger to current world champion Richar Abril, weighed in at a trim and fit 132 lbs., while Parra came in at 134 lbs.
Perez is co-promoted by Gary Shaw Productions and Thompson Boxing Promotions.