Weights from Bolton
At today's official weigh-in at the V.I.P Amateur Boxing Club in Manchester, former IBF World Bantamweight Champion Paul Butler (21-1 12 KOs) made weight ahead of his ten round international Bantamweight contest against Mexico's Alex Ruiz (11-3-1 4 KOs).
Butler, fighting under new trainer Joe Gallagher for the first time, takes on Ruiz at the Macron Stadium's Premier Suite, live and exclusive on BoxNation. Ellesmere Port's 'Baby Faced Assassin' hit the scales at 8st 7.5lbs with his opponent Ruiz coming in at 8st 5lbs.
Swindon powerhouse Jamie Cox (20-0 12 KOs) makes his long-awaited return to the ring in a ten round Super-Middleweight contest against Argentina's Martin Fidel Rios (20-9-3 11 KOs). Undefeated Cox weighed-in at 11st 13lbs with Fidel Rios hitting the scales at 11st 11lbs.
Manchester's Zelfa Barrett (12-0 6 KOs) looks for his fourth successive stoppage win when he takes on Barcelona's Elvis Guillen (9-22-4 6 KOs) in an eight round Super-Featherweight contest. 'Brown Flash' weighed-in at 9st 5lbs.
Leicester's rising Super-Featherweight prospect Lyon Woodstock (7-0 3 KOs) is hoping to impress in front of the BoxNation cameras again when he takes on Croatia's Antonio Horvatic (10-27 5 KOs) over six. Woodstock came in at 9st 5lbs with Horvatic weighing-in one pound lighter.
BoxNation running order:
Fight # 4 – 19:05 hrs – Live
8 X 3 Minute Rounds Super-Featherweight Contest
ZELPHA BARRETT v ELVIS GUILLEN
Fight # 5 – 19:45 hrs – Live
4 X 3 Minute Rounds Super-Middleweight Contest
DALE COYNE v MITCH MITCHELL
Fight # 6 – 20:10 hrs – Live
6 X 3 Minute Rounds Middleweight Contest
JACK FLATLEY v JOSZEF TOTH
Fight # 7 – 20:40 hrs – Live
6 X 3 Minute Rounds Super Middleweight Contest
LUKE BLACKLEDGE v JOSEF OBESLO
Fight # 8 – 21:10 hrs – Live
6 X 3 Minute Rounds Super Featherweight Contest
LYON WOODSTOCK v ANTONIO HORVATIC
Fight # 9 – 21:40 hrs – Live
10 X 3 Minute Rounds Bantamweight Contest
PAUL BUTLER v ALEX RUIZ
Fight # 10 – 22:30 hrs – Live
10 X 3 Minute Rounds International Super-Middleweight Contest
JAMIE COX v MARTIN FIDEL RIOS
Fight # 11 – Follow On (Live Float # 1)
4 X 3 Minute Rounds Middleweight Contest
JACK CULLEN v JACOB LUCAS
Weights from Ontario, California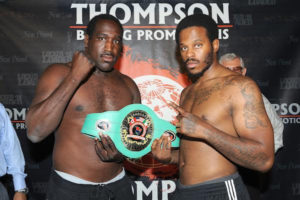 Heavyweights LaRon Mitchell (14-0, 13 KOs) and Scott Alexander (12-1-2, 6 KOs) faced off at Thursday's weigh in inside Misty's Lounge from the Doubletree Hotel in Ontario, Calif.
The pair fight for the vacant NABF Jr. Heavyweight Championship on Friday, Oct. 21. The "Path to Glory" 10-round title fight originates from the Doubletree Ontario.
"Fans can expect fireworks tomorrow night," said Mitchell, who weighed 241.5 lbs. "I'm going to bring it. I'm not interested in going the full ten rounds. I plan on winning the NABF title in exciting fashion."
"I'm a middleweight trapped in a heavyweight's body," said Alexander, who measured 229 lbs. "I'm going to use my speed, footwork, and power to win this championship."
General admission tickets priced at $40 are available for purchase on the day of the event starting at 5:30 p.m. local time from the will call booth at the Doubletree Ontario (222 N. Vineyard Ave, Ontario, CA 91764).
WEIGHTS
LaRon Mitchell, 241.5 vs. Scott Alexander, 229 (10-rounds)
Juan Ruiz, 146 vs. Wilbert Lopez, 147 (8-rounds)
Ricardo Espinoza, 114.5 vs. Francisco Lapizco, 115 (6-rounds)
Juan Reyes, 133 vs. Cesar Villarraga, 135 (6-rounds)
Eredani Leon, 146 vs. Jacob Szilasi, 144 (4-rounds)
Alex Solorio, 125.5 vs. Alimkhan Jumakhonov, 124.7 (4-rounds)
Michael Dutchover, 129 vs. Cesar Partida, 129 (4-rounds)
Weights from South Africa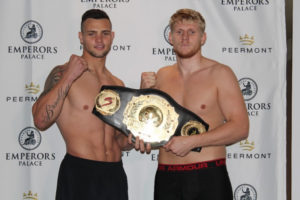 Micki Nielsen (22-0, 14 KOs) and Kevin Lerena (15-1, 8 KOs) both made weight today ahead of the final of the 'Super 4' cruiserweight tournament tomorrow night at the Emperors Palace in Johannesburg, South Africa.
Nielsen and Lerena have seen off competition from Johnny Muller and Roberto Bolonti to secure their place in the final, and will now battle it out for the 'Super 4' title and a share of the $100,000 prize money.
Cruiserweight – 10 Rounds:
Micki Nielsen: 90.55 kg
Kevin Lerena:  90.15 kg
Speaking at today's weigh-in, the undefeated Danish southpaw Nielsen, said:
''I feel good. I'm very relaxed and looking forward to tomorrow night. I've been in South Africa for four weeks now, I've had time to acclimatise and I'm ready to fight. This is a big opportunity for me, and by winning this tournament, I want to prove I'm ready to face the best in the division and to challenge for World titles.''
Lerena had no issue with the weight, and is confident he can claim the 'Super 4' title.
''Making weight is never an issue for me, he said. "I'm very happy with the weight I came in at, and I'm excited for the challenge ahead. We know Micki is a good fighter, but I'm equally good and I'm ready to show that on Saturday night. I will beat Micki Nielsen, I will be victorious and I will be the 'Super 4' Champion.''
Nielsen's promoter Nisse Sauerland says a victory for the 23 year-old can cap off a great week for Danish boxing, and prove he is ready to challenge for World honours.
''This is a tough fight for Micki," said Sauerland. "We're here in South Africa, in the lion's den, taking on the lion. If Micki wins, it will make for a great week for Danish boxing following Dennis Ceylan's superb European title win last weekend, and it would put Micki into contention to fight for the World title. This is precisely the type of fight Micki needs to prove he is ready for World level.''
Weights from Twin River
Listed below are the weights of all the participants in Friday night's CES Boxing 2016 Twin River Casino Fight Series season finale at Twin River Casino, featuring Khiary Gray and challenger Chris Chatman.
KHIARY GRAY
Worcester, Mass.
13-1, 10 KOs
154
CHRIS CHATMAN
Chicago, Ill.
14-5-1, 5 KOs
154
ANTHONY MARSELLA JR.
Providence, R.I.
1-0
139
BARDRAIEL SMITH
Philadelphia, Pa.
0-1
132
IRVIN GONZALEZ
Worcester, Mass.
3-0, 3 KOs
126
CIDO HOFF
Providence, R.I.
1-0-1
125
KENDRICK BALL JR.
Worcester, Mass.
3-0-1, 3 KOs
165
RAFAEL VALENCIA
Medford, Ore.
3-4-1, 2 KOs
JOSE RIVERA
Hartford, Conn.
1-0, 1 KO
168
BEN PEAK
Shrewsbury, Mass.
Pro debut
168
CRISTOBAL MARRERO
New London, Conn.
1-0, 1 KO
144
BRUNO DIAS
Woburn, Mass.
0-1
146
JONATHAN FIGUEROA
Hartford, Conn.
1-0, 1 KO
141
ISAIAH ROBINSON
Durham, N.C.
3-3, 2 KOs
147