If the articles about May 7th's bout between the Filipino phenom Manny Pacquiao and Sugar Shane Mosley are anything to go by, the consensus is nearly unanimous that Mosley is in for an ugly night. This is so much the case that some pundits (including our own Scott Levinson; and Jake Emen with his Pacquiao vs. Mosley preview) are behaving as if Mosley were already beaten and speculating on what Pacquiao should do next.
Usually this sort of thing begs for trouble, because one of the beautiful things about the sport of boxing is how a single punch can end a fight at any time, especially when fighters like Pacman and the Sweet One are in the ring. However, because Pacquiao is such a consummate professional, I don't like Mosley's chances and agree with the conventional wisdom. However, where I differ with the conventional wisdom is that I think what comes next for Sugar Shane is at least as interesting as what might come next for Pacquiao.
Let's start with the two major choices after the most probable outcome, namely losing to Pacquiao.
Retirement?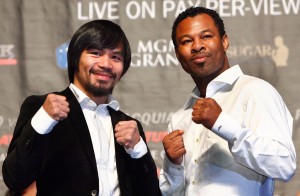 One option for Shane Mosley after losing would be to hang up the gloves. After all, Mosley is 39, and he will be 40 by the time he can put together another big fight. He was unable to pull the trigger with Floyd Mayweather and didn't look great against Sergio Mora. The smart call would be for Mosley to leave the game with his health reasonably intact, and perhaps enjoy a second career in boxing through some role sponsored by his share of Golden Boy Promotions. I can't see this happening, however. Mosley is too much the gladiator to retire with a 0-2-1 record in his last three fights. He will want to go out on a win, and a big win at that. A man like Sugar Shane only retires on his terms or when forced to by sheer necessity. A loss to Pacquiao would not be enough to force Mosley from the sport. Indeed, it might be the spurt Mosley needs to land his next big fight.
Soldiering On
There is only one big fight at welterweight for Shane Mosley in the wake of a loss to the Pacman, and that's against WBC beltholder Andre Berto. Mosley and Berto have already made a dance date once before, only to have Berto use the Haitian disaster as an excuse to cancel the fight. Ostensibly, Berto canceled because he wanted to spend time with his extended family in Haiti. Yet as soon as Mosley was scratched off his dance card, Berto was talking to Carlos Quintana. Why the Mosley fight could not be postponed is a question Berto has, to my knowledge, never answered.
The irony of all this is that Berto might find Mosley a more attractive target with a 0-2-1 record in recent fights. After all, Mayweather beat Mosley on the basis of speed and defensive prowess, and presumably Pacquiao's main threat is speed and offensive prowess. Berto might say "hey, I'm fast too!" and give Mosley a go. Ironically, losing to Pacquiao could get Sugar Shane into the ring with Berto at long last, and Andre Berto is a man Mosley could potentially beat.
What if Mosley Wins?
This one is obvious. If Mosley somehow either gets lucky or figures out how to neutralize Pacquiao's speed and manages to pull off a Rumble in the Jungle-style miracle, the only result will be an immediate rematch. In that event, I somehow doubt lightning would strike twice. Although Shane Mosley has a better record as a rematch fighter (even in defeat, he generally improves his performance), to pull off a win almost everything has to go right for Mosley. With his vastly superior speed, Pacquiao has more room for trial and error and to develop a Plan B, Plan C or even a Plan D. If he can't figure out what to do in fight #1, with Freddie Roach at his side, Pacquiao will surely figure it out for fight #2.
Yet going 1-1 with Pacquiao would be no mean feat. It would be the sort of accomplishment a man could proudly retire with. If Mosley does pull off a win in May, retirement had better enter his thoughts. I have a hard time seeing Berto or any of the young lions from 140 lbs wanting to get in the ring with him at that point, even if Mosley were 40 or 41. His only option would be to go back to 154 lbs and possibly cross swords with Paul Williams, a proposition even uglier than his May 7th clash with Pacquiao.