Potential Opponents for George Groves to Fight Next

Like many upcoming British fighters, George Groves has in some ways become a victim of his own success. After clinching a domestic grudge match victory over James Degale, most of the post-fight hype has fizzled out.  The problem is that he has not been put in front of world class opponents, which would keep the momentum from his most famous win to date.  His victories over Paul Smith and Francisco Sierra, despite coming by way of TKO, have not given him the exposure he needs to put his name on the big stage. A combination of injuries and out of the ring issues have kept him from consistent action, while perhaps there's also a reluctance from of the other name fighters in the division to face him.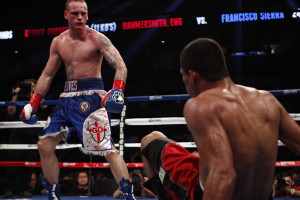 Being part of the star-studded super middleweight division should be a good thing for a fighter, however, the issue is that most of the best opponents simply have bigger fish to fry. It's a bit like the problem Nathan Cleverly currently faces in the light heavyweight division.
Fighters like Andre Ward, Carl Froch, Andre Direll and Lucien Bute might be a bit too much for Groves at this stage in his career, however, an interesting prospect could be Kelly Pavlik.  These two fighters are at different stages in their careers — Groves is a rising star, while Pavlik is on the road to redemption following his loss to Sergio Martinez, and long layoff while battling issues with alcoholism.
Another option for Groves, a bit further down the totem pole at this point, would be Librado Andrade. Andrade has faced world class opposition but is older and definitely not the fighter he used to be. Could this be the stepping stone Groves needs to get onto the world stage?
Another intriguing bout would be against Edison Miranda, who might be coaxed into avenging his recent loss to another British fighter, Tony Bellew.  Again, Miranda has fought the very best and, with his critics saying that he has a suspect chin, this could be the very test Groves needs to prove that he belongs in the elite level of the division.
Of course people will always talk about a rematch with his British arch-rival, James Degale.  That fight might draw big numbers, but if it took place today would it really get him further than where he is today?  I think in a few years time, hopefully after they have become more established, that match-up would contain more venom and be more lucrative, and ultimately would offer each man something more.
Based on his skill-set, the future his bright for George Groves. In some ways, it's like he's in the position of Carl Froch before 2009, where he will simply have to keep working hard, knocking people out and patiently wait for his opportunity against a big name on the big stage.