The reasons behind trashing talking are varied but often boil down to the following: 1) It sells fights, 2) It helps rile up or breaks down the opponent, 3) By belittling your opponent, you build up your own confidence. Of course, not every fighter talks trash but fair warning to those that do. An old adage cautions, "Don't write a check your body can't cash." Hindsight is 20-20 but the unfortunate fighters on this list would have done well to heed this advice.
Maidana Solves 'The Problem,' humiliates Adrien Broner
Boxing motor mouth Adrien Broner is no stranger to controversy.
The former four-division champion from Cincinnati, once considered the archetypal replacement for Floyd Mayweather Jr., is more satire these days. He's cocky, offensive and, at times, just downright unsavory.
Broner's famed confidence was severely shaken in December 2014 when he stepped into the ring with Argentine power puncher Marcos Maidana. Maidana badly hurt the American and dropped him twice in a one-sided fight, easily cruising to a comfortable unanimous decision victory.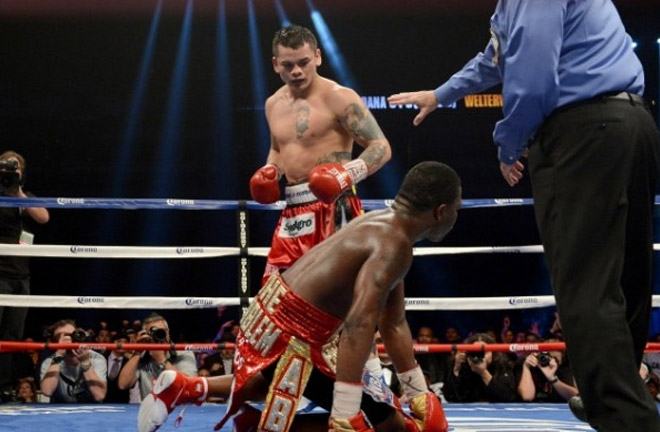 A visibly upset Broner stuck around long enough to hear the judges' scores, and then darted for the nearest exit without giving an interview or congratulating his conqueror.
The aftermath stood in sharp contrast to some of the unforgettable lines from Broner during their pre-fight press conference. "Maidana is a good fighter, a hell of a fighter, but he's not on my level. My career is going to the rooftop. It's going to skyrocket. But this is just the beginning. It starts here."
Maidana knew that he could not compete in a war of words but warned his brash opponent to come prepared because his fist would do the talking.
Broner should have listened.
 Vic Darchinyan trounced again by Nonito Donaire
Back in 2013, Vic Darchinyan finally got his long awaited rematch with Nonito Donaire. It had been six years since the Armenian suffered his first professional loss to Donaire by knockout in the fifth round of their flyweight title fight.
Darchinyan had been chomping at the bit for another crack at his nemesis, whose thunderous counter left hook left him bloodied and humbled. Prior to the defeat, the trash-talking Darchinyan seemed invincible as one of Showtime's featured fighters and the Donaire fight was widely seen as just another demolition job.
That all changed with his shocking defeat, which made Ring Magazine's Upset of the Year and catapulted the "The Filipino Flash" to superstardom.
This time around, however, was very different from their first encounter. Darchinyan was barely given a puncher's chance with some wondering why the rematch had even been made considering the time lapse and his relatively advanced age of 37.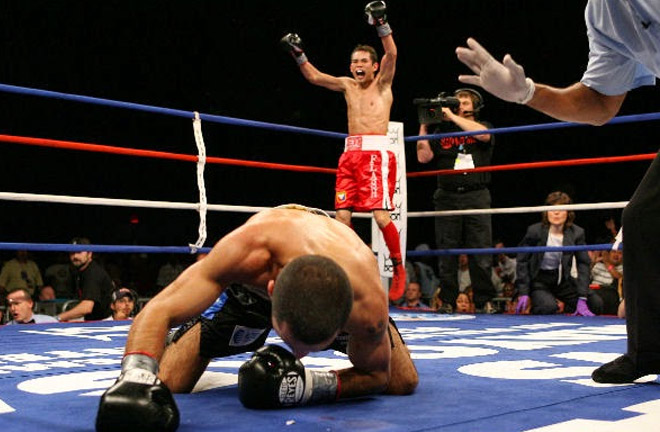 The wily southpaw was unfazed by the doubters and seemed to lavish his new underdog role. Darchinyan did not mince words and vividly described how he was going to destroy Donaire and send him to the hospital. Nevertheless, he also took precautions by enlisting new trainer Edmond Taverdyan and even found a new promoter (Top Rank) as well as manager in Frank Espinoza.
The plan was to box and, for the most part, Darchinyan outboxed Donaire, especially in the mid to late rounds.
However, old habits are a worrisome thing and Darchinyan's aggressive style cost him once again in Round 9 when Donaire hurt and then dropped him with a left hook. Darchinyan rose by grabbing the ropes but Donaire pounced wobbling him severely with a right hand, left hook and two left uppercuts to close the show.
It was an embarrassing conclusion to a failed bid for a revenge rematch by the "The Raging Bull."
The skeptics were right all along that Donaire just had his number.