-Tyson, Oscar, Lennox and Calzaghe, Oh My- Which Boxers are Going to Stay Retired, and Which Will Come Back into the Ring-
In boxing, retirements are always taken with a grain of salt. As it stands now, there are a slew of big-name fighters who are technically retired. Which ones are merely biding time and which fighters will never be seen in a ring again?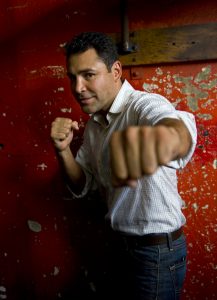 Oscar De La Hoya: Will be 38 in February and has been out of action for almost two years, when he was dominated by Manny Pacquiao. With a lot of money in the bank and promotional interests taking on a big role in his life, he has little motivation to get back in the ring. At the same time, a comeback almost seems inevitable. Something inside me says we haven't seen the last of DLH. Maybe he'll want to go out on a winning note and take on a weak 154-pound champ. Junior middleweight titlist Cornelius Bundrage has called him out. Something like that doesn't seem so far-fetched.
Chances he'll fight again = 33%
Mike Tyson: Unlike De La Hoya, Tyson's motivation to return to the ring would follow a more traditional pattern—he needs money. Considering he was winning belts during the Reagan administration, it is perhaps surprising that he is only 44, no spring chicken but not too old to rule out a return to the ring. Here's what I was thinking: a 16-month tour where he fights 12-15 times against low-level journeymen. It'll be like when he was coming up, with a bunch of highlight-reel knockouts over balding or gigantically-afraid trialhorses and opponents with so much back hair, you can see it on their shadows.
It would do decent numbers and give Tyson a little breathing room financially. He may have had a recent upturn, but after the money from those projects dries up, a comeback would become a more viable alternative. Still, it is unclear if he has medicinal issues that could make this impossible or if he even has the heart for it. But he appears to have slimmed down and there is a lurking possibility that we will see Iron Mike in some type of combat situation before it's all said and done, whether it be boxing or otherwise.
Chances he'll fight again = 25%
Naseem Hamed: My eyes could have deceived me, but at a recent UK show, I saw him in the crowd and he looked a little slimmed down from his prior Dom DeLuise-esque stature of not too long ago. Still only 36, Hamed has been out of action since 2002. He's done some time, enjoyed some food, and otherwise fallen off the face of the boxing world completely. A prideful guy, something might click in his head and tell him if he wants any retribution in the boxing ring, he better do it now or never.
At the same time, if it were meant to be, it would have happened before now. What could he really accomplish? He could probably never get below 140, where he would be an unfathomable longshot to beat anyone in the top 5. But if he scored a few warm-up wins, he could conceivably fight one of the older guys, particularly a rematch with Barrera. I wouldn't bet on it.
Chances he'll fight again = 20%
Lennox Lewis: It's been since 2003 since Lewis was in a boxing ring and at 45, it is likely that it will remain that way. You have to wonder what goes through his head when he sees the division in its current state. Not hurting for money, surely even Lewis has probably imagined how much business a fight with David Haye would do. Nevertheless, the period where he would have considered a comeback has passed. If he was able to resist those urges in, say, 2006, what would happen now to change things?
Chances he'll fight again = 2%
Ricky Hatton: By far the youngest on this list at 32, Hatton faces numerous challenges before he could ever entertain hopping back into the squared circle. Facing near-countless lifestyle issues, Hatton needs to clean up his life. If he does, what avenues to redemption does he have at his disposal besides boxing? Even before the cocaine video came out, it looked doubtful that he would return. His trouble with weight won't go away as he gets deeper into his thirties and the last time he was in a ring, he looked one step away from being killed.
I picture him cleaning up his act a bit and trying to regain a measure of prestige the best way he knows how. In a strange way, the public nature of his downfall might even increase the likelihood that we will see Hatton in a ring once again. Say he wins a fight or two, is it that difficult to imagine him being matched up against European-based welterweight titlist Jan Zaveck?
Chances he'll fight again = 50%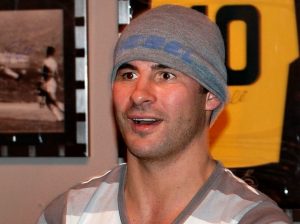 Joe Calzaghe: Another U.K.-based legend that has played around with the booger-sugar during what looks to be an unfulfilling retirement. Inactive for two years and now 38, the undefeated Calzaghe, 46-0, could maybe be lured back just to get the bad taste the boxing public has about him out of their collective mouths. Who wants a tape where you're talking about blow to be your last impression? Then again, why soil a perfect record? How about a Welsh superfight between him and Nathan Cleverly in late-2011?
Chances he'll fight again = 20%
Ike Ibeabuchi: Faces more challenges launching a comeback than anyone on this list. First of all, he's in prison and has been there for the better part of a decade. Then you have his mental issues to deal with. Has another parole hearing in 2012 and Ike has earned a few college degrees while in prison, which shows a certain amount of stability. Ike also faces deportation issues upon his release. But if he got out at 39, perhaps he could resurface somewhere. Seems like an incredible longshot, but remember who called it when you see Sam Peter vs. Ike Ibeabuchi scheduled for a Nigerian superfight in the summer of 2014.
Chances he'll fight again = 10%
Felix Trinidad: Probably more than anyone on this list, a return to the ring would be a pointless exercise. Apparently "Tito" is well off and it is obvious he is not the same guy who used to terrorize opponents. The last time he looked good in the ring was his comeback win over Ricardo Mayorga in 2004. Since then, he lost lopsidedly to Winky Wright and Roy Jones—giving him 2 of his only 3 career losses. At 37, is still young enough to do it, but let's hope he stays happy in retirement.
Chances he'll fight again = 15%
Fernando Vargas: One of the youngest on this list at 32, Vargas might be among the most shot. But bad business dealings may force "Ferocious" Fernando to get back into the ring to secure some paydays. Inactive since a December 2007 loss to Ricardo Mayorga, Vargas would first face the unenviable task of shedding a bunch of weight, as he has grown quite corpulent in his retirement. Let's hope he can get his finances secure so that he doesn't have to do this. Still, a Chavez, Jr. vs. Vargas fight could earn him a nice amount of scratch if he really needed to do it.
Chances he'll fight again = 40%