Who Will Win the Heavyweight Paper Championship, Povetkin or Chagaev?

Two weeks before the anticipated math between WBC heavyweight champ Vitali Klitschko and Tomasz Ademek on September 10, there are two other heavyweights in the division who will like to have some say as to the division's rankings and must-sees. Fellow Russians Alexander "White Lion" Povetkin and Ruslan "White Tyson" Chagaev will take center stage on August 27 in Germany for the vacant WBA "Regular" Heavyweight title in a fight that should produce great entertainment, and carries important meaning.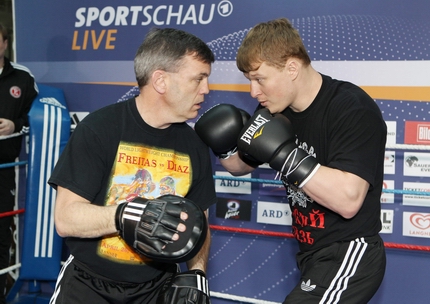 The WBA "Regular" Heavyweight title became available because the WBA recently made Dr. Steelhammer Wladimir Klitschko a WBA Super Champion, thus, creating an opportunity for two top heavyweight contenders like Povetkin and Chagaev to claim the old WBA Heavyweight title that Wladimir recently held.
If victorious, the undefeated White Lion can use the victory to increase his chance for a dance with one of the Klitschkos, and that's if Povetkin even wants to challenge the Klitschkos after turning down a fight with Wladimir previously. He was offered a title shot by Wladimir Klitschko back in 2008 but the fight was cancelled due to an injury suffered by the White Lion.  In 2010, Wladimir Klitschko offered Povetkin yet another shot at heavyweight supremacy, but Povetkin was advised not to take the fight and turned down two million dollars plus in the process.
A win for White Tyson would be a second reign as WBA heavyweight champion that could definitely turn some heads in the boxing world. However, let's not forget that White Tyson have already been given a shot at heavyweight supremacy, but lost to Wladimir back in June 2009 by way of a ninth round retirement as Chagaev was unable to answer the bell for round ten.
This will definitely be a great fight between two good heavyweights who have a lot to prove. Still, only a paper championship will be at stake, as Wladimir holds the real belt, so which of these two heavyweights will have the best shot at bringing home that WBA paper belt?
Speed and boxing skills will have to be to the advantage of Povetkin as the White Lion is very aggressive in the ring, throwing those punches in bunches to wear down his opponent.  Chagaev usually does not display much movement during his fights, so I expect for Chagaev to be right there in the punching range of Povetkin. However, I also expect Chagaev to throw some effective counter-punches of his own, as Povetkin stays busy and leaves himself open to be hit as well.
Povetkin and Chagaev are about even when it comes to height, reach and age, so putting aside those physical attributes, this fight could be a matter of who fades first, and the fighter that may be more susceptible to that will be Chagaev.
The experience factor goes to White Tyson however, as he is a former WBA world champion and has faced much better opposition than Povetkin. Therefore, if the fight is close, Chagaev does have that championship experience that you need in a tough fight to can get you over the hump and win.
White Lion or White Tyson
Povetkin and Chagaev is a great heavyweight boxing matchup and these fighters are evenly matched, with Povetkin's busy, offensive boxing and Chagaev's championship experience and aggression. That all adds up to fight which has fireworks written all over it.
I feel that Povetkin will just outwork Chagaev and win the fight, given that Chagaev probably will not make the effort to throw as many punches as Povetkin. However, neither man will necessarily create the excitement or buzz they need to gain momentum as a true threat to one of the Klitschko brothers.
No matter who wins on August 27, the winner will be just a WBA heavyweight paper champion because in the real world, Wladimir Klitschko already holds that belt.
Comments
comments