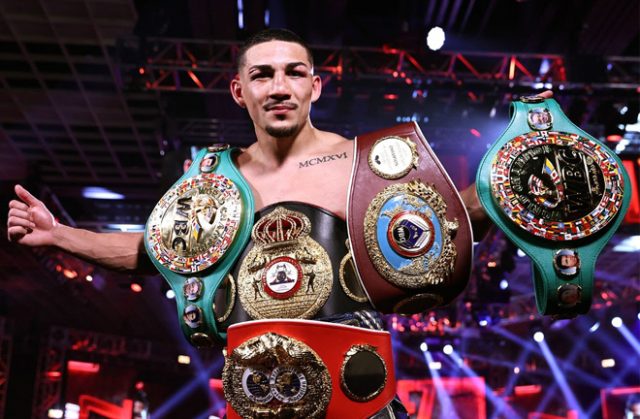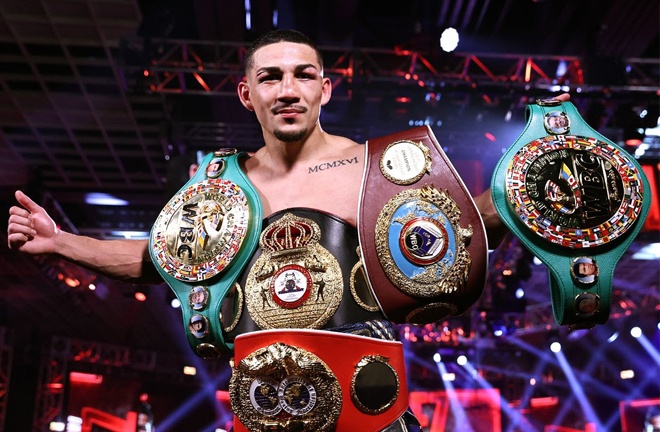 In his post-fight press conference, Teofimo Lopez displayed humility coupled with the ingrained self-confidence which saw him dethrone pound-for-pound great Vasiliy Lomachenko on Saturday in Las Vegas.
Lopez was crowned the undisputed Lightweight world champion, adding Lomachenko's WBA 'Super,' WBO and WBC Franchise titles to his IBF crown on a dramatic night inside the MGM Grand Bubble.
"Top ten," Lopez told proboxing-fans.com when asked where he ranks in the pound-for-pound list.
"I'll be in the top ten, that's fine with me. I'll be ok with that.
"We still got a lot more to do and there's so much more that I want to accomplish.
"This is just the beginning I'm not satisfied with this, I definitely want to collect more."
The 23-year-old backed up his pre-fight talk, despite not securing the knockout victory he promised. Yet, Lopez arguably showcased a greater depth of his ability surprisingly outboxing his foe, during his early dominance.
Lopez marched forward and appeared in full control at the halfway stage, not enabling Lomachenko to settle, who went on the retreat and was unwilling to trade.
The Ukrainian did manage a late onslaught, taking far greater risks from rounds seven to eleven in a bid to claw back Lopez's early advantage and the Ukrainian, three-weight world champion was having success on the inside.
However, Lopez ensured round twelve went his way, taking a unanimous decision victory and etching his place in the record books, after becoming the only ever four-belt holder in Lightweight history and the youngest in history to hold all four belts at one point.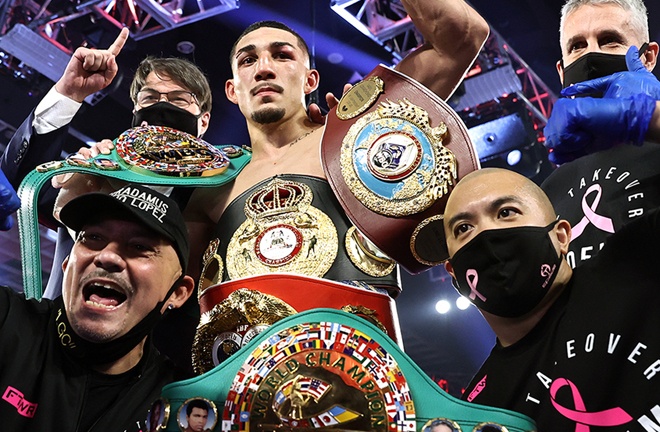 Lopez, who revealed post-fight he had apologised to Lomachenko, following a fiery build-up in which both men broke social distancing regulations during an intense face-off following their weigh in, although the Brooklynite admitted he was also underwhelmed with his rival's performance, describing it as "basic" and believes he "gave up."
Attention now turns to Lopez's next move and the options are plentiful: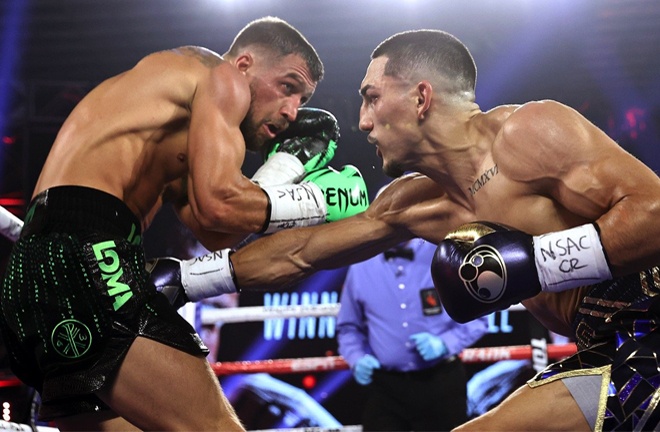 Devin Haney
In some circles, Lopez's position as undisputed champion has been the subject of debate, considering that Devin Haney is the WBC full champion.
Lomachenko was handed Franchise status by the WBC, which at the time the governing body said was not a transferrable title and was simply a designation to recognise a champion.
However, at the request of Lopez an exception was made for Saturday's super fight thus begging the question of how valued Haney's belt has become as well as by the same token, whether Lopez can claim to be fully undisputed until he's fought Haney.
Lopez vs Haney 2021
Let's do It! #AllTheBelts

— Devin Haney (@Realdevinhaney) October 18, 2020
Lopez revealed post-fight he would have no issue facing his counterpart, should the 21-year-old beat Yuriorkis Gamboa on November 7th, but was scathing in comparisons of his rival to Floyd Mayweather Jr.
"If I took that fight [against Haney] it's just for bragging rights, just to shut him up and destroy his career," Lopez said.
"I'm not here to see another fighter build up his career, if he wants to take that step and fight I'm more than happy to just take him out of that rout of what everyone's talking about the next Floyd Mayweather.
"Yeah get out of here with that bullshit."
The pair are both undefeated and victory for Haney over Gamboa, a two-weight world champion and former Olympic Gold medalist would arguably represent the biggest scalp of his career, despite the Cuban being in his twilight years at 38-years-old.
Gervonta Davis
Gervonta Davis was another man on Lopez's hitlist and would be an intriguing match-up of power and skill.
'Tank' Davis, signed to Mayweather Promotions, has registered 22 knockouts from his 23 wins and secured a maiden victory at 135 pounds with a twelfth round stoppage over the aforementioned Gamboa to claim the WBA 'Regular' strap in December.
The pair shared a gruelling sparring session when they were teenagers and could meet again under the lights, but Davis must first tackle Leo Santa Cruz, a clash which will unusually see the collaboration of two weight classes, with Santa Cruz's WBA 'Super' Super Featherweight title and Tank's WBA 'Regular' Lightweight belt at stake.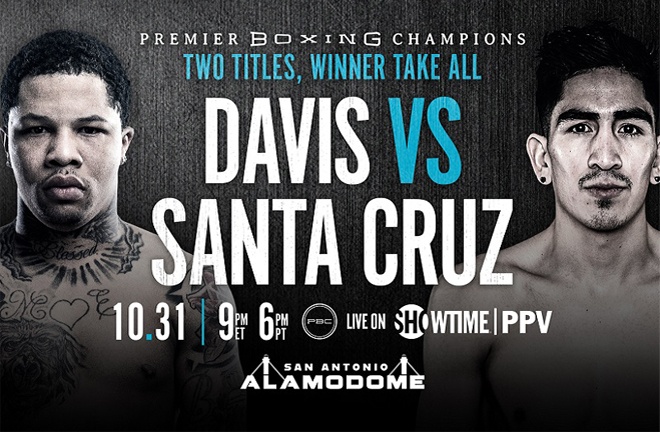 Lopez was critical of the decision, but admitted he had no issues with facing the two-weight world champion.
"Everybody's cherry picking," Lopez added.
"Gervonta Davis why you fighting Leo Santa Cruz for what?
"That's a 130 pounder or a 126 pounder, that's sad man and you guys hype these guys up for so many things but it's okay, it's okay.
"Just put them in front of me and I'll beat them."
Josh Taylor/Jose Ramirez winner
Lopez is a big Lightweight and appeared to fill out after the weigh in, meaning a move up in weight to Super Lightweight is a viable option.
The two unified world champions, Josh Taylor and Jose Ramirez, who are also with Top Rank, are set to meet for the undisputed championship early next year after WBO mandatory Jack Catterall stepped aside.
Taylor has already gone on record stating a move up to 147 pounds could be his next step, should he overcome Ramirez, although a lucrative bout against Lopez could be as appealing, whilst an all-American showdown with undefeated Ramirez would also represent an enticing proposition.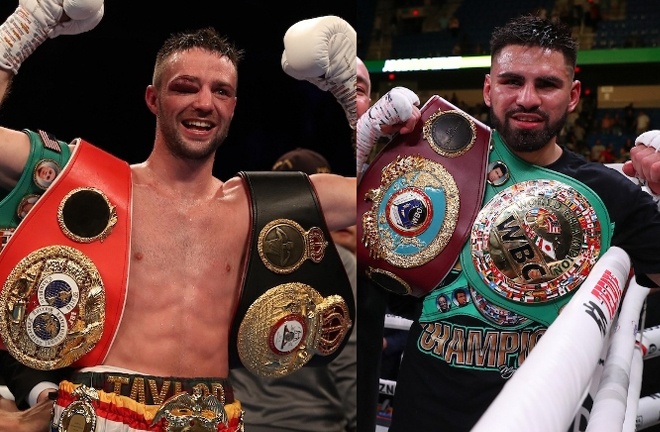 However, Lopez appears to still have unfinished business at his current weight class and despite winning all four belts and the Ring Magazine title, at 23 the Brooklynite is surely in no rush, although fights with Haney for instance, could undoubtedly take place at 140 pounds.
"I'm a big 135 pounder. I know I can make 135 again, that won't be an issue as long as I stay consistent with everything," Lopez explained.
"Who knows what the future holds. I would love to definitely unify at 140 and take all the belts and become undisputed champion, back-to-back. Hell yeah.
When asked if he'd be interested in facing the winner of Taylor-Ramirez, Lopez said: "Absolutely. I think everybody was shook with Loma and people have too much respect for him.
"I think they see that I bite down and they see that I bite down and I put the fight and I press on it. I don't duck or dodge any of these guys.
"They don't got the will to win like I do, so hell yeah, 140 if anything it's dangerous for them man because that's where I'm really full hydrated, I feel much better and I'm faster and I'm stronger than them"
Ryan Garcia/Luke Campbell winner
Ryan Garcia immediately outlined his intentions to meet Lopez, should he prevail against two-time world title challenger Luke Campbell, in a first major step-up on December 5.
Garcia has looked impressive in the early stages of his career, racking up 20 straight wins coupled with 17 knockouts and a fearsome left hook which is becoming a prized weapon.
The Californian tweeted: "I got my fight against Luke Campbell but I would love to fight Lopez, there is still a lot of unanswered questions in this Lightweight division."
I got my fight against luke Campbell but I would love to fight Lopez, there is still a lot of unanswered questions in this lightweight division

— Ryan Garcia (@KingRyanG) October 18, 2020
Campbell fell short against Lomachenko over the distance last August in London, despite a gutsy effort and was perhaps unfortunate to lose to Jorge Linares in a split decision loss for the WBA crown.
Both seem credible and tough opposition and are ranked two by the WBC and WBO respectively.
Lomachenko rematch
This appears to be the most unlikely option considering that there was no rematch clause in the contract. Lopez was dismissive of facing Lomachenko again and his father, Teofimo Lopez Sr revealed that he did not give the Ukrainian any rounds.
It's questionable whether there is the hunger for a rematch. Lomachenko's late rally ignited the contest into life, after a relatively one-sided opening six rounds and the 32-year-old did close the gap, giving Lopez and the judges some food for thought head into the closing stages.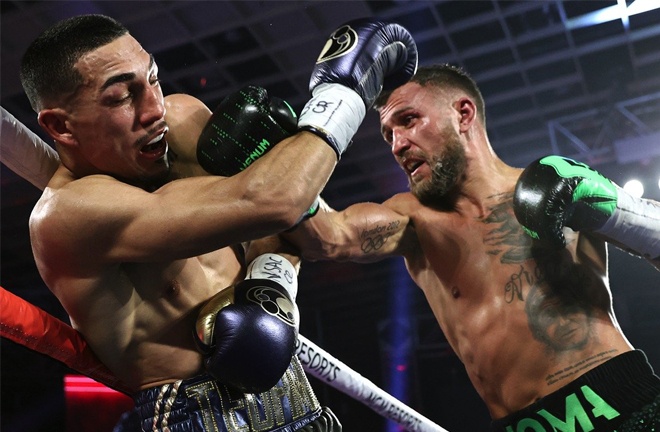 However, Lopez's size and speed seemed to trouble the usually dominant Lomachenko we've come accustomed to seeing.
Lomachenko had spurts of success and perhaps he would implore a less cautious approach, particularly in the early stages of a return fight, but the power of a naturally bigger man would remain a concern.
It was a compelling build-up and such is his experience and talent, Lomachenko could never be truly written off in a rematch.
Lee Selby/George Kambosos Jr winner
The winner of Lee Selby's final eliminator against George Kambosos Jr will become Lopez's IBF mandatory.
The pair finally meet in a rescheduled bout over 10 months after the original mandatory was called on the undercard of Oleksandr Usyk's clash with Derek Chisora on October 31.
Lopez may have to face the winner or otherwise relinquish the belt, which would enable the victor to fight for a vacant title, which may be a possibility considering the financial incentives may be greater with some of the other names listed above.
Comment below on who you think Lopez should face next and whether he should meet Lomachenko again in a rematch.