Phil Lo Greco is a Canadian professional boxer, in the welterweight division and a former WBC International Welterweight Champion. He is known as 'The Italian Sensation'. He's 33 years of age, an orthodox fighter from Toronto, Canada. Lo Greco boxing record is 28-3 professional fights.
Lo Greco career spans over 12-year as a professional boxer. He has fought mostly in Canada but also ventured to Germany, Italy and the USA. The majority of his wins have come against average fighters, who were there for a pay day. However, the Italian sensation did stop Poland's Slawomir Ziemlewicz in Italy back in 2010 in convincing fashion, to win the WBC International Welterweight Title. Moreover, the 33-year-old once shared a ring with top-tier 147-pounders Shawn Porter and Errol Spence Jr, both of whom got convincing wins against him. Porter dominated him over 10 rounds. Whereas, Spence stopped him within three rounds.
Lo Greco did demonstrate in both fights his toughness and his willingness to fight and not go down easily.He fights well, a very physical fighter he's heavy on the front foot and he likes to come forward and engage with his opponent. He had Porter, a brawler accustomed to walking down opponents, backing off during the early stages of their 2013 encounter.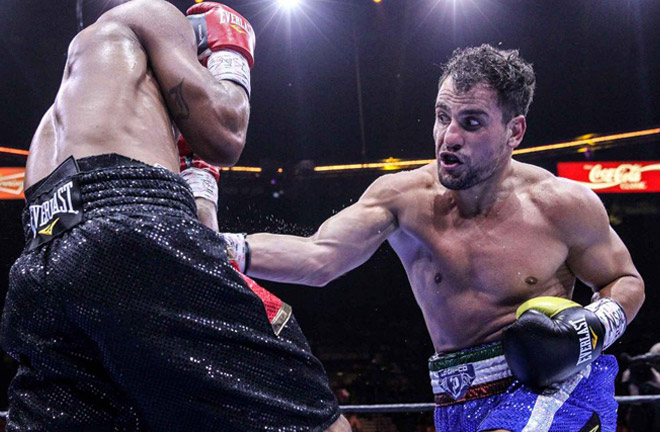 When the 33-year-old gets close to his opponent, he flurries his hands, skilfully working both at the same time. However, he often punches wide, his work-rate is solid. He wants to entertain his fans and most importantly he wants to win. He is a tough fighter that's for sure, always close to his opponent and getting in range but in previous fighters he never capitalised, and his punches were well out of reach, going wide. Furthermore, if the Canadian improved on his timing he can be a good fighter.
His next opponent is a big test for him against Amir Khan on April 21st in Liverpool. The Canadian will need to put on the performance of his life to get anything from this fight. However, taking this fight will increase his reputation and can put him on the map for future fights.
Keep a look out for our Amir Khan vs Phil Lo Greco preview over the next week. Lo Greco has already added fuel to the fire with some choice words against Khan. Khan, has already warned Lo Greco he is in 'big trouble' for his previous comments when the pair meet at the Echo Arena, in Liverpool on April 21st.