The sport of boxing is one where its participants have a tenuous grip on supremacy. Today's stars can become tomorrow's flops on a dime. Such is the unforgiving nature of the sport. Conversely, fighters that were off-the-radar can forge themselves back into the consciousness of the fans. Here are 8 fighters who are on opposite ends of the spectrum.
Who's Hot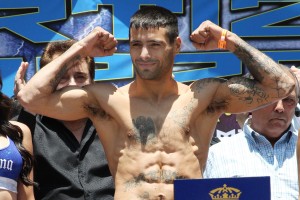 Lucas Matthysse: One of the hottest fighters in the sport, Matthysse, 30, has really come along in the last few years. He probably deserved both decisions when he lost to Zab Judah and Devon Alexander by decision, but now he's leaving no doubt. Since then, Matthysse, 34-2 (32 KOs), has blown away Humberto Soto, Mike Dallas, Jr., and most impressively, Lamont Peterson is a 3-round blowout in May.
Gennady Golovkin: A guy who keeps picking up steam, Golovkin is set to make his 3rd appearance is 2013–a nice match-up against the UK's dogged Matthew Macklin. No one has gone the distance with Golovkin in over 5 years and with Sergio Martinez beginning to show his age, Golovkin, 26-0 (23 KOs), looks ready to make a big push in the next year.
Devon Alexander: Not too long ago, Alexander, 26, was clearly on the "Who's Not" section of this list. His slide began with a 2010 decision-win against Andriy Kotenlnik that he appeared fortunate to receive. He lost in a dud against Timothy Bradley, then caught another hometown break against Lucas Matthysse in his last bout at 140. His prospects at 147 seemed iffy, but lopsided wins over Marcos Maidana, Randall Bailey, and Lee Purdy have Alexander, 25-1 (14 KOs), back on the right track.
Erislandy Lara: We always knew he was a talented boxer–a highly-decorated Cuban gold medal winner. Then we saw him bash Paul Williams over 12 rounds, only to lose a scandalous decision. In subsequent performances, he failed to capitalize on the Williams showing, until he stopped Alfredo Angulo on June 8. He boxed expertly, but also managed to be entertaining. Guys with skills like Lara can sometimes be boring, but Lara, 18-1-2 (12 KOs), rose to the occasion in a war of attrition that he won with toughness and grit, just as much as on skill and talent.
Who's Not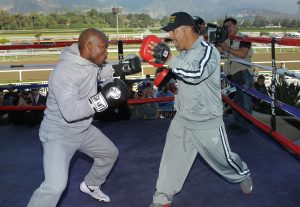 Timothy Bradley: So he beats Devon Alexander, who is on the "Who's Hot" portion of this list, gets a decision win over Manny Pacquiao, and still remains unbeaten–so what's the problem? Well, the Alexander fight was one of the worst big fights in a decade. The Pacquiao win was one of the worst decisions in recent memory. Then, the WBO Welterweight Champion fights unheralded 140-pounder Ruslan Provodnikov and gets lulled into a neanderthal trench war and barely escapes with a win. Maybe the 29-year old Bradley, 30-0 (12 KOs), will finally be able to generate some positive momentum later this year against Juan Manuel Marquez, but it's been a while since "Desert Storm" looked good.
Sergio Martinez: He's still the champion, but for the first time since he exploded on the scene in 2008, there are bad signs. The guy is 38 for goodness sake. Not everyone can buck the affects of age forever. Beginning with the final round against Chavez, Jr., he hasn't been the same dazzling fighter. Then again, maybe we're being too hard on the Middleweight Champion. He lost one round to Chavez, Jr. and the Martin Murray fight could be a result of a combination of him fighting at home for the first time as a big deal and Murray being a top contender who is simply a really good fighter. He may not be way past his expiration date, but he's like milk you think twice about before putting it on your cereal.
Yuriorkis Gamboa: One of the more-exciting fighters to watch has been dormant and not all that exciting lately when he's in the ring. It sure seemed like Gamboa's career was going to be fun to watch and instead we get rare sightings in the ring against anonymous foes. Right when it looked like he was poised to explode into prominence, we get two decisions against Michael Farenas and Darleys Perez. The 31-year old Gamboa, 23-0 (16 KOs) is still able to make noise, but he better stop waiting.
Nathan Cleverly: After watching Cleverly stop future B-Hop opponent Karo Murat in 2010 for his 7th straight knockout, he looked like an excellent 23-year old fighter–crisp, composed, smart, and tough. He continued looking good as he won the WBO 175-pound title, but I expected more than a bunch of nothing fights against European no-hopers. He seemed good enough to take a different path, but the Welshman seems set to take the Dariusz Michalczewski route. He's still young at 26, but the 26-0 (12 KOs) Cleverly seems stuck in neutral. There are divisions where the best fighters are based in Europe, but light heavyweight is not one of them. He seems good enough to expand his horizons, but will he?