When David Haye met Wladimir Klitschko in Hamburg, Germany, we watched yet another opponent challenge one of the Brothers Klitschko for heavyweight supremacy in a fight that was expected to make some waves regardless of the result. Instead, it weeded out a confident pretender in David Haye, and left the division unchanged.
For all of the trash talking David Haye did leading up the to fight, the only thing that showed up with Haye, besides his mouth, was his newfound European football skills, as he floundered and flopped the whole night, trying to buy penalty points from the referee. Haye did not engage Klitschko at all during the fight, and it was one of the worse big fights I have ever watched, period.
Wladimir controlled the fight against Haye from start to finish with his usual great left jab and occasional right cross as Haye continued to run. The truth is that a lot of boxing fans were bamboozled by Haye into thinking that he really had a huge chance to upset Wladimir in this fight. The only thing Haye can be commended for is his good salesmanship.
So what's next for the Brothers Klitschko, Wladimir "Dr. Steelhammer", and Vitali "Dr. Ironfist"?  Are there any heavyweights left in the division to challenge the Klitschkos?  Let me take a closer look at what is left in the heavyweight division to see if there is at least a glimmer of hope to challenge the Brothers Klitschko for heavyweight supremacy.
Tony "The Tiger" Thompson…
is a decent American heavyweight that has size and reach that can challenge the Klitschkos, but there is only one problem, Thompson has already been stopped by little brother Wladimir back in 2008.  Since losing to Wladimir, Thompson has been on a five fight winning streak, but even if he makes it back to challenge one of the Klitschkos, has he really improved enough to get the win? He looks slated to face off against Eddie Chambers in an eliminator match for the privilege of trying.
Mexican-American Cristobal "Nightmare" Arreola…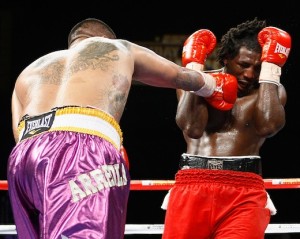 is another heavyweight that has reasonable size, although his weight is the big issue, and he has power that can give the Brothers Klitschko some trouble, but there is only one problem… Arreola lost to big brother Vitali back in September of 2009 via stoppage in a bout in which he was dominated.  In the Vitali Klitschko/Arreola fight, I do give Arreola credit for being aggressive and bringing the fight to Vitali, but he didn't have the skill or conditioning to get the job done. Vitali became Arreola's worst nightmare as Vitali was awarded the tenth round TKO victory.
Since losing to Vitali, Arreola stumbled again against Polish heavyweight contender Tomasz Adamek, but has been on a four fight winning streak since his second defeat.  I feel that if Arreola were to get another crack at the heavyweight crown, I still believe that he will be dominated again and stopped. He excites fans but doesn't have what it takes to defeat one of the brothers.
Russian heavyweight Ruslan "White Tyson" Chagaev….
Here is yet another fighter that has already fought for the heavyweight crown against little brother Wladimir back in June 2009. Klitschko outclassed the smaller fighter en route to a ninth round stopped of Chagaev, the first loss of his career. Since losing to Wladimir, White Tyson has only fought twice and has not fought since November of 2010, although he may be lined up to face Alexander Povetkin next.
Alexander "White Lion" Povetkin…
The undefeated Russian heavyweight has at least one quality win, which was over American heavyweight contender "Fast" Eddie Chambers.  He has good skills and an aggressive mindset, but he is only 6 feet 2 inches tall with a 75 inch reach. I just don't think this will get it done against two good fighters in the Brothers Klitschko, and apparently neither did his former trainer, Teddy Atlas, who canceled a fight Povetkin had earned against Wladimir. I feel if the undefeated White Lion takes on one of the Brothers Klitschko, another potshot match may be in session, resulting in the White Lion's first professional boxing loss.
Polish heavyweight Tomasz Adamek…
will be challenging big brother Vitali Klitschko for Klitschko's WBC heavyweight title in Adamek's home country of Poland in Septemebr, and for all that I have said during this article about size and reach being a factor well, throw it out the window for this fight. Tomasz Adamek is undersized for a heavyweight at 6'1″with a 75 inch reach, but he brings to the table what a lot of the other heavyweights in the division do not possess, heart.
I expect Tomasz to come out and give Vitali all he can handle. Even if he loses, the whole night Tomasz will be chasing, Tomasz will be stalking, trying to track down Vitali.  However, I don't believe that Tomasz will win the fight. He'll be game throughout, but the sheer strength and power of Vitali should wear him down, especially as he will be easy to hit.
Alexander Dimitrenko…
Is a dark horse that no one is talking about who I feel may have a chance to eventually win one of the titles, German and Ukrainian heavyweight contender Alexander Dimitrenko. Born in the Ukraine, Dimitrenko is one or two fights away from getting his crack at heavyweight gold, and I feel this is the best shot the heavyweight division has in shutting down the Brothers Klitschko.
Dimitrenko's only loss is a notable one against "Fast" Eddie Chambers back in April of 2009, he has since then bounced back and looks ready to challenge. Unlike Chambers, he has the size it takes to battle the Klitschkos, and the Klitschkos don't have the fast boxing skills that flummoxed Dimitrenko so easily. Hey, anything is possible.
Conclusion
The Brothers Klitschko have everything going for them to keep the titles in their stable and live happily ever after.  They have the height and reach advantage essentially all of their opponents, they fight the right way by using their height and fighting in an upward stance and both brothers are great at using the ring and creating distance between themselves and their opponents, which allows them to win fights easily by simply using the jab.
Is there anyone left in the heavyweight division that can challenge the Klitschkos?  I say yes, but not many, and most have them have already tried and failed once before. As it stands, the Brothers Klitschko may be able to successfully hold onto all four titles together until they retire and drive off into the sunset.
Comments
comments