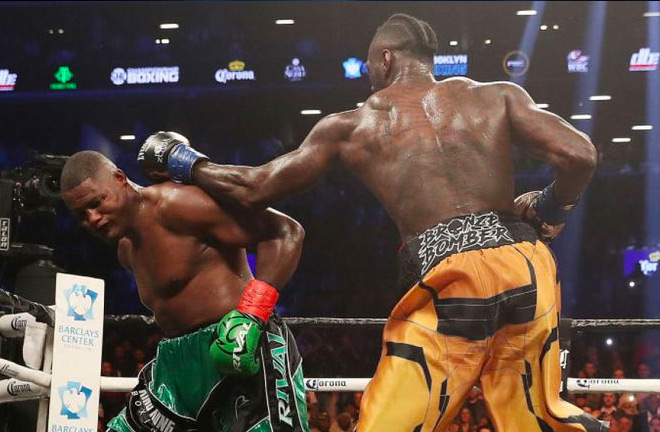 Deontay Wilder moved to 40-0 (39 KOs) with a stunning performance against Luis Ortiz. A packed out Barclays Arena in Brooklyn, New York saw the 'Brozne Bomber' claim victory over his opponent in the 10th round.
Wilder managed to get Ortiz down in the fifth and then twice in the deciding 10th round. However, it wasn't all plain sailing for the Bronze Bomber as he landed himself in real difficulties in the seventh round.
It wasn't looking good for the 'Bronze Bomber' as Ortiz looked like he was going to finish him off in the seventh. Wilder started the fight off a bit nervously and it was Ortiz who started the better.
The Cuban, who himself was undefeated prior to this match-up, was able to land some combination shots on his opponents early on. Whilst Wilder with his right jab was missing more shots than he was landing.
With both fighters being cautious at the start, the crowd became frustrated and started to boo both for their lack of offensiveness. Ortiz looked to be the first to pounce, showing some weaknesses in Wilder's guard.
It was Wilder who delivered the first real blow in the fifth. A dabbing jab followed with a stunning right that landed on Ortiz's forehead saw 'King Kong' hit the ring floor for the first time in his career.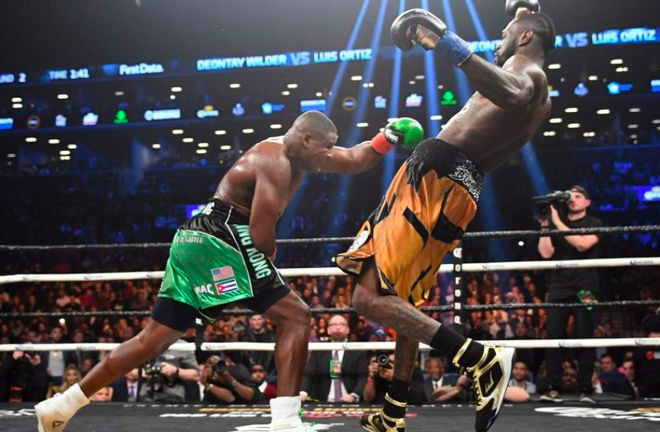 Wilder looked as though he was starting to show some dominance in the fight, however, Ortiz started troubling his opponent with a countering right followed up with a big left hook that left Wilder stunned in the seventh. Wilder was visibly shaken up by this and somehow managed to stay on his feet and make it safely back to his corner.
Having managed to recover the eighth round saw Wilder come out and trade blows with Ortiz in ferocious eight round. The crowd still being impatient with booing, Wilder started to attempt more shots in a attempt to silence the crowd and realising Ortiz was starting to tire.
Ortiz made a good start to the tenth with his left-right combinations. However, Wilder responses with pure power fist with his trademark right that again sent him to the floor. Managing to get up for the second time before the 10 count, Wilder sense his opponent was there for the taking. The WBC holder sent him on the floor again and this time the referee deemed enough for was enough, calling the fight to an end.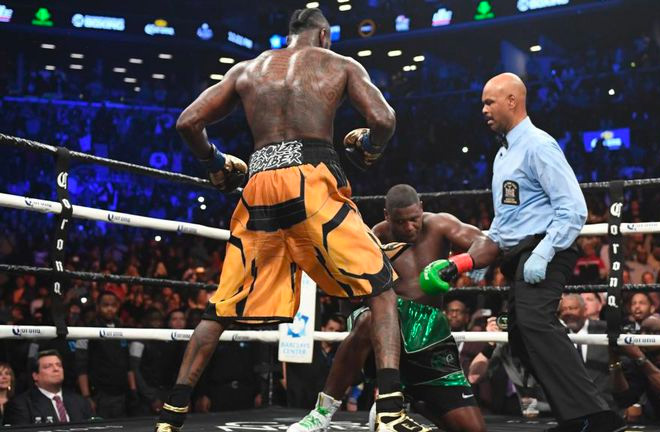 Before the fight, Wilder called for Anthony Joshua suggesting his Cuban opponent was a much stronger test than Joshua's biggest opponent to date Wladimir Klitschko.
"I tell you this though: Ortiz definitely had more fundamental skills than Wladimir Klitschko. Wladimir may be a bit stronger, but it's hands down, Luis Ortiz has much more boxing skills than he did." – Deontay Wilder
He also suggested Joshua would be 'foolish' if he didn't watch and study his fight against Ortiz pre-match.
Post-match after victory over Ortiz, he was asked about a potential Joshua bout, he said:

"I'm ready now. I've always said that I want to unify, my goal is to unify and I'm ready whenever those guys [Joshua and Parker] are.

It seems like they aren't in a rush to fight me because I am the most dangerous man in the world, I am the most baddest man on the planet and I proved that tonight [Sunday]."

"This [win] solidified my position at the top of the food chain and soon there will be one champion, one face, one name and he goes by the name of Deontay Wilder."
Joshua has to overcome Joseph Parker later this month in order to setup what will be one of the biggest fights in the heavyweight division against Wilder. Wilder did not rule out the chances of a Parker victory.
"I think Parker has a 100 per cent chance of winning that fight, he just has to be smart and stick with the game plan," added Wilder.

"In this ring it's not about how much a person weighs, it's not about how big a person's muscles are, it's all about their heart." 
Wilder believes last night win will be a career-defining moment & praised his Cuban opponent for his efforts.
When asked whether this was his signature victory, he said: "Most definitely. Luis Ortiz was one of those fighters that everybody ducked, even champions ducked him.

"I wonder why it took him so long to get a title shot and we know the reason why now. He put up a great fight, he was a great contender and my heart goes out to him."
In what was his toughest test to date, Wilder proved that he's prepared to put his money where his mouth is. Many believe the fight was similar to Anthony Joshua's against Klitschko. Heavyweight legend Lennox Lewis took to twitter after agreeing.
This fight will do for Wilder what the Klitschko fight did for AJ.He showed heart and composure at the brink of defeat. It only makes me want to see Wilder and Joshua that much more.. but AJ has his own business to take care of. #wilderortiz

— Lennox Lewis (@LennoxLewis) March 4, 2018
Wilder also believes Joshua and Eddie Hearn won't be keen on the fight after last nights performance. However, thinks fan-power will help to put pressure on making it happen.
What do you guys think ? Was Wilder a worthy winner last night  and will the Wilder-Joshua fight happen this year ? Who will win it if it does happen ?
Comments
comments