WBC Heavyweight World Champion Deontay Wilder meets mandatory challenger Dominic Breazeale in a grudge match for Wilder's coveted title at Barclays Center and live on Showtime on Saturday, May 18th. Wilder (40-0-1, 39 KOs) and Breazeale (20-1, 18 KOs) will settle their long, bitter feud inside the ring in an exciting heavyweight showdown that is sure to deliver given their fan-friendly power-punching styles.
Tale of the Tape
It's not the fight that most fans want to see as more lucrative fights await the WBC titleholder with Anthony Joshua and Tyson Fury. However, Joshua will meet late replacement Andy Ruiz on June 1, and instead of a rematch with Fury, the skilled Brit will fight Tom Schwarz on June 15th.
However, these towering rivals each standing 6'7" and possessing a similar reach could still give us a very exciting slugfest. They are both orthodox fighters and bona fide bangers with nearly 60 knockouts between them.
Deontay is certainly not the most technically gifted fighter on the planet, much less within the heavyweight division. However, the WBC champion is doing something right with a staggering 98% KO rate to accompany his unbeaten streak.
The Alabamian's success begins and ends with his explosive power. That right hand is arguably the most lethal weapon in boxing and absolutely devastating when it lands.
Breazeale nicknamed "Trouble" has lived up to that moniker against opponents scoring 18 knockout wins over 21 professional fights. Since his one setback, a knockout defeat at the hands of Anthony Joshua in 20XX, Breazeale has gone 3-0 in his last outings. One of those victories was earned with a sizzling right hand to the head to stop a rugged and determined Carlos Negron in the ninth round.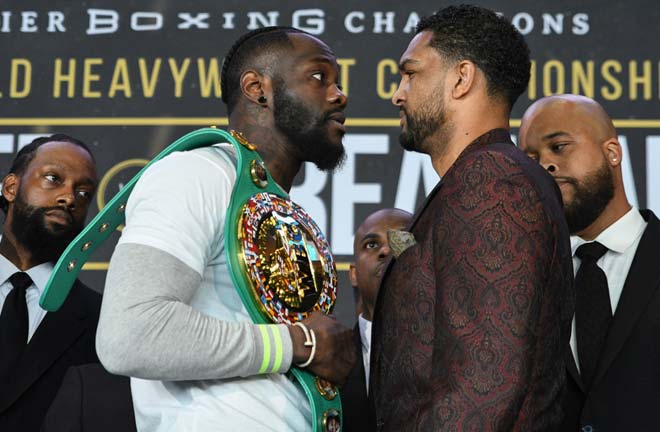 Prior to this fight, Breazeale forced the corner of Eric Molina to stop their fight in the eighth round. The 33-year-old has a solid chin, a strong fighting spirit and throws heavy-handed shots with bad intentions.
As alluded, these rivals have history outside of the ring as well. It's no secret that there is bad blood between Breazeale and Wilder and Breazeale is looking forward to making the champion pay.
"I can't wait to get my hands on him. What he did in Alabama in front of my family, I can never forgive him for nor will I ever forget," said Breazeale.
The incident which the California-based fighter is referring is their large scale hotel lobby brawl back in 2017 after the two men fought on that Saturday night's PBC and FOX card. Wilder stopped a game Gerald Washington in the main event, while Breazeale got off the canvas to knock out Izu Ugonoh.
The Birmingham Police Department were called to restore order at The Westin Birmingham, the site of their scuffle.
Breazeale later twitted about the altercation alleging that Wilder and around 20 people attacked his team without provocation in front of his wife and kids. Wilder soon responded vehemently denying the claims and asserting that Breazeale threatened his brother and that he was assaulted when attempting to diffuse the situation.
Tempers have not subsided since and it will be an intense encounter when these two men go head-to-head on May 18.
Three Keys to Victory
A Puncher's Chance, But A Chance Nonetheless – Breazeale is a big and strong puncher who carries significant power in both hands to justify his 90% KO rate. He has a come forward, aggressive fighting style that is most effective when he is able to walk his opponent down forcing them to make mistakes due to his constant pressure. He must be careful to pick his spots in this matchup though and not get baited into a slugfest with the more powerful Wilder. The WBC champion is at his best and most dangerous when given time to wind up those wild and looping power shots. Taking away that advantage and keeping Wilder off balance will be key if he is to spring the upset.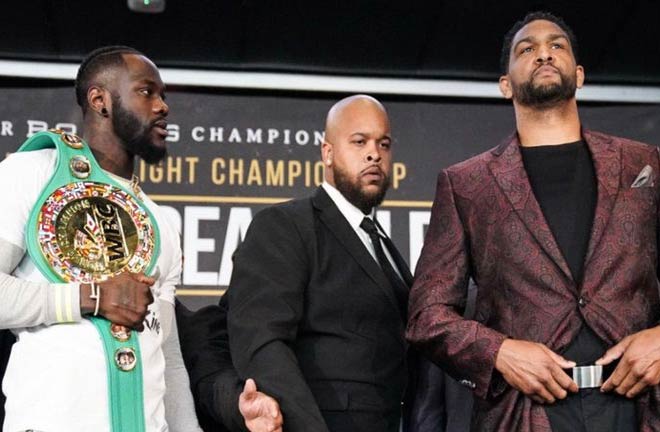 Predictability – Dominic can be slow, prodding and predictable at times when analyzing some of his past fights. He tends to telegraph his punches which could prove disastrous against a good counter-puncher. Any opponent who can anticipate his next move and react accordingly can disrupt his rhythm. While Wilder is not the most technical fighter, he has speed and power. Breazeale will undoubtedly want to take the fight to Wilder which he has done throughout his career. That strategy did not work against AJ who pummeled him over seven excruciating rounds and it could easily backfire against a crude slugger like Deontay.
Another Shot – Breazeale has done amazingly well having boxed for Team USA in the 2012 London Games only three years after taking up the sweet science. He then earned his first world title shot in just his 18th professional bout, losing via seventh-round knockout to the aforementioned Anthony Joshua. No shame in that. However, boxers tend to have short shelf lives and this could be his final shot at capturing a world title before being relegated to the journeyman abyss. If anything, Breazeale always comes to fight and should be sufficiently motivated to put on a good performance against an opponent who has truly drawn his ire.
Prediction
These men have a genuine dislike for each other and it will be an intense encounter when they go head-to-head. Expect Breazeale to bring lots of pressure and try to break Wilder's rhythm with the jab. Wilder has a better jab but rarely commits to it and I don't really expect him to in this particular fight that is just teeming with bad blood. Like a big game hunter, Wilder will be in hot pursuit of Breazeale's chin all night as he looks to close the show quicker than AJ. Breazeale is incredibly durable but lacks the discipline to keep his hands up and stay out of the champion's range. This fight will end in a knockout finish.
Deontay Wilder by KO/TKO in the eighth round.