On May 7, on the Pacquiao vs. Mosley undercard, rising young star Wilfredo Vazquez, Jr. defends his WBO Super Bantamweight belt against longtime lower-weight standout Jorge Arce. It looks to be a fan-pleasing fight that will bring some much-needed excitement to the 122-pound class.
Date: Saturday, May 7, 2011
Site: MGM Grand Garden Arena in Las Vegas, Nevada
TV: Showtime PPV at 9:00 p.m. EST
Title: WBO Super Bantamweight Title
Wilfredo Vazquez, Jr., 20-0-1 (17 KOs), Bayamon, Puerto Rico, WBO Super Bantamweight Champion
Vs.
Jorge Arce, 56-6-2 (43 KOs), Los Mochis, Sinaloa. Mexico
Vazquez Jr. vs. Arce Preview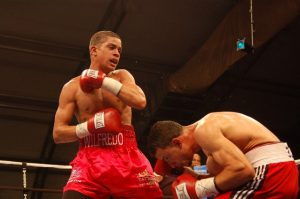 Vazquez, Jr. is unbeaten in 21 fights and a young 26. He is somewhat new to the world-class ranks of the sport, but has surprised some by how well he has fought, particularly in his 3 title fights. There was a time, especially for those who saw him lucky to scrape a draw with journeyman Jorge Cardenas in 2007, when he wasn't a very ballyhooed prospect. He deserves credit for turning it around and becoming a young titleholder worth watching.
Arce is by far his biggest name opponent thus far. He goes back long enough that he has even fought Michael Carbajal—a member of the Hall of Fame. He held titles at 108 and 112 pounds from 1998 to 2006. Cristian Mijares stopped his momentum at 115 pounds in 2007. It appeared Arce was starting to become worn out at the exact time he kicked his career into the next gear. Just as he became big, his effectiveness appeared to ebb.
He put a series of quick wins together, but by the time 115-pound kingpin Vic Darchinyan stopped him emphatically in 11 rounds in 2009, the end appeared near. Two fights later when he dropped a decision to unknown Simphiwe Nongqayi, it was hard to find reasons for Arce to continue fighting. However, he has since embarked on a 5-fight unbeaten streak and even though the matchmaking played into it, Arce deserves credit for staving off the end, which seemed so impending at the end of 2009.
Nonetheless, against a young and capable fighter like Vazquez, Jr., we are forced to take a closer look at Arce's liabilities. He's still only 31 somehow, but not the fighter he once was by any reasonable measure. In addition, he isn't really a junior featherweight. His last 4 fights have been at junior featherweight poundage, but we're talking about a guy who was making 115 as recently as 2010.
He looked impressive a few fights ago against shot Martin Castillo, stopping the former titleholder in the first round. But against dormant ex-champ Lorenzo Parra in Sinaloa in September, he perhaps relied on generous scoring and a point deduction to salvage a draw. If he couldn't defeat a faded former flyweight titlist in his home region, how is he going to beat a peaking junior featherweight in Vegas? While this type of reasoning can be faulty, it still makes you wonder.
I hesitate to rule out Arce completely. He actually has an inch advantage in height and reach on Vazquez, Jr. He has twice as many knockouts as Vazquez, Jr. has total fights. This is his last chance to get a sniff at boxing's big-time and he's always been a prideful, energetic, and hard-hitting fighter. We suspect Vazquez, Jr. is the goods, but there isn't really conclusive evidence to prove that. There have been many fighters who got exposed with a lot more going for them than wins over Marvin Sonsona, Zsolt Bedak, and Ivan Hernandez—Vazquez' best wins. The jury is still somewhat out on the young son of legend Wilfredo Vazquez, Sr.
Vazquez Jr vs. Jorge Arce Prediction
At a bare minimum, Vazquez, Jr. is a young, confident and improving 122-pound titlist. I'm not sure Arce is still able to deal with even that much. But Vazquez will need to be extra cautious, stay on his toes, and not give Arce an abundance of punching opportunities. He would be well advised to spend the early rounds using some movement, while catching Arce as he is advancing.
If Arce can buck the odds, great. It's difficult to not like the guy, especially for Southwestern-U.S. boxing fans that he has been entertaining since the 90's. I just can't help but think he might be in a little over his head at this juncture in his career. I look for Vazquez to survive a few anxious moments, before going to work on Arce with youthful-looking combinations and bodyshots.
Arce will be valiant as ever, but his skin will start to betray him in the middle rounds. Bleeding and facing an insurmountable uphill climb, Arce will get the hook somewhere around the 9th round.
Prediction: Wilfredo Vazquez by 9th-round TKO.
Comments
comments