Arthur Abraham has been drumming up the hype for his upcoming March 23 defense against former champion Robert Stieglitz, and was recently quoted as saying "Once we step into the ring I have to destroy him, no question." This is in contrast to his more measured comments of just a week ago. Past Abraham talking of a knockout, Robert Helenius vs. Michael Sprott has been added to the fight card, giving it a hefty dose of heavyweight action.
Can Abraham Deliver a KO?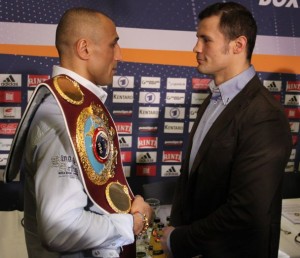 Whether Abraham can kayo Stieglitz is an interesting question. On the one hand, few doubt that Arthur Abraham is one of the biggest bangers in the red hot super middleweight division. On the other hand, Robert Stieglitz is a sound technician, and no matter what Abraham says about himself, both fighters in this bout have predictable styles. That would suggest little will change in the outcome.
Still, Abraham has shown he gains confidence and learns from experience in rematches: witness how he obliterated Edison Miranda in their second go. Also, Stieglitz's technique is not as suggestive as it might seem at first glance. He is at least as robotic in the ring as Abraham, and reliant on the high guard of the Continental, stand-up boxing style for defense.
Abraham at least uses the peek-a-boo approach, and I don't think the kind of point defense Stieglitz uses is as good against a one-punch kayo slugger like Abraham as a little head movement and footwork.
For his part, Abraham will already know what Stieglitz has to offer, and won't be so slow to get started this time. Abraham starting earlier in the bout means more punches thrown, and therefore more chances to clock Stieglitz.
The answer to whether Abraham can stop Stieglitz this time around is "yes," and I'd give it 50-50 odds.
Helenius vs. Sprott
Robert Helenius is just treading water in fighting 37-19 trialhorse Michael Sprott, but it should be fun to watch while it lasts. Say what you will about the British journeyman, but Sprott usually puts in a good effort, resulting in a good show. If you take him for granted he'll make you pay for it, as Audley Harrison found out back in 2007.
Even so, everybody of any merit beats Sprott, and Robert Helenius has a lot of merit. Sprott merely has an average chin to boot, while Helenius is a giant super heavyweight renowned for his power. Whereas Abraham might knock out Stieglitz, I don't expect Sprott to see the final bell against Helenius.

Comments
comments