Cintron Takes Hard Fall Out of Ring and Fight Ends in The Midst of the Fourth Round
The Paul Williams vs. Kermit Cintron fight ended in a way that assuredly nobody could have seen coming.  In a fourth round where the action was finally picking up after a slower than expected first few rounds, Williams and Cintron got tangled up. Williams fell to the ropes, and Cintron ended up falling through them and crashing onto the ringside table, possibly landing on the sharp edges of the computer monitors that lay nearby. He was unable to continue following the fall, and the fight went to the scorecards for a technical decision.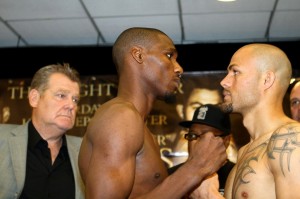 From the replay of the fall, it looks like Cintron fell first on his head and then possibly banged his back or ribs. Cintron wanted to continue, but the doctors prevented him for doing so, and he was loaded onto a stretcher with his head carefully strapped in place and carted from the arena.
With the rules for professional boxing matches in California, the fight went to the scorecards with three full rounds having been completed. The Williams vs. Cintron results ended up being a split decision for Paul Williams, with scores of 40-36, 39-37 and 36-40. The incomplete fourth round got included in the scorecards.
Williams had only just begun picking up the pace of the fight when it came to its conclusion. In the first two rounds, it appeared that Cintron's counter punching, his overall speed and the power that he hit with were deterring Williams from bringing the usual pressure that we're accustomed to.
But Paul Williams was certainly picking up the pace and had decided to bring the heat when the unfortunate accident took place and the bout came to an unexpected ending. For Cintron, it's another fight that ends in unusual circumstances. Hopefully though the injuries prove to be nothing serious and the stretcher was used only for precautionary purposes.
Clearly the Williams vs. Cintron results were not what one would have expected! The fight came to a close in the fourth round from a freakish injury that saw Cintron flying off the ring, onto the ringside tables and onto the canvas. Cintron left the arena on a stretcher, and Williams ended up taking home a technical split decision for the victory.
Keep checking in for more about the Williams vs. Cintron results and accident, and any further news regarding the status of Cintron and upcoming bouts for Paul Williams, including a potential rematch with Sergio Martinez.
Comments
comments