WBC No. 3-rated Willie "The Great" Nelson (20-1-1, 12 KOs), just like everything else in his life, is cool with his HBO debut fight on June 29, against Argentinian veteran Luciano Leonel "El Principito" Cuello (32-2, 16 KOs), at MGM Grand Theater atFoxwoods ® Resort Casino in Mashantucket, Connecticut.
Willie The Great Nelson, who stands nearly 6′ 4″ and has an incredible 81″ reach and only 6-percent body fat, is an imposing physical specimen. The Cleveland native will make his second North American Boxing Federation (NABF) super welterweight title defense having originally captured the belt last September, winning a unanimous 10-round decision over former Olympian and World Boxing Council (WBC) Youth champion John "Dah Rock" Jackson (13-1, 12 KOs). Nelson successfully defended his crown this past March 1, also at MGM Grand at Foxwoods, in dramatic fashion on ESPN Friday Night Fights, knocking out former NABF titlist Michael Medina (26-3-2) in the opening round.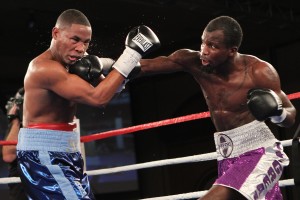 Nelson appreciates fighting on the big stage, HBO, for the first time but he's taking it all in stride as he always does. "I understand how important it is for me to fight on HBO and I'm grateful for this opportunity," Nelson said, "but I don't really think about that because I still have to fight. Whether I'm fighting on a club show or HBO, I'm going in the ring to win, and win impressively."
Cuello is relatively unknown, at least in the United States, but the Argentinian is from the same country that has produced contemporary stars such as Sergio Martinez, Lucas Matthysee and Marco Maidana. His only career losses as a professional have been to world champions Saul "Canelo" Alvarez (TKO6) and Julio Cesar Chavez, Jr. (DEC10).
"He is a strong fighter who keeps coming forward, much like Medina," Nelson spoke about his upcoming opponent. "He'll be a measuring stick for me to see where I'm at in the 154-pound division, where he's only lost to 'Canelo' and Chavez. I hope to win impressively, like I did in my last fight, to get close to a fight against the guy I really want, Alvarez.
"It feels good going back to Foxwoods, where people saw what I'm capable of doing in the ring. Coming right back there is good for me and the fans who were there or watching me fight on ESPN. I'm looking forward to it and hope they are, too."
The 10-round fight between Nelson and Cuello will be the HBO opener (9:45 p.m. ET/PT start) on a special triple-header, promoted by DiBella Entertainment and K2 Promotions, headlined by World Boxing Association (WBA) International Boxing Organization (IBO) middleweight champion Gennady "GGG" Golovkin (26-0, 23 KOs) defending against former world title challenger Matthew "Mack The Knife" Macklin (29-4, 20 KOs). IBO super middleweight title-holder Thomas "Tommy Gun" Oosthuizen (21-0-1, 13 KOs) faces Brandon "Flawless" Gonzales (17-0, 10 KOs) in the 10-round co-feature on HBO.