Abner Mares is vacating his WBC title at 122 lbs and is making a move up to Featherweight. Without a fight against Nonito Donaire on his dance card, Mares and his team have decided to keep on moving onwards and upwards, and will be looking to add a third divisional title to their growing collection.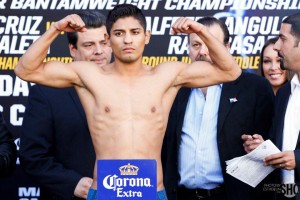 Mares' manager, Frank Espionza, was quoted by BoxingScene.com saying:
"We did all we could to make the fight against Donaire happen. It's time to move forward with Abner's career. He always said he wanted to be a champion in three divisions and we're going to do everything we can to make that a reality. At this point we have to keep Abner's career moving forward and upwards. That's what's important."
Mares had this to say:
"I accomplished my dreams of winning titles at 118 and 122 pounds. I'm ready to fight as a featherweight and to achieve one of my goals of being a world champion in three different divisions."
This will be very interesting for a few reasons. The Featherweight division is loaded, but unlike the Junior Welterweights, which have bunched up in Golden Boy, the 126-pounders have a strong Top Rank presence, with Mikey Garcia, Orlando Salido and Juan Manuel Lopez. However, Golden Boy is represented in the division by the likes of Daniel Ponce de Leon. If he defeats Jayson Velez to defend his strap, we could be seeing a Mares vs. Ponce fight before very long.
The decision to move up to Featherweight is also important because Mares will be establishing his presence there ahead of Donaire, who has made no secret of his intentions to continue moving up in weight himself. In other words, Donaire and Top Rank won't be able to avoid Mares simply by moving up in weight. And if Mares has a headstart in his campaign at 126 pounds, and it's a productive one, he'll be well positioned to once again call Donaire out and insist on making a fight between the two.