The WBA has instructed the promotional companies Sauerland Event (SE) and Klitschko Management Group (KMG) to conduct immediate negotiations for the fight between the current Heavyweight Champion Wladimir Klitschko and Regular [Editor's Note: "Fake"] World Champion Alexander Povetkin. The WBA has followed the rules of their writing originally sent to all parties prior to the fight between Wladimir Klitschko and David Haye.
[Also See: Heavyweight Division Rankings – Klitschko #1, Povetkin #4]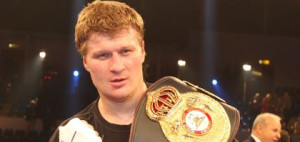 The letter stated that the winner of the bout would be declared as Super Champion and has to face the winner out of Ruslan Chagaev vs. Alexander Povetkin within in a time period of 18 months after the fight which took place on August 27, 2011. Klitschko vs. Povetkin is scheduled to take place before February 26, 2013.
Povetkin's promoter Kalle Sauerland said:
"We are very excited that Povetkin will be Wladimir Klitschko's next opponent. We consider Wladimir Klitschko to be a great champion but we also consider Alexander Povetkin to be a very serious challenger. A fight between two Olympic Heavyweight Champions is always something special and one that will turn out to be a real treat for boxing fans all over the world."
Chris Meyer, Managing Director of Sauerland Event, added:
"We have a four week period to negotiate terms on the fight and will be in contact with the Klitschko management later on today. We worked together for many fights as co-promoters of the Klitschkos. Therefore I am convinced that we will have a professional dialogue. However, if we should not be able to reach a voluntary agreement we are prepared to enter a purse bid."
Comments
comments