If Wladimir Klitschko really is attempting to secure his legacy before retiring, he is taking a critical second step in taking on American contender Bryant Jennings. He's following up his commanding win over Bulgaria's solid Kubrat Pulev by taking on another real challenger, and in Madison Square Garden no less. The pair meet on April 25.
Bryant Jennings (19-0, 10 KOs)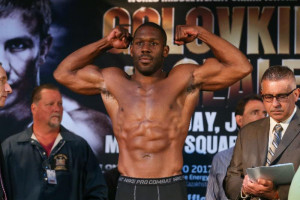 6'3″ tall, 84″ reach
30 years old
227 lbs
American
After Deontay Wilder, Bryant "By-By" Jennings is the hot rising heavyweight contender in the United States. He was a latecomer to boxing, but has learned fast and well. His style is fundamentally that of a boxer, as he uses a very sound defensive technique and as the foundation for a busy offense. Jennings is the kind of guy who puts his punches together well while exposing himself as little as possible, and gradually wears down opponents.
Wladimir Klitschko (63-3, 53 KOs)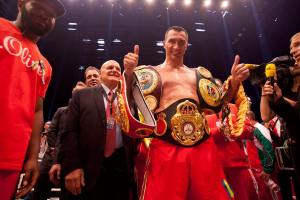 6'6″ tall, 81″ reach
37 years old
247 lbs
Ukrainian
Dr. Steelhammer needs little introduction, as befits a man who has held a heavyweight title since his 2006 win over Chris Byrd and has ruled the division as its clear top dog since at least his 2011 win over David Haye. He's big, he's powerful, he's athletic, and he uses those tools to keep all comers at bay for a pummeling at range. Kubrat Pulev was able to break through the famed Klitschko jab to menace the Ukrainian, but only briefly.
Klitschko vs. Jennings Analysis
The main problem with beating Klitschko is finding a way to upset the man out of his tried and tested game plan. Most experts think accomplishing this Herculean feat would require a tough, powerful, quick, and gritty fighter who was both willing and able to weather Big Wlad's hurt while avoiding the worst of it and coming in to return fire. With Pulev's stand-up European boxing style, he simply was not the man to sustain it.
While it is conceivable that an opponent could out-box Klitschko, either by matching his jab or counter-punching him, such an individual would need to be able to at least approach Klitschko in the size department. Interestingly, while Jennings has a three-inch reach advantage over Klitschko (like Hasim Rahman, he is a mid-sized heavyweight with long arms), he lacks the size to make full use of it.
It also looks doubtful that Jennings, with his measured approach, can possibly upset Klitschko out of his usual method and pace. Finally, Jennings has never shown the kind of power to exploit the opportunities that he might make for himself against Big Wlad, and that is important because he won't get many.
Klitschko vs. Jennings Preview
Jennings ought to have his moments, because he is a smart operator and actually has the reach, if not the height, to get over on his opponent. Even so, he won't have enough answers to neutralize that tried and true, piledriver Klitschko jab coming down on him all night. The Philadelphian's durability keeps him in the game until the end, but overall Big Wlad has an easy night of it.
Prediction: Wladimir Klitschko UD12 Bryant Jennings