The domination of the heavyweight division by the Klitschko diarchy lurches forward on July 7, when Wladimir Klitschko defends his all-but undisputed world title in a rematch with the IBF's #1 contender, Tony Thompson. Dr. Steelhammer has what looks to be an ideal foil in the form of Tony the Tiger, because Thompson matches Klitschko in the size department, he is in no way in the same league as Klitschko the Younger.
This promises to be another easy win for the division's top dog, but one that is at least more visually entertaining than Klitschko's past outings. For that reason, fans craving some big man action should tune in and watch two 250-pounders slug it out.
Tony Thompson (36-2, 24 KOs)
6'5″ tall; 81 1/2″ reach; five fight weight average: 251 lbs; southpaw; 40 years old
American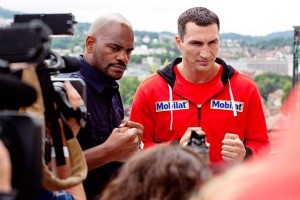 At this point in his career, Tony Thompson is merely a fringe contender. The guys best wins have all been over journeymen and fellow fringe contenders, such as Vaughn Bean, Dominick Guinn, Chazz Witherspoon and, most recently, Maurice Harris. Thompson has been hovering in fringe contender's status now for almost five years, and the simple fact that the only world class fighter he has ever fought has been Klitschko speaks volumes. Given that Thompson hasn't done anything worthwhile since losing to Klitschko in 2008 in an 11th Round knockout except not lose, one wonders why Tony the Tiger is the IBF's mandatory challenger.
Thompson has merely above average boxing ability, and he gets by on two assets: the southpaw stance and his sheer size. There simply aren't too many heavyweights out there in the 6'5″, 250 lbs+ league, and unlike most of them, Thompson can fight. He isn't great, but he can fight. His sheer size also compounds the awkward advantage of his southpaw stance. Fighting a southpaw should never intimidate a competent boxer with a solid straight right, but just how many people out there — the Klitschkos included — have any practice in trying to get their footing outside of a leftie with a stride as long as Thompson's? Even Dr. Steelhammer had some trouble with it in their first fight.
Wladimir Klitschko (57-3, 50 KOs)
6'6″ tall, 81″ reach, five fight weight average: 244 lbs; 36 years old
Ukrainian
Former WBO Heavyweight Champion; Current IBF-WBA-WBO Heavyweight Champion

Dr. Steelhammer is one of the most dominant figures not just in the heavyweight division, but in modern boxing. He will almost certainly retire as a champion, and after that his legions of German and former Soviet Republic fans will debate whether he shouldn't be ranked above Muhammad Ali and Joe Louis as the best heavyweight ever. In that context, I think only two points about the man require discussion.
His current and second reign as champion began in April 2006. Since then, Klitschko the Younger has made 11 successful title defenses, pretty much cleaning out both his own generation of heavyweights and a good chunk of the succeeding crop.
Klitschko is a Continental-style boxer-puncher with considerable athletic ability. While he has good lateral movement, his offense is straight down the pike, led by a telephone pole jab and a pile driver right. He fights from a stand-up guard (naturally, given his height), and relies on point defense and footwork instead of head movement for defense. Klitschko almost never throws the uppercut, even against guys who get in past his guard, and his left hook is powerful, but clumsy. He fights cautiously, protecting a suspect chin and gas tank.
Klitschko vs. Thompson II Prediction and Analysis
Thompson had his moments in the first fight, and tagged Klitschko about as much as anyone has in recent memory. I think much of that came from Klitschko's frustration in dealing with someone who was both as large as himself and fought as a southpaw, and as I described earlier, that is a trickier combination than many people realize.
However, Klitschko ultimately seized control to methodically win the day, and all the reasons why are still in force. First, Klitschko is fairly graceful on his feet (especially for such a big man), and Thompson is not. While the Ukrainian might have had fits early on figuring out how to consistently out-step the practiced southpaw, he sorted those problems out. Part of the reason why is that he is a poised, experienced, confident champion. He was then and he is now. With his feet in the right place, Klitschko could use his superior hand speed and his awesome straight right to neutralize Thompson.
In this fight, Klitschko will come in having figured Thompson out. Since that was four years ago, I expect it will take Klitschko some time to put his feet and hands back together again, but not as long as the last time out. If anything, Thompson is slower and Klitschko more confident. It looks ugly for Tony the Tiger, and the American's only real chance is to get stuck in and mix it up… but that just ain't Tony's style.
Prediction: Wladimir Klitschko KO9 Tony Thompson
Comments
comments