Tucked away on the undercard of tonight's ESPN2 Friday Night Fights — Kendall Holt vs. Julio Diaz broadcast from the Chumash Casino Resort in Santa Ynez, California, is a young lady making a life-changing decision. Not the decision to get in the ring, she's been doing that since she was a young child.
To get in the ring as a professional is a huge choice for East Los Angeles' Seniesa Estrada, considering the excellent chance she had to become one of the USA's first women's gold medalists in boxing.
The case for going to the Olympics.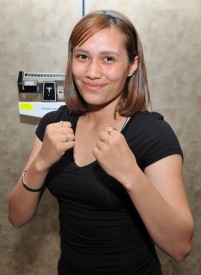 112-lb Estrada's list of amateur accomplishments is nearly endless. Ranked #1 in the world, she went 87-4 while winning over 12 national titles as a junior and senior including the USA Championships, the Junior Olympics, the National Golden Gloves, the PAL Nationals and the Ringside World Championships.
The case for turning professional.
"It's what I want to do," she explains. "In my heart, it's what I want to do."
And so, turning aside the historically significant opportunity to add "gold medalist" to her resume, 18-year-old Estrada will make her debut tonight against Houston's Maria Ruiz (0-2).
Known for her body work and quickness, Estrada uses smarts and a tight defense to outmaneuver opponents, sometimes making them look foolish – traits she learned well from her father Joe, who trained her for many years, and trainer Dean Campos, who was brought in to help bring her to the next level. "I want to be known as a great fighter," Estrada continues, "not as a great girl fighter, but as a great fighter – a world champion in multiple weight classes."
Estrada started boxing at eight after making her father promise he would bring her to a gym. She watched a few fights and quickly decided boxing was what she wanted to do. "I've been a nervous wreck at every one her fights from the very beginning," admits father Joe. "I thought it would get easier but it never did."
Aware that boxing doesn't last forever, Estrada is also currently a first-year nursing student who hopes to make her mark in boxing quickly and get back out. "The only thing holding me back is experience. I've fought without headgear on in the gym a few times and I find it makes me even faster and improves my reflexes.
Pounding away on the heavy bag and the other boxers at the Montebello PAL gym, Seniesa Estrada has decided to follow her heart in making a very important decision. When you have as much heart as she does, you have no choice but to follow it.