USA Women's Olympic Boxing Results
The semifinals for the women's Olympic boxing competition in London were held on Wednesday afternoon. American Flyweight Marlen Esparza battled China's Ren Cancan, and USA Middleweight Claressa Shields was in action against Kazakhstan's Marina Volnova. Would the remaining ladies from Team USA advance to the gold medal matches, or would their Olympic runs end with a bronze?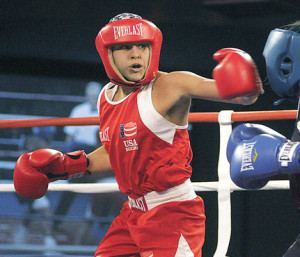 USA Boxing Results – Marlen Esparza vs. Ren Cancan
The shorter Esparza was looking for a way to get inside on her Chinese opponent, bouncing in with the jab and going to the body. Ren was looking for her 1-2 and looking to counter over Esparza's jab with her hook. Ren took a 3-2 lead after a slow first round.
The action picked up in the second as both women were throwing more combinations. Esparza was at times a little bit wild trying to fight her way inside and overcome that height advantage. Ren won the second 4-2, to take a 7-4 lead.
In the third, Esparza stayed tighter with her defense and looked to pick her shots more to avoid opening up for Ren's attack. She took the round 2-1, tightening the gap to 8-6 heading into the fourth and final session.
Esparza knew she had to make a difference in the fourth and final session, so she was aggressive, but stayed true to her third round form, less wild than she was earlier. She did a lot of feinting trying to find an opening. Ren hardly attacked at all, while Esparza looked to land lead rights and left hooks. It looked like Esparza won the fourth and could have potentially won the bout.
However, the scorecards read 10-8, and Ren Cancan of China advances. Esparza takes home a bronze. It's a great accomplishment for Esparza, and the first official medal for the United States in women's boxing at the Olympics.
Claressa Shields vs. Marina Volnova
Claressa Shields took the stage as the last man or woman for team USA left alive in the competition. She started off the fight throwing crisp, hard combinations. Volnova got her to the ropes though and started unloading. Volnova got her to the ropes again, this time Shields flurried  and then circled out. Shields took a 7-5 lead after the first.
Shields definitely appeared like the stronger of the two women. She did a better job in the second of keeping away from the ropes, and circling around the center of the ring. Each woman had their moments though landing clean shots. Shields took the second round 5-3, for a total lead of 12-8 through two.
About 30 seconds into the third Claressa lands a hard shot and the referee gives Volnova a standing 8 count. Shields started doing a bit of dancing in there, then began loading up with her shots, and the body punches looked to be taking their toll on Volnova, who appeared tired.
Through three, Shields was comfortably up 20-11. She tallied another standing 8 count in the fourth. Her punches are just so much harder than almost any other woman out there in the Olympics.
Shields takes home the decision by a dominant 29-15 score, and advances to the gold medal round to be fought on Thursday at 12:15 pm Eastern.
In other action, the crowd was fired up for British Flyweight Nicola Adams going up against Mary Kom. Adams slowly built up a lead over the first three rounds, and took home a 11-6 decision to advance to the gold medal match against Ren Cancan.
Amazing Irish Lightweight Katie Taylor also took the stage. Her rowdy fans filled up the arena, and delighted as she put on another great display of her all-around boxing skill. Entering the fourth round, she had a decisive 7-point advantage, and ended up winning the contest by a 17-9 margin.
Complete Women's Olympic Boxing Semifinals Results
Women's Fly (48-51kg)REN Cancan wins 10:8 ESPARZA Marlen
Women's Fly (48-51kg) HMANGTE Chungneijang Mery Kom loses 11:6 ADAMS Nicola
Women's Light (57-60kg) TAYLOR Katie wins 17:9 CHORIEVA Mavzuna
Women's Light (57-60kg) ARAUJO Adriana loses 17:11 OCHIGAVA Sofya
Women's Middle (69-75kg) VOLNOVA Marina loses 29:15 SHIELDS Claressa
Women's Middle (69-75kg) LI Jinzi loses 12:10 TORLOPOVA Nadezda
Thanks for checking out our women's semifinals Olympic boxing results, with the team USA women's boxers in action. Check back later for more coverage of the day's Olympic action.