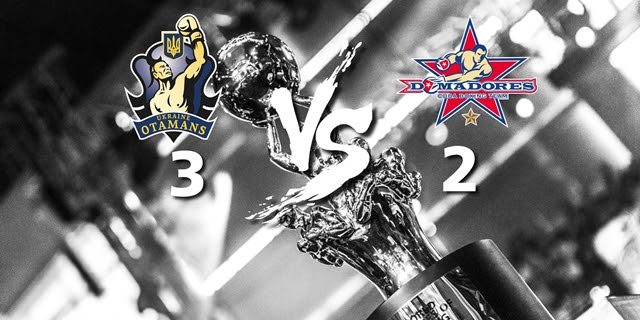 Venezuela Caciques power into play-off contention with devastating 5-0 defeat of Rafako Hussars Poland in Vargas
Venezuela Caciques moved to the top of Group C following their 5-0 whitewash of Rafako Hussars Poland on Saturday night. It was another strong display from the South American franchise and sets up what is planned to be a thrilling finale to the preliminary rounds on 1 April against a Russian Boxing Team who still have three group matches to go.
The Caciques' South American Youth Games winner Franklin Jose Gonzalez led the line in style on Saturday, the flyweight going out first against tough Russian Hamza Touba and, after a tricky first round, delivering a stirring finish to earn a unanimous points win.
The evening's second bout was a closer affair that saw Christian Palacio eager to justify his selection in the squad ahead of compatriot Luis Angel Cabrera. A solid first round charge against the Hussars' experienced 2015 European Games bronze medalist Mateusz Polski was halted as the Polish lightweight came back into the bout, but the judges' split decision eventually went to the home boxer by the narrowest of margins and the Venezuelans established a 2-0 advantage.
After a well-balanced first round, the eagerly awaited duel between the Caciques' Hungarian pugilist, European Confederation Champion Balazs Bacskai, and Rafako Hussars' Irish star Steven Donnelly became a more one-sided affair, Bacskai knocking the Irishman down three times in the final two rounds to earn his side a comfortable match win.
Venezuela's Argenis Espana went into his light heavyweight bout with considerably less WSB experience than his opponnet Mateusz Tryc, but after a slow start he soon found his rhythm to take a unanimous points triumph. That left the Caciques' new super heavyweight talent, Brazil's Henrique Dos Santos Nascimento, to wrap up the action with a superb debut against the Hussars' experienced German draft pick Florian Schulz. Nascimento's victory completed the comprehensive 5-0 win for the home side who will travel to Moscow for their final group match on 1 April against Russian Boxing Team.
Makhkamov and Mubinov secure big APB wins on home soil in Tashkent
The second night of APB action in Tashkent saw Zukhriddin Makhkamov and Ulugbek Mubinov follow in Jasurbek Latipov's footsteps and take impressive wins infront of their home fans at the Uzbekistan Sport Complex on Saturday evening.
Uzbek National Light Heavyweight Champion Makhkamov made his APB debut against Romanian National Champion Alexandru Machedon, hoping to reinforce his claim for a place on the national team. The 23-year-old dominated the opening round using his speed behind a well-organised defence, and an outstanding second round established Makhkamov as the contests' early leader, a position he refused to let slip as he took a unanimous points win.
In the second bout of the day, Ulugbek Mubinov, silver medalist at the 2013 Asian Confederation Youth Championships, showed why he is one of the country's top super heavyweights with a brilliant display against Croatia's Marin Mindoljevic. A combination of fighting spirit, stamina and unusual speed for his size shocked his opponent in the opening rounds, and after Mindoljevic recovered towards the middle of the bout, Mubinov again turned up the heat, taking the second APB win of his career with a unanimous judges' decision.
Terrific Uzbek Tigers halt Astana Arlans Kazakhstan with outstanding 4-1 victory in Tashkent
World Series of Boxing newcomers Uzbek Tigers underlined their Season VI huge potential on Saturday night as they defeated the reigning champions Astana Arlans Kazakhstan in a stunning display in Tashkent. The Sport Complex of Uzbekistan was lit up by a brilliant show of boxing from the home side, who now have two crucial matches left in Group D including the return match at the start of April.
The Tigers' Asian Champion Hasanboy Dusmatov got the hosts off to the perfect start with the speed of his attacks proving too much for Arlans' Temirtas Zhussupov. With the crowd firmly behind him, Dusmatov was able to withstand Zhussupov's late fightback and the hosts took a crucial 1-0 lead.
Abdulkhay Sharakhmatov had a tough challenge in the second bout in the shape of two-time WSB Team Champion Meirbolat Toitov, and the southpaw duo were soon locked in to a fascinating contest. After five gripping rounds the bout was decided by Sharakhmatov's superior speed and powerful right jabs, earning a unanimous decision from the judges and doubling the home advantage.
Tigers' Fazliddin Meliboev and Askhat Ualikhanov's light welterweight bout proved equally tight, but the Uzbek National Champion took charge early on and refused to concede the upper hand, earning the judges' decision and sealing the home side's win in unexpectedly comfortable fashion.
Kazakhstan's rising star Meirim Nursultanov managed to halt the home side's dominance in the fourth bout with the narrowest of wins over the Tigers' Hurshidbek Normatov. With the contest tied at 38:38 after four rounds, Nursultanov turned up the heat and put the Arlans' first point on the board, but the recovery proved short-lived. Former AIBA Junior World Champion Mirzobek Khasanov rallied after a poor start against Yerkin Mukhametzhan, edging another close encounter between the two exquisite WSB teams and rounding off a superb night of boxing with a 4-1 home win.
China Dragons clinch superb home triumph as final-bout drama seals 3-2 win over Turkiye Conquerors
After their close encounter in Istanbul on the opening weekend of WSB Season VI, China Dragons went in to Saturday night's match against Turkiye Conquerors determined to secure their first win of the current campaign, and did so in thrilling fashion. The Sanya Sport Center Stadium exploded in to life as the hosts edged the win in the final bout, denting the Conquerors' hopes of qualifying from Group A with three matches to go.
Dragons' Fang Bo had a debut to remember in the opening flyweight bout against Turkey's London 2012 Olympic quarter-finalist Ferhat Pehlivan. Buoyed by the home crowd, Bo's energy was impressive as he romped to a unanimous judges' decision to give his side a 1-0 lead.
The evening's lightweight encounter then saw Dragons' Wang Yong struggle to adapt to his new weight class, the big-hitting Yasin Yilmaz proving too quick both of feet and mind early on and, refusing to let up the pace, ensuring the Conquerors levelled the match at 1-1.
Chinese welterweight Cong Wenbin started quickly against Turkey's 19-year-old Serhat Guler, but grew more patient and more effective the longer the bout went on. With no agreement between the judges after any of the five rounds of superb boxing, Wenbin edged a nail-biting finale courtesy of some well-timed uppercuts in the fifth.
Facing a 2-1 deficit, Türkiye Conquerors' light heavyweight Nadir Mehmet Unal then took the match down to the wire after capitalising on his blistering start against Zhang Yawei, but it was to be China Dragons' night as the super heavyweights battled through the deciding bout. The hosts' young talent Mou Haipeng picked the ideal moment to grab his first WSB win, cruising to a unanimous points win over Turkish debutant Ibrahim Demirezen to the delight of the home crowd.
Ukraine Otamans show ruthless streak to take sensational 3-2 win over Cuba Domadores in Kharkiv
A superb display from Ukraine Otamans saw Cuba Domadores suffer their first defeat of Season VI in Kharkiv on Saturday night. In contrast, this was a third straight win for the in-form Ukrainians, sending them to the top of Group A with three preliminary-round matches to go.
Defending Ukrainian Flyweight Champion Maksym Fatych won on a dramatic WSB debut earlier in the season, and added Cuba's WSB Team Champion Yosbany Veitia to his growing list of big-match victims on Saturday after a brilliant opening bout.
The Otamans' Viktor Slavinskyi was in equally determined mood as he faced off against three-time AIBA World Champion Lazaro Jorge Alvarez, but after a bright start his brave challenge faded. An incredible final round from Alvarez tipped the decision in his favour, and the Cubans were back on level terms.
Serhii Bohachuk started the third bout slowly against London 2012 gold medalist Roniel Iglesias, but some big uppercuts quickly brought the Ukrainian back into contention. Several clean lefts shocked the Olympic Champion in the fourth round and the judges confirmed Bohachuk's brilliant display with a 2:1 points win.
Facing a rare defeat, Cuba's virtuoso captain and three-time AIBA World Champion Julio Cesar La Cruz then stepped up to draw the match level with a typically controlled performance against Maksym Kots, deputising for Denys Solonenko. The tension was palpable as the super heavyweights went into the ring to decide the night, and it was a suitably close finish between Otamans' Rostyslav Arkhipenko and Domadores' two-time Pan-American Games winner Leinier Eunice Pero.
Arkhipenko put in the performance of his life infront of his home fans, and some big right jabs in the third round tipped the bout in his favor, earning another close points win and a magnificent 3-2 triumph for the home side who now top Group A.
Venezuela Caciques cruise to second in Group C with comprehensive 5-0 win over Argentina Condors
Following their narrow defeat to Argentina Condors in Buenos Aires back in Week 3, Venezuela Caciques were eager to redress the balance on home soil on Friday night, and did so in grand style with a devastating performance against their South American rivals. The Vargas boxing fans were out in force and able to celebrate a memorable 5-0 win that puts the Caciques second in Group C with just two preliminary-stage matches to go.
The hosts' 2014 National Flyweight Champion Jesus Rojas had little international experience going in to the opening bout against Condors' Junior Zarate, but his patient approach paid off, launching attacks from solid defensive positions and ultimately landing some incisive combinations in the fourth round that tipped the judges' decision in his favour to give Venezuela the lead.
Southpaw Victor Rodriguez once again showed his impressive combative spirit as he battled Condors' Elias Gonzalez into the corners and took a flawless unanimous win in the evening's second bout, before Caciques' Maifer Lopez put the match beyond the visitors' reach with a comprehensive display against Argentine light welterweight Lucas Ivan Gimenez. The crowd roared into life as soon as Lopez had his opponent on the canvas in the first round, from which point he never looked back, delivering a spectacular win for his side.
At 3-0 up, that left Caciques' big-name middleweight star Endry Saavedra to take a unanimous win against his old rival Christian Zarate for the second time in two seasons, before Alfonso Flores completed the rout in style against Argentina Condors' Dario Alcapan, sealing an excellent night for the Venezuelans that puts them in strong contention for a place in the knockout stages.
Impressive Russian Boxing Team coasts to 5-0 win over Argentina Condors in Buenos Aires
Following two tight away wins so far in Season VI, Russian Boxing Team cemented their position at the top of Group C on Friday night with a comprehensive 5-0 win over Argentina Condors. Now four points clear at the top and with three home matches to come, the Russian franchise looks in control of the group, with the Condors' chase for second place starting with a tough return match in Moscow at the start of April.
Condors' Christian "La Joyita" Roda had enjoyed a remarkable win over Venezuela's Yoel Finol in Week 3, but the flyweight was up against veteran Viacheslav Tashkarakov, standing in for Ovik Ogannisian and keen to prove a point. Tashkarakov was the livelier of the two in the opening rounds and it was only as the tie wore on that Roda came back in to contention, by which time the judges were already in agreement and the Russian was awareded the bout.
Another stand-in for the visitors, Artur Subkhankulov, proved equally effective in place of Gabil Mamedov at lightweight, and though Condors' Brian Nunez came back into the bout in rounds three and four, the Russian had produced some smart boxing early on. Subkhankulov deservedly earned the European giants a 2-0 lead, which then became an unassailable 3-0 after welterweight Maximiliano Ocampo's brave effort against the brilliantly accurate attacks of Albert Karibian came to an end.
Russia's 2015 AIBA World Championship bronze medalist Pavel Silyagin was in no mood to compromise in the heavyweight bout, his long reach repeatedly finding the target against a resilient Sergio Lebensztajn. The Argentine did well to fend off his opponent for long stretches, but some brilliant combinations in the fourth round tipped the balance in Silyagin's favour. The whitewash was completed by walkover after the hosts' veteran Facundo Cesar Ghiglione was unable to compete in his scheduled super heavyweight bout with Iaroslav Doronichev, leaving the Russian franchise in a commanding position with three matches left of the preliminary stages.