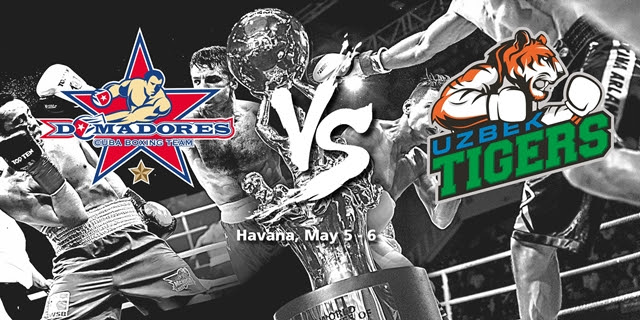 Cuba Domadores stars face a tough test as determined Uzbek Tigers land in Havana for first Season VI Semi-Final
WSB Season IV Champions and last year's runners-up Cuba Domadores can expect a stern Semi-Final test across the two legs against WSB newcomers Uzbek Tigers on Thursday and Friday nights. The mighty Cubans have once again shown the strength and depth of their squad, dropping just three bouts all season and all in the surprise Group Stage defeat to Ukraine Otamans.
The Tigers will have studied that match closely and be looking to exploit any weaknesses as they hope to upset the odds and book their place in a WSB final at the first attempt. A superb 6-4 Quarter-Final win in Russia was the perfect preparation for what will be another tough away match, beginning on Thursday with the light flyweight, bantamweight, light welterweight, middleweight and heavyweight boxers in action.
Key Bout 1: Joahnys Oscar Argilagos (CUB) vs. Nodirjon Mirzakhmedov (UZB)
The very first bout of the match is also set to be one of the biggest, with Cuba Domadores' Light Flyweight World Champion Joahnys Oscar Argilagos up against Uzbek Tigers' Nodirjon Mirzakhmedov. At just 19 years-old, Argilagos already has eleven WSB bouts and eight wins under his belt, and he showed his steel once again by coming through a tough Quarter-Final encounter with Mexico Guerreros' Elwin Soto a fortnight ago.
The Tigers' 22-year-old Nodirjon Mirzakhmedov claimed silver at the Uzbekistan National Championships at the end of last year, and was superb against Azerbaijan Baku Fires' Rasul Saliev in Week 10, using his nimble footwork to great effect. That speed is something Mirzakhmedov will need to reproduce if he is to get a result against Argilagos in Thursday evening's opener.
Key Bout 2: Erislandy Savon (CUB) vs. Mirzobek Khasanov (UZB)
Another of the Cuban team's big names, Erislandy Savon has been in excellent form on route to his Semi-Final showdown with AIBA Junior World Champion Mirzobek Khasanov. Savon won gold and an Olympic place at the AIBA American Olympic Qualification Event in Buenos Aires, and after defeating Ukraine Otamans' Dmytro Lisovyi in the Group Stages, the big heavyweight took his Quarter-Final by walkover against Julio Castillo.
Tigers' Mirzobek Khasanov also missed out on a Quarter-Final appearance against Russian Boxing Team, but his TKO win over Puerto Rico Hurricanes' Jose Rosado and a points victory against Astana Arlans Kazakhstan's Yerkin Mukhametzhan in the Group stages will have filled him with much-needed confidence ahead of what will be an intimidating atmosphere in Havana.
See the full line up here