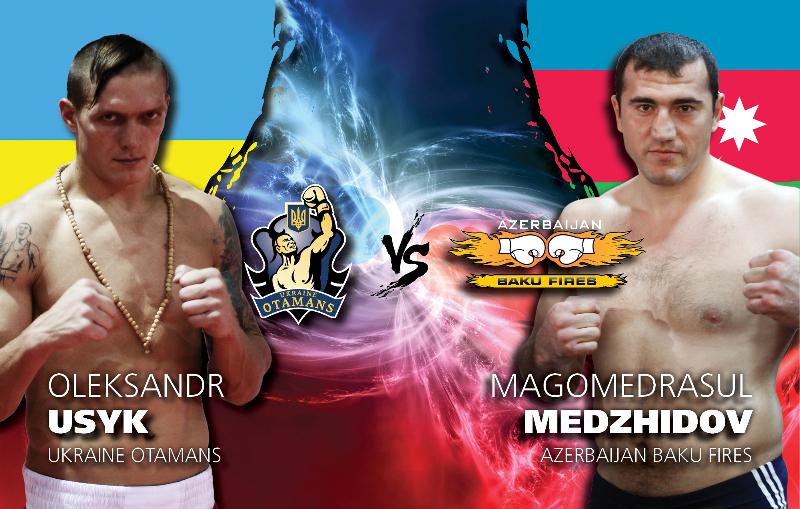 Tension and excitement is expected all over the 7000-seater Palace of Sports in Kyiv this Friday, March 22 when Heavyweight superstars Oleksandr Usyk and Magomedrasul Medzhidov will step into the ring for the fifth and final bout of the Ukraine Otamans vs. Azerbaijan Baku Fires World Series of Boxing (WSB) quarterfinal.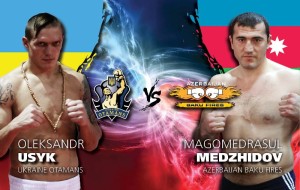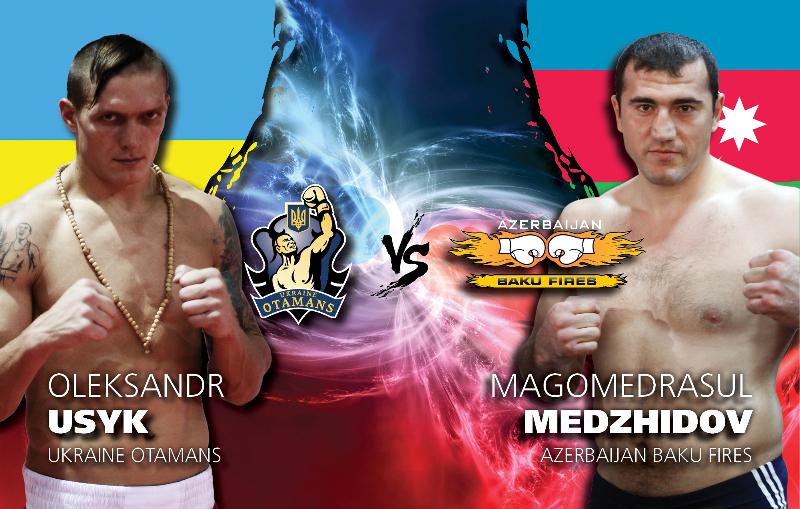 Defending AIBA Super Heavyweight (91+kg) World Champion and London 2012 bronze medallist, Medzhidov was awarded Best AIBA Elite Man Boxer in 2011 while AIBA Heavyweight (91kg) World Champion and Olympic gold medallist Usyk received the same honour a few months ago after his impressive performance in London. Their upcoming battle is expected to be one of the most exciting bouts in the history of WSB.
Ukraine Otamans superstar started his sporting career in football but switched to boxing on a whim at the age of 15 after receiving a red card in a match. The 190cm tall southpaw was one of the stand-out performers of the London 2012 Olympic Games where he claimed the title in style. After his triumph at the AIBA World Boxing Championships Baku 2011, he delighted fans worldwide with his all-action displays and his 'Hopak' dance celebration.
Hugely charismatic, technically gifted and deceptively fast, the 26-year-old is Simferopol's pride and has so far a clean 3-0 record in WSB. Following his victories over British Lionhearts' Uaine Fa, German Eagles' Eric Brechlin and Lionhearts' Joseph Joyce, Usyk is hungry for an additional success on his home soil. But for that he will have to face probably his biggest foe to date.
Medzhidov embraced boxing relatively late at the age of 19 and grew as a fighter and developed an impressive technique following a successful inaugural season in WSB with Azerbaijan Baku Fires. The orthodox fighter was undefeated in seven bouts during the Regular Season thus qualifying for the Individual Championships where he was narrowly beaten by Dolce & Gabbana Italia Thunder poster-boy, Clemente Russo.
Just a few weeks later, he was reaching his career highlight in front of his home crowd after winning the AIBA Super Heavyweight World title in the Azeri capital. This season, he was just too strong for Russia's Vitaly Kudukhov and Mexico Guerreros' Alex Rivera. Altogether, his WSB record shows a massive 8-1 with more than 50% of his fights finishing before the final gong.
Two heavy-hitters in a potential decisive bout, in front of a 7,000-seater packed venue… You won't have any excuse to miss that one. Watch this match live on www.worldseriesboxingtv.com.
The rest of the match-up between these two loaded teams include…
National Youth Champion Mykola Butsenko has so far only stepped into the ring once for the Otamans, but his maiden appearance in WSB brought him a victory. Easily recognisable with his quick jabs and world class footwork, Butsenko will this time around have to face a serious rival in the shape of Bantamweight (50-54kg) Individual Champion Gairbek Germakhanov and his close to perfection WSB record (10-1). The orthodox Azeri is one of the strongest fighters in his category and his physical skills are sufficient to beat anyone.
London 2012 silver medallist
Denys Berinchyk
has also appeared only once during the season, but that was enough for him to impress the entire Lightweight (57-61kg) division. Only 170cm tall – which is considered a disadvantage for his weight -, Berinchyk is using a very aggressive style to get as close as possible from his opponents. His opponent in this match will be Uzbekistan's Beijing Olympian
Hurshid Tojibaev
, a strong member of the Azeri Franchise. The southpaw is eight centimetres taller than the Ukrainian therefore he might make the most of his longer arms and keep Berinchyk as distant as possible.
Otamans Middleweight (68-73kg) Dmytro Mytrofanov has not only demonstrated all his power in Week 1 with a short defeat against WSB star Sergiy Derevyanchenko, but also when he knocked-down London 2012 silver medallist Fred Evans in the last match of the Regular Season. His record so far shows a good 3-1, but he will now have to face an impressive Khaybula Musalov (8-2). Between the Azeri who's always trying to control his bouts from the first seconds, and Mytrofanov who will be lifted by his home crowd, the contest could become one of the best to date.
The strong Ukrainian puncher Oleksandr Gvozdyk, who brought a bronze medal from London last summer, is still unbeaten in his WSB career (6-0). But he will probably have to put a lot of efforts in his fight this Friday when he faces Moldovan southpaw Vladimir Cheles. Cheles has also never lost so far in WSB and he is considered one of the best Light Heavyweights (80-85kg). That said, the Moldovan is only 179cm tall – Gvozdyk 190cm – and will therefore need to find ways to reduce this physical disadvantage.