Group A winners Cuba Domadores dismantle Ukraine Otamans 5-0 before their last regular season match against China Dragons in Havana.
A vibrant, fired-up Cuba Domadores, oozing class in front of their home crowd, whitewashed Ukraine Otamans 5-0 in their Group A clash on Thursday evening.
Boasting one London 2012 Olympic champion and two Doha 2015 AIBA World Boxing champions in their five-man line-up, the Cubans dismantled their opponents, claiming ample revenge for their surprise 3-2 away defeat to Ukraine Otamans earlier in WSB's Season VI.
The delighted Havana crowd first witnessed light flyweight Joahnys Argilagos demonstrate his precocious talent against Ukraine Otamans' national champion Denys Kozaruk. The 19-year-old Cuban, who has already won six of his nine WSB bouts, was on the front foot from the off and despite a second round comeback from the Ukrainian, Argilagos was a comfortable winner.
Teammate and 2012 Olympic bantamweight gold medalist Robeisy Ramirez put in a stellar second and third round to defeat WSB debutant Ivan Soloviov by TKO. The Ukraine Otamans fighter had initially surprised his exalted opponent as he went on the attack from the start but ultimately, Ramirez's class told.
The high quality performances continued to flow from the home team with 2015 AIBA World Boxing Championships light welterweight silver medallist Yasniel Toledo dazzling the crowd and his opponent with his mesmerizing footwork and technically sound counter attacks. Lopez won easily all five rounds.
With the match and a WSB Season VI playoff place secure, it was left to 2015 AIBA World middleweight champion Arlen Lopez to put on a show in his clash with Ukraine Otamans' Taras Holovashchenko. A succession of rapid combinations proved too much for Holovashchenko who lost by TKO in the final round.
A final dash of glamour was provided by Erislandy Savon, nephew of one of the sport's true greats who was ringside, the three-time Olympic champion Felix Savon. The 25-year-old breezed through his bout with Dmytro Lisovyi winning all five rounds.
The Ukraine Otamans remain in second place in Group A and face a crucial contest with Turkiye Conquerors in Istanbul on Saturday afternoon. A win will be enough to see them claim the second playoff place.
Season IV champions Cuba Domadores fight again on Friday night in Havana, with their thoughts already turned towards a third successive playoffs.
Marquee names clash as big guns Astana Arlans Kazakhstan and Uzbek Tigers meet in a winner-takes-all match up
A febrile atmosphere is a given in Oskemen, Kazakhstan on Saturday evening as reigning WSB team champions Astana Arlans Kazakhstan take on Uzbek Tigers, the only team to beat them this season.
The titanic clash will decide the winner of Group D with Uzbek Tigers currently a point ahead of their rivals, courtesy of just three more season wins.
Having suffered a chastening 4-1 away defeat to Uzbek Tigers in Tashkent in Week 6, the Season V champions have named a strong line-up as they attempt to reassert their authority in front of a home crowd.
Kazakhstan's national flyweight champion Azat Makhmetov heads the card, making his WSB debut. The 24 year old faces Uzbek Tigers' Abrorjon Kodirov, an impressive victor in Week 8 when he defeated Puerto Rico Hurricanes' highly regarded Colombian boxer Ceiber David Avila.
Next up is one of the marquee bouts of Season VI to date. The two-time Kazakh national lightweight champion, Season V WSB team champion and ASBC Asian Confederation Boxing Championships silver medallist Zakir Safiullin takes on the Doha 2015 AIBA World Boxing Championships lightweight bronze medallist Elnur Abduraimov.
With Abduraimov in fine form this season, as demonstrated by two dominant WSB wins, this bout is too tight to call.
The star quality continues in the welterweight class, with fellow Season V WSB team champion Aslanbek Shymbergenov facing one of Uzbekistan's most exciting young talents, Makhmud Gaipov. The 19-year-old Gaipov won the prestigious AOB Strandja Memorial Tournament last month and is one not to miss on his WSB debut.
Two fighters in form face each other in the lightweight division. Astana Arlans Kazakhstan call upon the experienced, two-time Kazakh national champion Arman Rysbek for the first time in Season VI. He takes on Shuhrat Abdullaev, who has recorded heartening victories in Week 4 and Week 8.
It will be no surprise if this tie comes down the super heavyweights, which may just point to a slight home advantage. Fresh from winning the AOB Strandja Memorial Tournament in February, Kazakhstan's Kamshybek Kunkabayev faces WSB debutant, Mirzohidjon Abdullaev.
Formidable looking Russian Boxing Team expected to extend dominance in Group C as they take on Argentina Condors in Moscow
The Russian Boxing Team enter their final bout of the regular season against Argentina Condors on Saturday night – a rearranged fixture from Week 1 – as heavy favourites.
With four wins from four matches, the Russian Boxing Team had already guaranteed their spot in the Season VI playoffs. A record of 15 wins out of 20 bouts is highly favourable, particularly when stacked against Argentina Condors' six from 20.
Despite fielding two teams in two days, the Russian Boxing Team has named a powerful line-up for their bout with the South American franchise in Moscow. Devastating flyweight puncher Bator Sagaluev leads the card. The Baku 2015 European Games gold medal winner, who won his first Season VI bout by TKO, faces WSB debutant Nicolas Alfonso.
Another Baku 2015 European Games gold medallist represents the Russian Boxing Team in the bantamweight class. Bakhtovar Nazirov lost his debut WSB encounter earlier this season but will be confident of defeating Argentina Condors' Piero Carloni, who has not fought on the international stage since Season V.
The contest appears more even in the light welterweight class with experienced Argentinean Ronan Nahuel Sanchez taking on Russian National Championship bronze medallist Avak Uzlian.
The stylish Maxim Koptyakov, a Baku 2015 European Games bronze medallist and a former EUBC European Confederation Champion, faces Argentina Condors' experienced WSB boxer Christian Zarate in the middleweight division. Newly crowned National Champion Andrey Kovalchuk has been a fixture this season for the Russian Boxing Team at this weight but sits this one out.
Former AIBA Junior World Champion Sergey Kalchugin closes the night for the Russians. The super heavyweight is a strong favourite to dominate his Argentinean opponent Dario Alcapan.
Greater challenges may await the Russian Boxing Team but that is unlikely to prevent the partisan crowd in Moscow's Academy Boxing Gym from enjoying a good night.
Youth stars take central stage in Istanbul as Türkiye Conquerors take on Ukraine Otamans in Group A
A collection of high-class youthful talent will be on show in Istanbul on Saturday as Türkiye Conquerors take on Ukraine Otamans in Group A. With the very best boxers from both franchises sitting this one out to prepare for the AIBA European Olympic Qualification Event, starting on April 9 in Samsun, Turkey, it has given a chance for the lesser lights to step up to the canvas.
A win for Ukraine Otamans would go a long way to confirming their playoff place, while a Türkiye Conquerors triumph would lift them off the bottom of the table.
Youth takes on experience in the flyweight class, with Türkiye Conquerors' EUBC European Confederation Youth Boxing Championships bronze medallist Omer Koc facing Ukraine Otamans' Denys Shkarubo, who has been competing internationally since 2008.
The lightweight clash is one of the most eagerly anticipated of the night. The classy 20-year-old WSB debutant, Hakan Dogan will be hoping to use a noisy home crowd against Ukraine Otamans' Viktor Slavinskyi, who is riding high after an impressive win in Week 3.
In the third straight fight to feature a WSB debutant, Ukraine Otamans' Vasyl Rybalka, for whom it will also be a first fight outside of Ukraine, faces Serhat Guler. The 19 year old lost on his WSB debut in Week 3.
Two former youth stars step in to the ring in the light heavyweight division. Türkiye Conquerors' Youth Olympian Burak Aksin will be up against former EUBC European Junior Champion Vladyslav Mykhailov.
The third Turkish WSB debutant of the night, Eren Uzun faces a tough task in the final bout pitted against the experienced and in-form Rostyslav Arkhipenko. The Ukrainian secured a stunning success earlier this season, defeating Cuba Domadores' two-time Panamerican Games gold medallist Leinier Eunice Pero.
Mexico Guerreros seek to continue late run for playoff glory as they face Group B leaders British Lionhearts
Mexico Guerreros face their toughest challenge of Season VI on Saturday evening in Aguascalientes, Mexico as they seek to snatch the second playoff place in Group B. Confidence is high in the home camp after successive victories, at home to USA Knockouts and away to Morocco Atlas Lions. However, Mexico Guerreros will have to be at their very best to defeat Group B leaders, British Lionhearts.
The 19-year-old flyweight Jose Rojas Romero leads off against British Lionhearts EUBC European Confederation Boxing Championships bronze medallist Jack Bateson.
Next up is a crucial clash between Mexico Guerreros' skilful Lindolfo Delgado Garza and the hugely experienced British Lionhearts' French boxer Oualid Belaoura. Garza may have recorded a string of WSB successes against some lightweight luminaries including USA Knockout's Carlos Balderas, but Belaoura, who has fought internationally for the past eight years, is a wily competitor.
Mexican welterweight Francisco Armenta will be full of confidence after shocking US National Olympic Trials winner Paul Kroll in Week 4. The 22 year old faces Great Britain's Cyrus Pattinson, who lost his last WSB bout.
Two WSB debutants face each other in the light heavyweight class. Mexico Guerreros' Carlos Antonio Rodriguez Moreno lining up against Lynden Arthur.
Arguably the clash of the night comes to the canvas last as Rio 2016 Olympic Games bound Nigel Paul takes on British Lionhearts' Frazer Clarke – the WSB Athlete of Week 4. Paul, Mexico Guerreros' Trinidad & Tobago boxer, won silver at the AIBA American Olympic Qualification Event.
Puerto Rico Hurricanes bring in new blood in a determined move to rescue their season with victory against Azerbaijan Baku Fires
Doha 2015 AIBA World Boxing Championships quarter-finalist Ceiber David Avila leads a Puerto Rico Hurricanes team in their quest to salvage something from a disappointed Season VI when they face Azerbaijan Baku Fires in Aguascalientes, Mexico on Saturday night.
After a successful WSB debut season last year, five unexpected defeats in five for the Puerto Rico Hurricanes has been a surprise. Season IV finalists Azerbaijan Baku Fires have fared a little better with two wins to date but will still fall well short of a playoff place in Group D.
Looking for his first win of the season, Colombian Avila meets Azerbaijan Baku Fires' Magomed Ibiyev, who has recorded a loss and a win so far.
In the first of several Season VI debutants for the Puerto Rico Hurricanes, AMBC American Confederation Boxing Championships bronze medallist Jose Rosario steps forward in the lightweight division. He takes on Khasan Arsunkaev, an Azeri fighter who lost his one and only WSB contest this season.
Jimmy Sanchez makes his WSB bow against Azerbaijan Baku Fires' Belarusian boxer Yauheni Ramashkevich, before the standout clash of the night. Puerto Rico Hurricanes' Colombian Juan Carlos Carrillo won bronze in the light heavyweight class at the Toronto 2015 Pan American Games and he takes on London 2012 Olympic Games competitor Soltan Migitinov.
It looks a tall order for Puerto Rico Hurricanes' Lithuanian boxer Mantas Valavicius in the final bout of the night. The 25-year-old super heavyweight takes on experienced WSB operator Arslanbek Makhmudov.
For health reasons, there will be no bout in the super heavy weight category (91+) as none of the boxers are able to compete. The final results will take into account only 4 bouts
The Russian Boxing Team send warning to playoff rivals with another ruthless display leading them to a 4-1 win over Venezuela Caciques
It is five from five for the all-conquering Russian Boxing Team as they comfortably defeated Group C rivals Venezuela Caciques 4-1 in Moscow on Friday evening. It was a result that confirmed the home team as table toppers, while Rafako Hussars Poland's win over Argentina Condors, also on Friday night, means Venezuela Caciques are guaranteed to reach the Season VI playoffs.
The first bout of the night was a spectacular affair with Russian Boxing Team's Ovik Ogannisian and Venezuela Caciques' Franklin Jose Gonzalez going toe-to-toe. The 19-year-old Venezuelan was too quick in the opening round but the more experienced Ogannisian stepped in and took the next four to win a match dominated by thrilling, attacking boxing.
Next up Adlan Abdurashidov, whose performances in 2015 were good enough to win him a place at the Rio 2016 Olympic Games, was a class above the willing Venezuelan Christian Palacio. Speed of thought and footwork proved the difference between the two.
Russian National Championships bronze medallist Albert Karibian did his burgeoning reputation no harm in the welterweight contest, knocking down Victor Pinango. The Russian, who got better and better, put the Venezuelan on the canvas in the penultimate round.
In the fourth contest up, the 20-year-old light heavyweight Nalek Korbaj provided the shock of the night, recovering from losing the first two rounds to World Military Games silver medallist Gamzat Gazaliev, before winning the next three to triumph.
There were no such fireworks from Venezuela's Brazilian super heavyweight Henrique Dos Santos Nascimento in the final bout of the night against Andrey Afonin. The big South American was unable to make his height advantage count and lost by a unanimous points decision.
The Russian Boxing Team has one more regular season match, against Argentina Condors on Saturday evening.
A passionate Rafako Hussars Poland dispatched Argentina Condors 5-0 in their first triumph of a difficult season
A pulsating display from home team Rafako Hussars Poland belied their status as the only winless team in WSB's Group C, as they demolished Argentina Condors 5-0 in Krakow on Friday evening.
With neither team able to qualify for the Season VI playoffs, this match-up was all about pride and desire, two qualities the five Rafako Hussars Poland boxers showed right from the first bell.
Debutant Maciej Jozwik may have understandably shown signs of nervousness in the opening minutes of his flyweight bout against Argentina Condors' Christian "La Joyita" Roda, but buoyed by his ringside team the 22 year-old grabbed control of the contest in the second round and never looked back.
Seemingly fired up by his compatriot's example, the lightweight Mateusz Polski was ultra-aggressive from the start as he took on Brian Ivan Nunez. Despite the odd bright moment, the Argentinean succumbed to his third successive Season VI loss, with Polski proving superior in almost every department.
All the momentum was with the home side and Rio 2016 Olympic Games-bound Steven Donnelly was far too experienced not to make that count. The Irish welterweight, who fights for Rafako Hussars Poland, threw powerful combinations from the start to which the inexperienced Maximiliano Ocampo had no answer.
Three bouts, three victories had the Krakow crowd revelling in their franchise's first win of Season VI. With the pressure off, Rafako Hussars Poland's Arkadiusz Szwedowicz and Argentina Condors' Juan Gabriel Rizzo enjoyed an absorbing light heavyweight clash. Despite a strong final round from the Argentinean, Szwedowicz did enough to keep his team's unblemished record intact.
Heavier, taller and more experienced, Rafako Hussars Poland's German boxer Florian Schulz was in no mood to spoil the party. The 2015 EUBC European Confederation Boxing Championship silver medallist won all five rounds in his super heavyweight bout contest against the inexperienced 20 yea- old, Kevin Nicolas Espindola.
It was a heartening end to the season for Rafako Hussars Poland who jumped ahead of their opponents in Group C. Argentina Condors do have a chance to take back third position when they face the Russian Boxing Team on Saturday night in Moscow.
Kroll shines to defeat AIBA World Champion Rabii as USA Knockouts eye up playoff place after beating Morocco Atlas Lions 5-0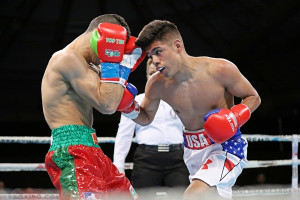 A string of scintillating performances in Miami on Friday night, including two wins by TKO and one by knockout, saw USA Knockouts give themselves the best possible chance of qualifying for the playoffs in the WSB's tight Group B.
A high-energy 5-0 win over Morocco Atlas Lions moved USA Knockouts into second place in the group after their sixth and final regular season match. They now need Group B leaders, the British Lionhearts, to do them a favour against Mexico Guerreros in Mexico on Saturday night. A British Lionhearts win will send the USA Knockouts through to the Season VI playoffs but a home triumph will see Mexico Guerreros leapfrog USA Knockouts back in to all-important second place.
Knowing that first and foremost they had to win their own match, the USA Knockouts started at a ferocious pace on Friday. US National Olympic Trials super heavyweight winner Marlo Moore tore in to Morocco Atlas Lions' Ahmed Bourous from the start and a series of quick, powerful combinations saw the 25-year-old US boxer win by TKO before the end of round one.
The assault continued in the light heavyweight class as the USA Knockouts' Jonathan Esquivel dismantled Morocco Atlas Lions' AFBC African Confederation Boxing Championships bronze medallist Hassan Saada. A second TKO of the night followed, inside three rounds.
The atmosphere in the Miccosukee Sports & Entertainment Dome reached new heights when Paul Kroll, recently crowned US National Olympic Trials welterweight champion, shocked 2015 AIBA World champion Mohammed Rabii. The Moroccan, who went unbeaten throughout Season V, failed to deal with Kroll's right jab and lost the first three rounds to fall to a surprising points defeat.
A fourth consecutive home success followed in the flyweight class with the USA Knockout's supremely talented 19-year-old Pan American Games champion Antonio Vargas winning all five rounds against Morocco Atlas Lions' Achraf Kharroubi.
Carlos Balderas, the first US boxer to qualify for the Rio 2016 Games thanks to a series of top performances in 2015, delivered the whitewash in fine style. Getting in close to his opponent, the 19-year-old lightweight knocked Hamza Rabii, younger brother of AIBA World champion Mohammed Tabii, to the canvas in round two, sealing a great night for the host franchise.
All eyes in Group B now turn to the Mexico Guerreros versus British Lionhearts bout.
Cuba Domadores prove a class apart for the second night running defeating China Dragons 5-0 in Havana
Cuba Domadores delivered a second consummate performance in two nights in front of a home crowd in Havana to defeat China Dragons 5-0 and finish the WSB regular season top of Group A. The Season IV champions head in to the 2016 playoffs in ominous form, having also dismissed Ukraine Otamans 5-0 on Thursday evening.
In a riveting opening contest, 2015 AIBA World Boxing Championships silver medallist Yosbany Veitia and China Dragons' Bo Fang traded blows in five high-class flyweight rounds. In the end the Cuban, who has already qualified for the Rio 2016 Olympic Games, did just enough to win by three rounds to two.
The host franchise's Season VI debutant Armando Martinez had big shoes to fill, having replaced the three-time AIBA World lightweight champion Lazaro Alvarez in the line-up. If the 21 year old was daunted it certainly did not show, as he defeated Yong Wang by TKO in the third round, following a succession of left hooks.
London 2012 welterweight gold medallist, Roniel Iglesias, who secured a chance to defend his title in Rio de Janeiro at the AIBA American Olympic Qualification Event in Buenos Aires last month, was far too good for China Dragons' Wenbin Cong in the third bout of the night. Having won the first round 10:8 according to all three judges, Iglesias knocked out Cong in the second.
Cuba Domadores' Emmanuel Reyes made light work of replacing a second Cuban legend for the host franchise, as three-time AIBA World Champion Julio Cesar La Cruz sat out. Reyes, the 23-year-old light heavyweight, dominated his opponent, China Dragons' soldier Yawei Zhang, winning all five rounds.
A second knockout of the evening came in the final contest, sending the Cuban crowd home happy. Rio 2016-bound Leinier Pero was in total control against China Dragons' newcomer Abudusemaiti Abulaiti, sending him to the canvas before the end of round one.
Six from six for the all-conquering Russian Boxing Team as they beat Argentina Condors 5-0 in the final Group A match
Top of the table, unbeaten and with 24 wins out of 30 regular Season VI bouts, the Russian Boxing Team is the WSB franchise to fear as the competition prepares for its knockout stages. Just a day after beating Venezuela Caciques 4-1, the host franchise returned to the Academy Boxing Gym in Moscow and defeated Argentina Condors 5-0.
Famed for the scarcely credible power of his right hooks, Russian flyweight Bator Sagaluev was a heavy favourite in the first contest of the night against teenage WSB debutant, Nicolas Alfonso. The Baku 2015 European Games gold medallist proved the pundits right, as he cruised to a comfortable win against the Argentinean.
Fellow Baku 2015 European Games champion, Bakhtovar Nazirov took over in the bantamweight category. Argentina Condors' unheralded Piero Carloni did momentarily surprise Nazirov with some strong body shots in the first round, but having gathered himself, the 21-year-old Russian went on the attack in round two and won by TKO in round three.
It was a far closer affair in the light welterweight class. Home boxer Avak Uzlian was, in the end, thankful for the three round lead he built at the start of the contest, as Argentina Condors' Ronan Nahuel Sanchez came storming back to claim both the fourth and fifth rounds.
Sanchez's compatriot Christian Zarate endured a frustrating time in his middleweight clash with former EUBC European Confederation Champion, Maxim Koptyakov. The experienced Zarate was never able to get inside the Russian's defence and lost all five rounds 10:9.
The difference in class was pronounced in the closing contest, as 1.95m tall Sergey Kalchugin, who has fought internationally for 10 years, dominated his inexperienced Argentina Condors opponent, Dario Alcapan.
Argentina Condors finish bottom of Group C, despite winning two of their six matches, while the Russian Boxing Team advances to face Uzbek Tigers in the quarter-finals, a mouth-watering clash.
Astana Arlans Kazakhstan avoid the powerful Russian franchise in the playoffs thanks to a stunning 4-1 win over rivals Uzbek Tigers
Defending WSB team champions Astana Arlans Kazakhstan triumphed in a winner-takes-all, top-of-the-table clash against Uzbek Tigers in Oskemen, Kazakhstan.
The two teams may have already both secured Season VI playoff places ahead of Saturday night's match but Astana Arlans Kazakhstan's 4-1 win has the vital consequence of meaning they will avoid the strong-looking Russian Boxing Team in the first round of playoffs.
Kazakh national flyweight champion Azat Makhmetov was first on show for the home team. The debutant faced Uzbek Tigers' Abrorjon Kodirov, who won on his previous WSB outing. Makhmetov, however, was on the front foot from the first bell and, backed by a stinging jab, the 24 year old won the first three rounds convincingly before Kodirov was forced to pull out injured.
For personal reasons Astana Arlans Kazakhstan's slated lightweight Zakir Safiullin pulled out of the contest. With his replacement Bekdaulet Ibragimov also unable to fight, the Uzbek Tigers' Elnur Abduraimov was granted a walkover.
This meant that Astana Arlans Kazakhstan, who started the match behind the Uzbek Tigers on points, needed to win all the remaining three contests to finish first in the group.
Experienced WSB welterweight Aslanbek Shymbergenov was the first to take this task on. The 22 year old took on the highly rated Ukrainian teenager Makhmud Gaipov, winner of Europe's biggest AOB international event, the Strandja Memorial Tournament, one month ago. Shymbergenov called on all his experience to defuse Gaipov's biggest weapons and emerged as a relatively comfortable points winner.
Twice Kazakh national heavyweight champion Arman Rysbek has broad shoulders and settled in to his bout against 2011 ASBC Asian Confederation Boxing Championships gold medallist Shuhrat Abdullaev with relish. The Kazakh was rarely troubled in a points win.
It was left to Astana Arlans Kazakhstan's powerful super heavyweight Kamshybek Kunkabayev to finish the job. Thanks to his impressive footwork, the big man managed it, beating Uzbek Tigers' Mirzohidjon Abdullaev in five rounds of entertaining action.
Four debutants drive the youthful Türkiye Conquerors to a 4-1 season-closing victory over Ukraine Otamans in Group A
A young, hungry Türkiye Conquerors team, featuring four WSB debutants, proved too strong for the Ukraine Otamans in the final Group A regular season match.
The Ukraine Otamans had already secured the second Group A playoff spot, behind leaders Cuba Domadores, before the bout started leaving the Türkiye Conquerors competing for pride – a commodity that was on ample display from a team featuring three 19 year olds, a 20 year old and the wise old head, 22-year-old Burak Askin.
Flyweight Omer Koc led off this youthful brigade, making his first WSB appearance against the experienced Ukranian Denys Shkarubo. Urged on by the vocal Istanbul support, Koc grew into the contest after a nervous start. In the end the Turkish athlete's greater weight of power was decisive, as he claimed rounds 3-5 by unanimous decision.
Hakan Dogan may have been the second of Türkiye Conquerors' four debutants, but his supreme physical condition belied his stature as a novice. The AIBA Youth World Boxing Championships quarter-finalist dominated the final two rounds of his bout with Ukraine Otamans' Viktor Slavinskyi, to claim a second win on the bounce for the Turkish franchise.
In a rare turnout for this match-up, Türkiye Conquerors' welterweight Serhat Guler had the edge on experience in his bout against Ukraine Otamans' debutant Vasyl Rybalka – Guler having fought in Week 3 of the current WSB season.
The Turkish fighter's punishing jab wore Rybalka down before a lightening combination in the fourth, gave the 19-year-old home favourite a win by TKO.
The Youth Olympian Burak Aksin stepped up for his WSB debut comfortable in the knowledge that his team had already won the night. The light heavyweight contest that followed was a close affair but ultimately Ukraine Otamans' former EUBC European Junior Champion Vladyslav Mykhailov went the way of his teammates, falling to defeat.
Facing the prospect of a second whitewash in three days – after the franchise lost 5-0 to Cuba Domadores in Havana on Thursday night – Ukraine Otamans' super heavyweight Rostyslav Arkhipenko stepped into the ring. The 24 year old rescued some pride for his team, beating the Türkiye Conquerors' fourth debutant Eren Uzun by TKO in the fourth round.
The win saw Türkiye Conquerors jump ahead of the China Dragons to finish the season third in Group A.
Mexico Guerreros seal their playoff place after a dramatic evening of action ends in a 4-1 home victory over British Lionhearts
Mexico Guerreros performed when it mattered most, winning their critical final regular season match against British Lionhearts on Saturday evening to jump ahead of USA Knockouts in Group B, sealing the second and final playoff place.
A committed display in a hard fought contest in Aguascalientes saw the home team triumph 4-1. It was Mexico Guerreros' fourth win of the season, just enough to place them a point ahead of rivals USA Knockouts, and set up a quarterfinal tie against Cuba Domadores.
This outcome looked unlikely after an explosive start to the evening from British Lionhearts' super heavyweight star Frazer Clarke. Named WSB Athlete of Week 4, the Englishman finished his contest with the highly regarded but inexperienced Trinidad & Tobago boxer Nigel Paul after just 72 seconds. Paul, who represents the Mexico Guerreros franchise, only started boxing at an elite level in 2014, but has already secured a qualification place for the Rio 2016 Olympic Games.
A dramatic, see-sawing contest followed in the light heavyweight class as two WSB debutants pushed each all the way. Mexico Guerreros' Carlos Antonio Rodriguez Moreno started the bout at pace with his long reach and rapid jab giving him both the first two rounds. But having located his right hook, British Lioinhearts' Lynden Arthur roared back in rounds three and four. With the contest riding on the fifth, Rodriguez, buoyed by the home support, did just enough to secure a split decision.
The Aguascalientes crowd were treated to another breathless contest as the flyweight combatants Jose Rojas Romero and Jack Bateson stepped up. Romero, the Mexican National Championships bronze medallist, started brightly but like Rodriguez, he was pegged back by a determined effort from his British opponent. As in the previous contest, the home boxer found enough in reserve to take the deciding fifth round.
With the win and playoff spot in tantalising reach, Mexican welterweight Francisco Armenta delivered a consummate performance, defeating British Lionhearts' Cyrus Pattinson by four rounds to one.
In the final bout of a hectic evening, Mexico Guerreros' Lindolfo Delgado Garza added British Lionhearts' experienced French boxer Oualid Belaoura to his growing list of vanquished opponents. The powerful lightweight swarmed all over Belaoura from the start and won by TKO in just two minutes.
Led by their classy Colombians Puerto Rico Hurricanes chalked up a first win of Season VI defeating Azerbaijan Baku Fires 3-1 in Mexico
Puerto Rico Hurricanes salvaged some much needed pride with a 3-1 win over Azerbaijan Baku Fires on Saturday night, their first victory of a difficult Season VI campaign.
With neither team able to reach the playoff places in Group D it was the Puerto Rican franchise who appeared hungrier despite economic considerations forcing the home tie to be relocated from Puerto Rico to Aguascalientes in Mexico.
Both teams are to be applauded for agreeing to the change of location, which ensured the integrity of the WSB competition was maintained and there was no adverse effect on the eligibility of any of the boxers involved to qualify for the APB/WSB Olympic Qualification Tournament scheduled late June.
The unfamiliar 'home' surroundings certainly did not seem to have an undue effect on Puerto Rico Hurricanes' multiple medal-winning light heavyweight Juan Carlos Carrillo. The Colombian, who won the Toronto 2015 Pan American Games, maintained control throughout his contest with Azerbaijan Baku Fires' London 2012 Olympic Games competitor, Soltan Migitinov, winning all five rounds.
Azerbaijan Baku Fires' Belarusian boxer Yauheni Ramashkevich got his franchise on the scoreboard in the second bout with a rapid victory against WSB debutant, Jimmy Sanchez. The experienced Belarusian welterweight was dominant from the start and won by KO in round three.
Tall southpaw Jose Rosario was next up for the Puerto Rico Hurricanes and the confident lightweight always had the edge on the Azeri Khasan Arsunkaev. Regularly landing bigger punches, Rosario won four of the five rounds to put the Puerto Rico Hurricanes 2-1 ahead.
It was down to classy Colombian Ceiber David Avila to seal his franchise's first win of Season VI. The Doha 2015 AIBA World Boxing Championship flyweight quarterfinalist settled into a good rhythm early on against Azerbaijan Baku Fires' Magomed Ibiyev and won on a unanimous points decision.
The super heavyweight contest did not take place with boxers from both franchises unable to compete due to health reasons. The final 3-1 scoreline meant Puerto Rico Hurricanes took three points and Azerbaijan Baku Fires a single point.