Check out the official "Tale of the Tape" for this Saturday's IBF Cruiserweight title fight between reigning champion Yoan Pablo Hernandez and challenger Firat Arslan at the Erfurt Exhibition Hall in Thuringia, Germany.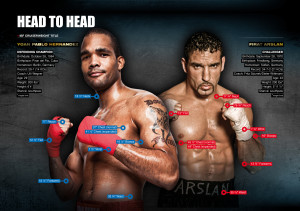 (Click for larger size)
Hernandez vs. Arslan hasn't gotten much attention stateside, but it's a big fight in Germany, and it's also an important return to action for Hernandez. Hernandez is our recognized cruiserweight division champion, but has been stuck on the sidelines for some time, and has had much of his momentum derailed.
Now, he'll get a chance to get back into the swing of things against the aged-Arslan, seeking to follow in the footsteps of the sport's old stars such as Bernard Hopkins by continuing to fight on and win titles at an older age. Stay tuned for more updates on Hernandez vs. Arslan over the coming days.