Universum Box-Promotion is looking forward to the next world boxing champion in its ranks. On Tuesday night, a letter from WBC President Jose Sulaiman announced that unbeaten Sebastian Zbik (30-0, 10 KOs) is now the new "undisputed" world champion at his weight. Zbik had been the WBC interim titleholder since July 2009, but full champion Sergio Martinez (46-2-2- 26) never made his mandatory defense.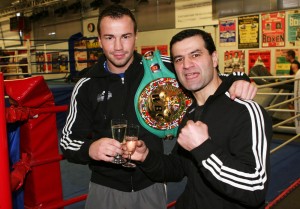 "At last the long wait is over. I'm very happy that I'm now a true world champion," said Zbik. "I've always said that I wanted to fight Martinez. I've defended the interim title three times now and haven't avoided anyone, so I'm glad that the WBC has taken action. I've worked six hard years for this day and now the big moment is finally here. It feels great! It's an honor for me to wear this belt steeped in tradition and I'm proud to join on the long line of Universum world champions. Now I'm looking forward to my first defense. I want move forward with the WBC, but I can also visualize a title unification.
Two middleweight world champions live around the corner with Felix Sturm and Sebastian Sylvester, but both have avoided fighting me. But with this belt, I now have a good argument on my side. Felix Sturm has announced always claimed he's the best boxer in the division. So why didn't he box against me instead of "no-names" like Lorenzo and Hearns? These aren't world-class opponents. The reason can't be the distance. He knows the route to Hamburg very well."
Regardless of the move, Sergio Martinez is still viewed as the best middleweight in the world. His fight against Sergiy Dzinziruk might not be the best one to have made, but considering his recent opposition, with two bouts against Paul Williams and his title-winning effort against Kelly Pavlik, there is not too much to complain about.
The constant shuffling of champions is yet another reason why the sanctioning bodies are making a mockery of the sport. It's all about making their 3% cut of the purse. Of course, having Martinez as your champion would give you more legitimacy and a larger 3% of any earnings, but hey, that's all way too factual based for the WBC to wrap their heads around.