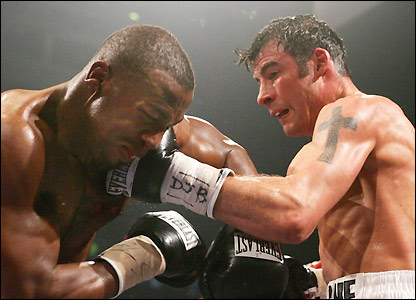 When 2012 is looked back on in later years, there will be many great memories for boxing fans. Undoubtedly right at the top of the list for most fans there is one fight that will long remain etched in the memory, Manny Pacquiao vs. Juan Manuel Marquez IV. However, it won't be just remembered for its all-out explosive action, ending in one of the knockouts of the past decade let alone year, but also as the fight that ended the the mass hype and interest in what should have been the super fight of the generation, Floyd Mayweather vs. Manny Pacquiao.
It seems like it is becoming the norm in boxing for fans to be deprived of these mega-fights, and in honor of that dishonorable fact, below I count down a list of the 10 biggest fights from the last 20 years that were never made.
10. Kelly Pavlik vs. Arthur Abraham
In 2008, Abraham and Pavlik were arguably the two finest middleweights on the planets. Abraham held the IBF strap while Pavlik possessed the WBC and WBO titles. With Abraham having just traveled to America to fight Edison Miranda, proving he wasn't afraid to travel, and Pavlik  publicly stating his desire to unify the division after beating Jermain Taylor for the second time, it looked like a clash between the two was a formality.
However, as is so often is the case in boxing, Pavlik took one fight too many before the middleweight showdown. Pavlik followed up his victory over Taylor with a quick stoppage victory over Gary Lockett but instead of meeting Abraham in the ring following this victory, Pavlik instead chased a big money showdown with Bernard Hopkins.
The fight was made a catchweight of 170lbs, 10lbs more than what Pavlik had previously fought at. However, it wasn't just the weight advantage B-Hop had over Pavlik, every facet of the veteran's game was superior as he completely outclassed Pavlik on route to an easy decision win. With this loss the huge interest surrounding a Pavlik-Abraham clash disappeared overnight, and Pavlik was left rebuilding.
9. Joe Calzaghe vs. Carl Froch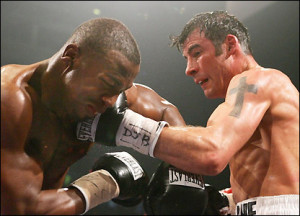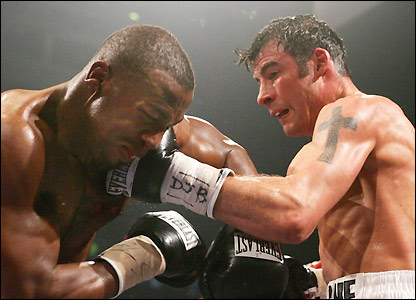 Around the same time, one division north, Joe Calzaghe had been the WBO super-middleweight champion for over 10 years making 21 successful defenses. During this spell he also added the IBF, WBA and WBC straps to his collection, to finally cement his place as one of the best pound for pound boxers on the planet. It was this year that would also prove breakthrough for another British fighter, Carl Froch, who would finally step up to world level.
The Nottingham based fighter's world title shot would come against Jean Pascal for the vacant WBC strap. In a bout that would end up as a fight of the year candidate, it was Froch's arm that was raised aloft at the final bell. Having secured victory, Froch's immediate attention would turn to calling out his domestic rival. However, Froch was left disappointed, as just two months after his victory over Pascal, Calzaghe announced his retirement from the sport.
From Calzaghe's perspective, it was probably a wise choice to retire when he did. A fight with Froch would have been a case of large risk for little reward. The Pride of Wales would have been putting his perfect record on the line, against a young hungry fighter who had proved he could more than mix it up at elite level.
At the same time, Froch wasn't the draw he was today and couldn't guarantee Calzaghe the same purse as his two previous opponents, Roy Jones Jr. and Bernard Hopkins. Calzaghe was also beginning to show signs of decline, most notably in his punching power, having only stopped one of his past seven opponents. These factors combined meant Froch was just too great a gamble for the Welshman, but it would have been one hell of a fight.
8. Miguel Cotto vs. Ricky Hatton
For a significant part of the past decade these men were two of the most entertaining boxers in the 140 and 147lb divisions. Both were highly aggressive come forward fighters, however, the duo didn't just offer excitement they were also two of the best operators in the divisions and picking up belts in both weight classes.
The fight would have been a classic at nearly any point between 2004 and 2009, and could have been at either weight, however, my personal preference would have been to see Hatton take on Cotto after his defining victory over Kostya Tszyu. Despite going on to win the WBA welterweight title, Hatton was a far more accomplished fighter at the 140lb limit where his highly effective aggressive style allowed him to bully his opponents, as was witnessed when he forced Tszyu quit on his stool.
Cotto at this point was, like Hatton, undefeated and the reigning WBO champion, and where at the heavier weight Cotto would have probably been too big and strong for Hatton, at light welterweight it would have been a real pick'em. As it was, both men would take on the best in the divisions but never each other, leaving the fans to miss out on what would have undoubtedly been a fight of year candidate.
7. Oscar De La Hoya vs. Kostya Tszyu
A decade before that, a light welterweight clash between De La Hoya and Tszyu during the mid 90's would have been a mouth-watering prospect. Admittedly, the Golden Boy only made a quick stop in the 140lb division on his journey through the weight classes, but at one point it looked like he would be fighting The Thunder from Down Under.
During his shot stay at 140lbs, De La Hoya would initially win the WBC title by beating Mexican Legend Julio Cesar Chavez, meanwhile Tszyu by this time was the IBF champion and had made 4 successful defenses of his belt. In their next fights, they would appear on the same card, with The Golden Boy topping the bill with his title defense against Miguel Angel Gonzales while Tszyu offered chief support in his bout against Leonardo Mas.
With the two sharing the billing at the Thomas & Mack Center ,it seemed like a clash between the two would be the next move, in a fight to unify the division. However, De La Hoya would follow his victory against Gonzales by moving up in weight to compete in another super-fight with Pernell Whitaker.
Tszyu meanwhile would lose his next fight against Vince Phillips, shattering any hopes of a fight with De La Hoya. From here, both men would forge a successful career, with De La Hoya continuing onto a six-division world champion and the Tszyu the undisputed light welterweight king, unfortunately though, the duo's paths would never cross again.
6. Prince Naseem Hamed vs. Erik Morales
At the start of the 21st century, Hamed and Morales both held titles in the featherweight division. However, it wasn't purely the fact that this fight would have been between two great champions that this fight would have made such intriguing viewing, rather this match-up would have pitted together two aggressive boxers with a combination of great traits and skills.
Prince Naseem Hamed would build up a reputation throughout the 90's and early 00's as one of boxing's great entertainers due to  notorious ring entrances and fan friendly style, which combined his flashy show boating nature with his freakish punching power. While by 2002 Erik Morales sported a 41-0 record, and much like Naseem Hamed, his style endeared him to fans, with the Mexican's granite chin allowing him to trade punches and go toe-to-toe with any opponent.
However, what had the makings of a great 3-way rivalry, between Hamed, Morales and  fellow Mexican legend Marco Antonio Barrera, ended abruptly in 2001. Hamed would take on Barrera in Vegas, and despite the Brit entering the ring as a heavy favorite, Barrera would dominate the fight from start to finish on the way to a unanimous decision victory.
It was The Prince's first loss and would derail his career; he would fight only once more against European Champion Manuel Calvo, but his heart was no longer in it. By retiring so early, not only did Hamed never realize his full potential, but also denied the world of what surely would have been one of the all time great lower division fights between two men who were born to entertain.