Boxing's Knockout of the Year in 2012
In a year filled with big hits and concussive kayos, sometimes you have to sit and wait all year long until the masterpiece finally arrives. Certainly, that's what happened here in 2012. Just when you thought you had a situation figured out, one punch goes ahead and changes everything. Surely, you can already know who won the 2012 Boxing Knockout of the Year…
The Knockout for the Year for 2012 is a late entry, but still the clear and obvious choice: Juan Manuel Marquez KO6 Manny Pacquiao. Some critics may label this choice as being overly impressed by the last big kayo of the year or bandwagoning on Marquez, but the case for Marquez winning 2012's Knockout of the Year is as cold, hard, and clean as the punch that put Pacquiao on the canvas.
—> View all of our 2012 Boxing Awards
2012 Knockout of the Year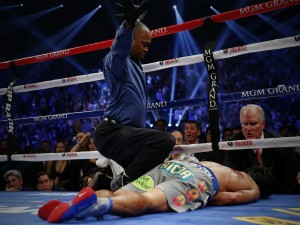 The one fly in the ointment for Marquez KO6 Pacquiao as this year's biggest knockout is that it was a short overhand right that Pacquiao lunged into, so it lacked the smashing visual beauty one might normally expect from a knockout worthy of this award. In the fight footage, you simply can't see that much of the punch. For the live audience, my guess is that about half of them couldn't really see what happened either. This is certainly not a trivial drawback when comparing this knockout to the other worthy contenders this year.
Yet while the knockout blow might have been less than compelling, it's effects certainly were. Usually even a knockout of the year leaves the victim semi-conscious, but in this instance Pacquiao pitched forward face-first and out cold. And this from Manny Pacquiao, a former pound-for-pound king with a very respectable chin!
The shockwaves Pacquiao's knockout defeat sent surging through boxing add to the event's luster. Although the paper record for the Marquez vs. Pacquiao quadrilogy reads 2-1-1 for Pacman, with that one punch Marquez became the owner of the series sole decisive victory.
Beyond that, the much-ballyhooed Mayweather vs. Pacquiao became a little less of a megafight, although paradoxically more likely to actually happen. With the same stroke, Marquez earned himself a possible rematch with Mayweather and vaulted himself into the upper strata of the welterweight rankings.
It wasn't pretty, but Marquez KO6 Pacquiao was easily the most decisive and significant knockout of 2012, and thus the Knockout of the Year.
Runner-Up: Mikkel Kessler KO4 Allan Green, Danny Garcia KO4 Erik Morales, Adonis Stevenson KO1 Jesus Gonzales, Randall Bailey KO11 Mike Jones