10 Fighters Who Need to Up the Ante:
In the fickle world of world-class boxing, a fighter who was hot yesterday can be cold tomorrow. In addition, people can begin to sour on rising fighters who exhaust the practice of fighting inferior competition time and again. The patience of boxing fans and media can be short, forcing all fighters to pay close attention to their Q-Rating, which could plummet at any given time.
Established champions and world-class fighters trying to become superstars face the challenge of keeping the positive momentum moving forward. Often times, they are not successful, soon finding themselves receiving criticism from the masses.
It becomes especially critical in today's age of top fighters fighting only once every 6-9 months. A few uninteresting opponents here and there wasn't so bad when champions fought 4-5 times a year. Nowadays, a few uninteresting fights can mean a few years go by before a fighter does something compelling. Here are ten fighters whose trajectories need to get on an upward swing.
Timothy Bradley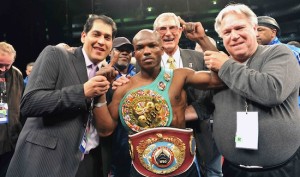 About a year ago, Bradley was being hailed as a potentially-great young champion—a refreshing, hard-working, and exciting fighter with a limitless future. Now it seems like the prevailing vibe on Bradley is that of a Billy goat who ducks tough competition. He may very well have a decent argument for why he didn't accept the Amir Khan fight, but Bradley and his team probably couldn't have imagined the off-the-charts backlash that came as a result of that decision.
It doesn't help that he was losing a little steam even before deciding to pass on the fight with Khan. In the last 2 years, he's beaten Lamont Peterson in a good win, notched a ho-hum decision over welterweight Luis Carlos Abregu, and scored a technical decision over Devon Alexander in an utterly disappointing unification fight that was eagerly anticipated.
The notion that he ducked Khan and a few unpleasing fights have people turning on Bradley. His ring appearances are becoming more sporadic, as Bradley seems content to lollygag in lieu of a huge fight with Manny Pacquiao, while the issues with his promotional team and sanctioning body get ironed out. If he eventually secures the fight and payday against Manny, it could throw a different light on this entire episode. If not, it will be difficult for Bradley to not look back and have regrets.
Nonito Donaire
Following Donaire is like being a casual World Cup soccer fan—four years of blah and then a big event. His crushing and ultra-impressive knockout of Fernando Montiel was in February and, as of now, nothing final has even been scheduled. He crushed Vic Darchinyan in 2007 and in the nearly four years after that, he largely bided time. He stayed fairly active, but failed to meaningfully build on the momentum generated from that great victory.
It has been only 6 months since the Montiel triumph, so there is time for Donaire to show he won't duplicate his 2008-2010 approach. In addition, most of the division's signature talent has been tied up with the Showtime tournament. At the same time, one feels compelled to urge him and his team to strike while the iron is hot. Donaire is a fantastic fighter and at his full powers. NOW is the time to build that Hall of Fame resume that he seems capable of obtaining. It's bad for him and boxing to have one of the sport's hallmark talents spend indefinite periods on the shelf or fighting non-compelling competition.
Sergio Martinez
In all fairness to Martinez, other great Middleweight Champions like Hagler and Monzon have experienced similar lulls where things were not exactly sizzling. But they weren't pushing 37 years old. Recent events in the sport have forced us to reconsider our thoughts on aging boxers, but 37 ain't young. After beating Williams and Pavlik, Martinez' star was sharply on the rise. In the 9 months since the Williams demolition, Martinez has only scored one win—against 154-pound standout Sergei Dzinziruk. That's not so bad, but he's definitely cooled off a bit. There's not as much heat surrounding him as 6-8 months ago.
Now he's scheduled to fight unbeaten but obscure Darren Barker in October. It will probably be another 6 months after that until he fights again—meaning Martinez will have let 18 months pass without doing anything compelling. It's not all his fault. There seems to be an aversion on the part of top middleweights to face him. Some of the bigger talents at 160 have either faded off the scene or are tied up with other world title concerns.
It's just that Martinez is a special and entertaining fighter who achieved success very late in his career. One would suspect there would be some heightened urgency on the part of his team to maximize what appears to be a shortened window of possible success. One cringes at the thought that Martinez will spend a couple years fighting these types of opponents and then find himself too old to handle the more robust challenges that come later. His team needs to manufacture something exciting.
Lucian Bute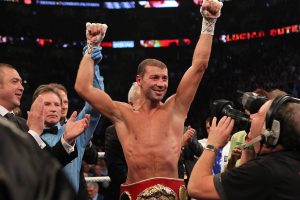 The Romanian-born titleholder has enjoyed a recent boost in his popularity and it might not be all that well deserved. His talent is off-the-charts and he may very well prove to be the top dog in a stacked super middleweight division. In addition, his most compelling opponents have been tied up with the Super Six, so you can't really say he's ducking anybody. Still, it's a bit strange that in the midst of all those tough 168-pounders fighting each other time and again, some actually consider Bute the top super middleweight in the world.
Outside of a 2007 win (10 fights ago) over Sakio Bika, Bute's opposition has been second-rate, especially when compared to the resumes of his contemporaries. He gets an apparent pass due to being exciting and a tremendous draw. He is also apparently improving. Nevertheless, it would be nice for him to notch a significant win, in order to lend more credence to his elevated position in one of boxing's more stacked divisions. His title reign is nearly 4 years old, so it's high time that he danced with some of the big boys.
Humberto Soto
The veteran put it all together in recent years—winning 12 straight and titles at 130 and 135. In 2010, he finally received some widespread attention after his thrilling decision over Urbano Antillon. Unfortunately, Antillon was Soto's only real worthwhile opponent during his WBC lightweight championship run.
A rematch with Antillon was scratched, as Soto decided to jump to 140—a far more lucrative and thriving division. That move might prove to be wise, but Soto has nothing meaningful lined up and when big fights are discussed at 140—you never really hear his name. With 66 fights under his belt, Soto is an old 31. There have been slight signs of erosion lately and watching Brandon Rios decimate the man he went life-and-death with didn't help either.
Soto is a capable veteran. He might have a few good fights left in him. But after he beats no-hoper Jose Alfaro in September, he would be well-advised to aim for something big. As a Mexican and two-division WBC titleholder, he could conceivably get a shot at the WBC 140-pound title, which has fallen into disarray in the hands of dormant Timothy Bradley. A fight with Erik Morales is a winnable encounter that could do big business. In any event, it's time for Soto to get moving.
Anselmo Moreno
The tall southpaw is a division darkhorse—a lesser-known force who could very well beat some of the more famous fighters in the division. But darkhorses shouldn't be rated so highly. His championship run is like a bantamweight version of Lucian Bute at super middleweight—a long unbeaten stretch taking precedence over the quality of competition.
Moreno is undoubtedly a good fighter, unbeaten since 2002. But if one removes his spurious world-title claim, his resume isn't particularly special. Those bouts being billed for the "WBA Bantamweight Title" alone does not inspire. Two wins over Nehomar Cermeno are his best moments in his 9 "world title" victories spanning nearly 3-and-a-half years. It's just that we see other top 118-pounders mixing it up, which stands in stark contrast to Moreno's approach. At 26, he still has time to make it right.
Nathan Cleverly
A couple years ago, Cleverly stood out as a possible young lion in a division full of old-fogies. The Welshman was improving. Once a feather-fisted fighter, he started knocking out people, looking impressive in the process. It's just a little disappointing that he's still stuck in the same position, especially with so much movement at the top of the division over the last 2 years.
Let's not be too hard on the 24-year old contender. Opponents dropping out and the best fighters at 175 being otherwise occupied makes it difficult to make progress. It's just that a career path that once appeared aggressive now appears complacent. He has beaten some good European fighters, but unlike the heavyweight division, the best light heavyweights are on this side of the pond. With all the good fighters at 175, Cleverly should try to get a taste of the action while it's hot, rather than fighting guys whose names you can't pronounce.
Andriy Kotelnik
You don't hear much about the guy and you won't be hearing anything unless he gets busy. In his last 3 fights, he should be 2-1 against the illustrious group of Marcos Maidana, Amir Khan, and Devon Alexander. Considering how much attention is being paid to the 140-pound class, it's curious that Kotelnik is so thoroughly overlooked.
After beating Maidana and losing handily to Khan, he appeared to get the better of unbeaten unified-titlist Devon Alexander, only to lose a ludicrous 116-112 decision on all 3 cards. That was over a year ago and he doesn't even have a fight scheduled. Why did he disappear at the precise time he became relevant? At 33, he doesn't have time to loaf.
Alfredo Angulo
At least Angulo has a good excuse. Getting uprooted and sent back to Mexico has a way of cooling down a fighter's momentum. But there is still pro boxing in Mexico. Angulo is fighting an anonymous opponent soon in his hometown of Mexicali, but it is still strange that over a year went by before lining up a fight. With a small rebuilding process likely to take place, it is possible that this ordeal will end up costing Angulo almost 2 years of his prime.
Before this happened, Angulo was sizzling. He had just starched Joachim Alcine in one round to cap off a good run of productivity. His drawing power was amazing and a bunch of tantalizing fights seemed imminent. It is understandable that his career would be stalled, but for it to turn into an episode similar to Muhammad Ali's exile from boxing is difficult to fathom. Here's hoping that Angulo gets some meaningful fights after this get-well win. Having him off the radar isn't doing him or the sport any favors.
Class of 2008
The way prospects are developed has changed over the years, but the matchmaking is getting ridiculous. Compare the Class of 2008 to the 1984 Olympic team. While the '84 squad certainly had the better prospects, the career guidance was 180-degrees opposed to what is now taking place. By 1987, most of the '84 Olympians had already fought for world titles. After the same amount of elapsed time, the Class of 2008 is largely still fighting low-end trialhorses.
Feeding blue-chip prospects a line of stiffs so they can get their bearings and build a record is nothing new. What is new is the practice of the USA's best prospects fighting total stiffs several years after turning pro. How can that be the correct way to build fighters who were facing more difficult tests in the amateur ranks? It seems strange to go from fighting the best amateurs around the world to an extended phase of fighting Dairy Queen employees.
Nothing against fighters like Deontay Wilder and Shawn Estrada. They are good prospects who may very well develop into world-class fighters. But their opposition has been horrific. It's a disservice to fans and these young talents. Some other members of the Class of 2008 have begun stepping it up, but it's still puzzling why these young fighters are held back so much.