Knockout of the Year: Donaire Vaporizes Montiel for Bantamweight Belt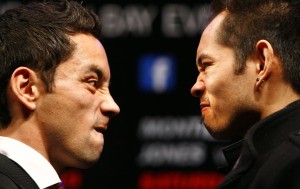 On Saturday night, February 19th, the long anticipated bantamweight bout between Fernando Montiel and Nonito Donaire finally takes place. Right here on ProBoxing-Fans.com, you'll find live round by round results and coverage for Montiel vs. Donaire, as well as updates on the undercard, including Mike Jones vs. Jesus Soto-Karass II and much more. Come back at fight time on the 19th and check out the full results below.
Before the bouts begin, feel free to take a peek at our Montiel vs. Donaire preview, and Jones vs. Soto-Karass II preview.
Montiel vs. Donaire Round by Round Scorecard
| | | | | | | | | | | | | | |
| --- | --- | --- | --- | --- | --- | --- | --- | --- | --- | --- | --- | --- | --- |
| Round | 1 | 2 | 3 | 4 | 5 | 6 | 7 | 8 | 9 | 10 | 11 | 12 | Total |
| Fernando Montiel | 9 | – | – | – | – | – | – | – | – | – | – | – | – |
| Nonito Donaire | 10 | – | – | – | – | – | – | – | – | – | – | – | – |
Montiel vs. Donaire Results
The crowd is crackling in anticipation. Both fighters received warm greetings. The Filipino and Mexican contingents were passionate in in welcoming both to the ring
In the first, Donaire had things all his own way, his speed and size advantages proving to be telling. However, there wasn't necessarily a cause for concern. After all, Montiel had fallen behind many a time before and still managed to salvage a win. But there was something so telling about Donaire's superiority that what followed might not have been all that surprising.
In the 2nd, the Mandalay Bay became unhinged, as Nonito Donaire exploded a left hook off the chin of Montiel, sending him sprawling to the canvas. He even added a little right for punctuation. Montiel went down like a putty knife full of spackle being flung to the ground. Gallantly, he tried to rise, and somehow beat the referee's count. The ref gave him the benefit of the doubt by letting him continue, but a few followup shots got Montiel the hook. The result: a stunning 2nd-round TKO that helps Donaire jump up to the next level.
In scoring this sudden victory over the real reigning champion, Donaire manages to put the mediocrity of the past 3 years in his rearview mirror. This puts him right near the top of the pound-for-pound best list. A stunning win! It was in many ways reminiscent of Donaire's coming-out win against Vic Darchinyan in 2007, when a single left hook dilapidated that esteemed champion. At the press conference, Donaire said that this shot was even harder. In fact, it was more impressive. He captured the "real" bantamweight title and obliterated a champion showing only 2 split decision losses in a 15-year career.
It is clear when listening to Bob Arum, Cameron Dunkin, and Donaire himself that he does not plan on staying long at bantamweight. Arum mentioned the 122 and 126-pound class as destinations for the very near future. A move to 122 seems pointless, if not just for a rest spot on the way to the rich waters at 126. At 122, the only interesting fight in with RIgondeaux, but the Cuban is not yet in Donaire's realm. At 126, the possible great matchups are numerous, but he was a flyweight less than 2 years ago. Even Manny Pacquiao had to wait 5 years before going from 112 to 126.
To me, it seems like there is still unfinished business at 118. Sure, he's the real champ, but the winner of the upcoming Showtime tournament casts himself as a compelling contender. Seems strange that Nonito would pick up and leave after only 2 fights at 118 during what is shaping out to be a very good period in this weight class. Why not notch another big win or two at 118 before mixing it up with the "big boys" at featherweight?
But let's take this time to focus on a great win. When mentally scanning recent bantamweight history, it is difficult to think of a more emphatic big win. One harkens back to the glory days of the "Z" Boys, when Carlos Zarate massacred Alfonso Zamora in a high-profile bantamweight bout over 30 years ago. That's how unusual it is. Donaire is a man who really seems to save the best for his biggest fights. His pair of one-punch knockouts over a very good flyweight and bantamweight champion loom large. That left hook is something else.Credit to Robert Garcia, who is fast becoming one of the best, most accomplished trainers in the sport.
Jones vs. Soto-Karass II Results
In a rematch from a good fight in 2010, Mike Jones, 23-0 (18 KOs) looked to erase any doubt by facing Jesus Soto-Karass, 24-5-3 (16 KOs) for a second time. In the first fight, Jones almost took Soto-Karass out, before barely hanging on to win by decision.
Now aware of the ruggedness of Soto-Karass, Jones opened the bout by moving and jabbing. Soto-Karass pursued, digging a few good shots to the body in a close round. The resourcefulness of Jones continued in the 2nd with Soto-Karass in tow. A few nice exchanges broke out toward the end of the round, which appeared to go to Jones. In the 3rd, Soto-Karass emerged from an exchange with a cut over his left eye. Nevertheless, Soto-Karass got pumped up and might have edged the round with some nice bodywork. Before the 4th, it appeared they were thinking of stopping the fight, with a heated exchange ensuing between Soto-Karass trainer Joe Goossen and Nevada State athletic commissioner Keith Kizer. Soto-Karass brought the action to Jones in a good even round.
Jones, fighting a bit more cute that normal, continued in the 5th with some nifty movement and slick counters. Jones appeared to take the 5th round. In the 6th, the crowd began to tire of Jones' highly-mobile style of fighting. At the same time, Soto-Karass is not able to get much business going, even if Jones isn't lighting the world on fire. Soto-Karass started to time Jones better with some noce bodyshot counters in the 7th, with Jones continuing to turn the crowd off with his negative tactics–very un-Philly-like. In the 8th, Jones seemed to edge it out with some ripping shots that caught Soto-Karass coming in. Soto, now fighting with cuts over both eyes for several rounds, looked a little the worse for wear opening the 10th, with Jones hitting him with some rights and hooks. Jones added some well-placed jabs in the middle of the round, with Soto-Karass looking increasingly ragged and sapped. Soto-Karass, now bleeding freely from the left eye, took some hard punishment at the end of the round, which was Jones' best yet.
The 11th opened with Jones in full-bloom, hammering Soto-Karass along the ropes during an eye-catching barrage. As opposed to their last fight, where Jones faded, he seems to be picking up strength here, saving his best work for the final 3 rounds. Jones outsped Soto-Karass over the final few rounds to cruise home a winner by scores of 115-113, 116-112. and 117-111. Jones managed to land over 400 punches on the dogged Soto-Karass, who despite a game effort, was unable to be consistent enough to win many rounds. The decision was booed, surely by those who stylistically preferred the aggression of Soto-Karass over the more prudent approach of Jones.
A decent performance by Jones, who showed he has the wherewithal to switch tactics in order to make things easier on himself.
Undercard Results & Updates
In front of just a smattering of people at the Mandalay Bay, the Montiel-Donaire card began with Mike Alvarado stopping England's Dean Harrison after 4 rounds. The dejected Harrison was kept on his stool before the 5th round of a jr. welterweight bout. Alvarado moves to 29-0 (21 KOs), with Harrison dipping to 16-5.
Most of us got out first look at former Cuban amateur extraordinaire Yordenis Ugas, a former Amateur World Champion and Bronze Medalist at the 2008 Beijing Games.  Ugas, now 6-0 (3 KOs), took a aimless six over Carlos Musquez, now 3-4-3. Ugas, 145, had far too much talent for Musquez, but that didn't stop him from being hurt in the first round from a Musquez shot. Ugas' reputation is of an uber-talented, but chinny fighter and that came to bear in the opening stanza. Ugas peppered Musquez, who showed swelling on his right eye, as well as a possible broken nose. Ugas has great anticipation, especially in the area of counterpunching, but if his chin can barely withstand Musquez, it might be an Achiles tendon that costs him in the future.
In a pivotal 10-rounder, FIlipino Mark Melligen, 20-2 (14 KOs) and 27-1-1 Gabriel Martinez tangled in an interesting scrap to see who would take the step towards legitimate contention. Melligen appeared to hold the prefight edge, due to a pronounced edge in quality of opposition. However, Martinez, 146, hung in there with Melligen, 147, until the final bell, landing his right hand against the southpaw. Melligen was a bit flashier, making his work a bit more readily visible than the more proletariat Martinez. The verdict seemed a bit wide in favor of Melligen, who won by scores of 98-92 and 99-91 (twice).
In the next bout, undefeated Mickey Bey, 16-0 (8 KOs) took on tough journeyman Jose Hernandez, 10-4 (4 KOs) in an 8-round jr. lightweight bout. In the 1st round, Hernandez served notice that he means business when he shook Bey up a bit. Hernandez is a bit of a tough nut, having dropped a close split decision in his last bout to former amateur national champion Michael Perez. In the 3rd, Bey began to let his talent bloom–ripping combinations and using his slick defensive maneuvers. Looking more a former National Golden Gloves champion, the smallish Bey continued to befuddle Hernandez for the majority of the action, with Hernandez occasionally lashing out with a menacing shot to keep Bey honest.
In the 5th, Hernandez zeroed in with some power punches that had Bey a bit flummoxed. Bey responded with peppery flurries, but a few bodyshots from Hernandez at the end of the round might have edged it. In the 6th, Bey got his mojo back, but Hernandez roared back with a few shots that snapped Bey's head back. Bey can land a dozen shots, but that one clout from Hernandez is getting the most vociferous crowd reaction. In the 7th and 8th, Hernandez kept slamming home shots, but was unable to match Bey's overall consistency and workload. Bey, sporting a swollen right eye, seemed unfortunate to earn only a majority draw by scores of 78-74, Bey, and 76-76 (twice). For Bey, it is the first blemish on a now 16-0-1 record. Hernandez now sits at 10-4-1.
Thanks for checking out our live coverage of the Montiel vs. Donaire results and the rest of the fight card here from Las Vegas. Keep tuning in with ProBoxing-Fans.com for more of the best and latest breaking boxing news on the web today.