Who was boxing's top prospect in 2011?
Many promising young names in the sport of boxing began 2011 shining brightly. Some of those flamed out before the year was done, and others took great leaps forward and seem to be locks to be world champions, potentially as soon as next year. But which fighter distinguished himself as the best of the bunch?
2011 Boxing Prospect of the Year: Gary Russell Jr.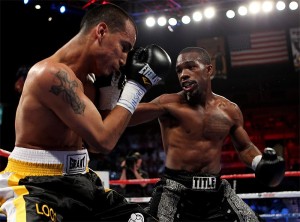 Super Featherweight "Mr." Gary Russell Jr. ended 2011 with a perfect 19-0 record with 11 knockouts. The 2008 Olympian and Maryland native fought six times in the year and scored three stoppage wins, culminating in his HBO debut, a one round destruction of the vastly outgunned Heriberto Ruiz.
Some of the other rising prospects in the sport may have fought stiffer opposition in 2011, but none has the complete package and skill set that Russell has. He's technically sound, he's extremely speedy and he clearly has some pop. Not to mention that he stayed busy, fighting six times to gain experience and stay in top form, exactly what a true "prospect" should be doing.
He looks ready to have a huge 2012, and after his dynamic first appearance on HBO, we'll surely be seeing more of him on the network in very short order. At just 23, it seems like Russell is a budding superstar.
Of course, we'll see what happens when he steps up the competition, but in a division that's pretty wide open, this kid looks to be the goods, and by all appearances, he has the "it" factor.
—> Don't forget to check out the rest of our 2011 boxing awards for dozens of different year-end awards and honors!
Runners Up:
Jessie Vargas: Vargas passed a huge test on the Mayweather-Ortiz undercard when he outfought the very tough and underrated Josesito Lopez to win a Split Decision. He's 17-0 with 9 knockouts, and has tons of heart. But he better shore up that defense if he wants to survive at the top levels of the sport. That's especially true in the loaded junior welterweight division, where legit challengers fill out the top 20 or so rankings.
Sharif Bogere: The Lion is 21-0 with 13 knockouts, and was all over the Shobox airwaves in 2011. He fought three times in the year against a few tough guys, and he looks to have officially graduated from "prospect" status, and is ready to be a full contender competing for titles.
Diego Magdaleno: Magdaleno lost out to fellow super featherweight Russell. He had an outstanding year, winning four times and advancing his record to 21-0 with 7 knockouts. But if you asked me who impressed me more, Magdaleno or Russell, or who would win a fight between the two, I'd answer Russell each time.