2011 Fighter of the Year, Fight of the Year and Oh So Much More…
It's that time of the year again. No, not time for the holidays, time for the year end boxing awards! The team at ProBoxing-Fans.com has been putting together our candidates and picks for all of the major 2011 boxing awards, including 2011 Fighter of the Year, Fight of the Year, Round of the Year and more.
We have dozens of different awards to hand out for the year that was in boxing, from the top prospect to the biggest upset, from the biggest robbery to the best champion, from the top trainer to the breakout performance and on down the line from there. Check 'em out.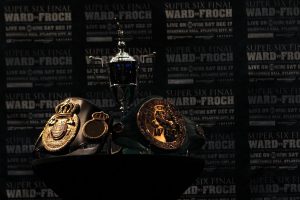 Update: 12/24/11 – Alright, we've finished compiling and posting all of our awards with well over a dozen altogether. Take a look below for the complete listings:
Year End 2011 Boxing Awards
It has certainly been a busy year in the sport. It was a year filled with controversy and disappointment, but also great fights on the biggest stages, and lots of action from some of the top names in the world from the little guys up through the heavyweights.
We saw the conclusion of the Super Six Tournament, the rubber match in the trilogy between Manny Pacquiao and Juan Manuel Marquez, the return of Floyd Mayweather, Bernard Hopkins becoming the oldest champion in the history of the sport, Wladimir Klitschko vs. David Haye, the rising brilliance of guys like Sergio Martinez and Nonito Donaire, extremely tough and competitive divisions like junior welterweight and junior middleweight, the bantamweight tournament, big upsets, emerging prospects and oh so much more.
We've done our best to represent all of this and take all of this year's action into account while formulating our awards. From top to bottom, whether for the good or the bad reasons, this was a year to remember in boxing.
So take a look around at the ProBoxing-Fans.com 2011 year end boxing awards, and feel free to chime in with your own thoughts and comments on which fighters or fights should have gotten the nod!