Boxing's Best Champion for 2012
Champion of the Year rewards quality activity, consistency and longevity. The minimum to qualify for consideration is holding onto a world championship for all 365 days of the year, from January 1 to December 31. After that, the question is one of how many times a fighter defended his title, both in total and during the course of the year; against who; and how well he did in carrying out those defenses.
When measured against those standards, Sergio Martinez comes away with the 2012 Champion of the Year award. As he was also our 2011 Champion of the Year, Martinez proves himself to be boxing's gold standard for championship conduct, having carried the award for two consecutive years.
—> See all of our 2012 Boxing Awards
2012 Boxing Champion of the Year: Sergio Martinez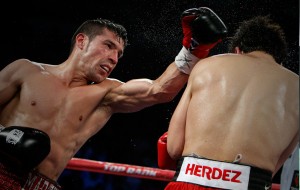 In 2011, Martinez won Champion of the Year largely on moral and quality grounds. The two runners-up I had listed were Manny Pacquiao and Andre Ward, who both had been champions in their weight divisions for slightly longer. Martinez edged them both in terms of the quality of his title defenses (Martinez has never defended his crown against anyone who wasn't a worthy Top 10 middleweight contender, something that cannot be said for Ward and Pacquiao), and then there was the plain fact that sticking up for Martinez also stuck a big middle finger at the dubious antics of the WBC.
This year the case is more clear cut. Pacquiao lost his WBO strap in a controversial loss to Timothy Bradley; Andre Ward fought only once, against Chad Dawson; and no other champion who has held onto his title for the entirety of 2012 comes even close to matching Martinez's quality of opposition. Wladimir Klitschko, to cite just one example, defended three times, but against an undersized and ancient Jean Marc Mormeck; the fringe contender Tony Thompson; and paper contender Mariusz Wach.
Compare that to Martinez's two defenses. He beat up tough Matthew Macklin so badly that Buddy McGirt, Macklin's trainer, threw in the towel. Then Martinez won vengeance against the Chavez clan and the WBC by boxing the ears off Julio Cesar Chavez, Jr. and surviving a 12th Round Hail Mary knockout blow to "win back" the green championship belt, in what is a candidate for Fight of the Year.
As another example, many fans might protest that Nonito Donaire should win the award. However, he didn't win the vacant version of his Super Bantamweight title until his first fight of the year, in February. Therefore, he doesn't even qualify.
Last year, Sergio Martinez won Champion of the Year by a thin margin. This year, he has no peers in the category.