The boxing comeback of the year award deals with a fighter who, most typically, was at or near the top of the sport, for one reason or another fell off the map, and since has returned triumphantly. This year, there is a load of candidates for such an award. So which fighter brings home the honors?
—> View all of our 2012 Boxing Awards here
2012 Comeback of the Year: Devon Alexander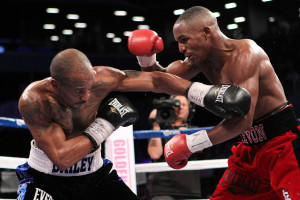 Sure, he was still young and you had to figure that we hadn't heard the last of his kid, but it indeed seemed he had hit a wall in 2010-2011. Coming into 2012, Alexander had lost his last 3 fights in a lot of people's minds, though only Tim Bradley got credit for a win. Andriy Kotelnik and Lucas Matthysse both seemed to be victimized by hometown decisions against Alexander.
Alexander moved up to 147 and things started clicking again this year. Say what you will about Marcos Maidana's crudeness and stylistic incompatibility with Alexander, but no one had ever fought the slugging Argentine and emerged unscathed until Alexander handed him a lopsided 10-round loss. In October, Alexander capped off a good year with a unanimous decision over IBF Welterweight Champion Randall Bailey. He looked like a different man this year.
Honorable Mention: Daniel "Ponce" De Leon
A lot of people seemed to look at De Leon as a guy who was good, but who got exposed years ago and wasn't a top-notch fighter. I don't even remember much outrage when he lost what sure seemed to be a crappy 2011 decision to Adrien Broner, who is now becoming a star. Later the same year, De Leon lost to Yuriorkis Gamboa after 8 rounds and it looked like he would never get back to where he was before getting blown out in one round by Juan Manuel Lopez in 2008.
Ponce went 3-0 in 2012, punctuated by a win over WBC Featherweight Champion Jhonny Gonzalez in September. De Leon was an underdog, but showed a lot of his overlooked craft. De Leon can hit, but his skills are what allowed him to close in and start doing damage to a slip-sliding-away Gonzalez, who was finished after 8 rounds.
Arthur Abraham
While he hasn't exactly put himself in the lofty spot he once occupied as unbeaten middleweight titlist, 2012 saw Abraham emerge from the abyss. After knocking out Jermain Taylor to open the Super Six Tournament, he lost 3 high-profile fights, barely winning a round against Andre Dirrell, Carl Froch, and Andre Ward. In just a little over a year, he went from a pound-for-pound entrant to a fighter scrambling to stay relative.
Abraham went 4-0 in 2012 to breathe some much-needed life into his sagging career. A knockout over anonymous Pablo Farias led to a decision win over average Piotr Wilczewski. That led to Abraham's August win over 42-2 WBO Super Middleweight Champion Robert Stieglitz, and a title defense against Mehdi Bouadla. It's not an awe-inspiring return to the top, but a commendable campaign for a crestfallen fighter who may now earn a chance at redemption.
Carl Froch
It doesn't feel right to call 2012 a comeback year for Froch because he had never gone anywhere. Losing to Andre Ward doesn't automatically mean you end up at the back of the pack. The guy is one of the best fighters in the world. Still, his fight with Bute was a make-or-break fight for the 35-year old "Cobra." In addition, Froch was a heavy underdog despite being at home. Lucian Bute was unbeaten and the de facto number-two guy at 168 making his 10th title defense.
Froch just rolled over him with a guts and passion that was truly a sight to behold. It was emphatic and brutal. Froch just wanted it so badly that nothing could deter him on that night. He was a man fighting for his career and it was refreshing to see him go after it with such gusto. Nothing against Bute, but it was good to see Froch have something good happen to him after the Ward loss. He remains one of the most watchable big-name fighters in the world.
David Haye
He's not close to being all the way back. At the same time, hats off for getting things on the right track after a disastrous 2011. Losing to Wladimir Klitschko alone is no source of shame. But when you spend two years talking the most bombastic smack ever, only to show up and phone it in claiming a broken toe–it qualifies as an absolute disgrace.
Only so many kudos can be given to Haye for beating Dereck Chisora, who had lost 3 of 4 fights coming in. The doo-doo is still on his shoe. Watching him vaporize the tough Chisora, though, reminded us why we had been so excited about the guy. At the end of 2011, he was in boxing purgatory. Now, he at least has some positive momentum to bring into 2013.
Alfredo Angulo
Coming back from a loss is one thing. Angulo also had to overcome a lengthy spell in a detention center, stemming from some long-running immigration issues. 2011 ended with a brutal KO loss to James Kirkland in a draining war. Then he was off to the can. When he returned in November, he wasn't exactly coming into the ring with a head of steam.
Knocking out the anonymous Raul Casarez and getting past a tougher than expected challenge from young Jorge Silva isn't enough to earn him Comeback of the Year, but if Angulo builds on this and has a productive 2013, he is the leading candidate for the award next year. Whatever happens, it's hard not to root for Angulo. Before his issues, "El Perro" was developing into an incredible draw on the west coast and one of the more exciting TV fighters in the world. It's good to have him back.