The Best Prospect in Boxing in 2012
Handing out the top prospect award in boxing can be a little bit tricky, and this was especially the case here in 2012. It seemed that the top choices for Prospect of the Year outdid themselves a little bit, and kept on progressing to the point of becoming full-fledged contenders, or in some cases, even defending titleholders. You couldn't exactly call Leo Santa Cruz, or Bryant Jennings, the year's best prospect, could you? Not in my eyes.
On the other hand, this year it seemed as if many of the remaining top prospects were still mere fledglings in the sport, with 10 fights or less, wowing everyone with their skills against pushover-type opposition. Surely, there must be a few notable, top-flight prospects right in that sweet spot in their development, right?
Adding to the confusion was that many of the year's best young guns actually lost — Thomas Dulorme and Luis Ramos Jr., for example. So who in the world is the best prospect in boxing?
—-> View all of our 2012 Boxing Awards!
2012 Prospect of the Year: Randy Caballero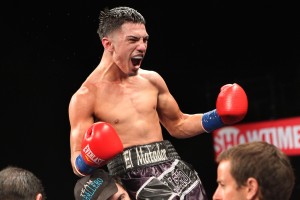 Randy Caballero improved to 17-0 with 9 knockout victories over the course of 2012. He fought four times in the year, with his best opponent likely being Manuel Roman, who came into their bout with only one previous loss.
He received some national exposure with televised fights on Shobo this year and is a great example of a fighter with a true home base, and what that can mean for a young fighter's career. He seems to have taken up permanent residence in the Fantasy Springs Casino in Indio, California, and he continually packs the house there in front of enthusiastic supporters.
Surely, the competition wasn't awe-inspiring, but Caballero advanced seamlessly to the 10-round stage of the business and looks ready for another productive and successful year in 2013, perhaps with a title shot coming his way before all is said and done with.
He's still just 22 years old, which is astonishing, as is how busy he has been since he has turned pro. He fought "only" four times in 2012 as he began climbing the ladder a bit, after fighting 7 times in 2011 and 6 times in 2010.
Caballero has a good mix of skills, and while he doesn't have great power, he has enough pop to keep you honest. At 5'7″ with a 70″ reach, he also has an ideal frame for where he's currently competing, and will be able to continue filling out and advancing through the weight classes.
I'll definitely be keeping a close eye on Caballero to see what he can do in the year to come.
A few more names to watch in the future: Frankie Gomez, Ronny Rios, Ivan Redkach, Chris Eubank Jr, Jesse Hart, Jesse Magdaleno, the 2012 class of Olympians…